---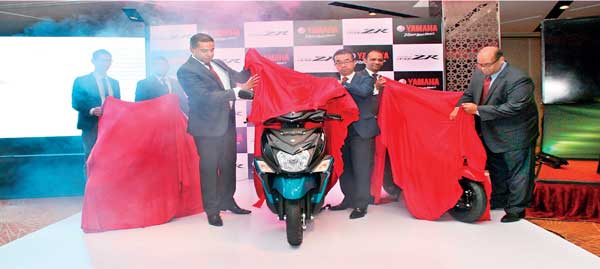 From left: Yamauchi Minoru of Yamaha Japan, Passenger Vehicle Director Yohann de Zoysa, AMW Group Managing Director Samantha Rajapaksa, Ohno Izumi of Yamaha Japan, Yamaha Sales and Operation Manager Zahran Ziyawudeen and Yamaha General Manager Shehann de Zoysa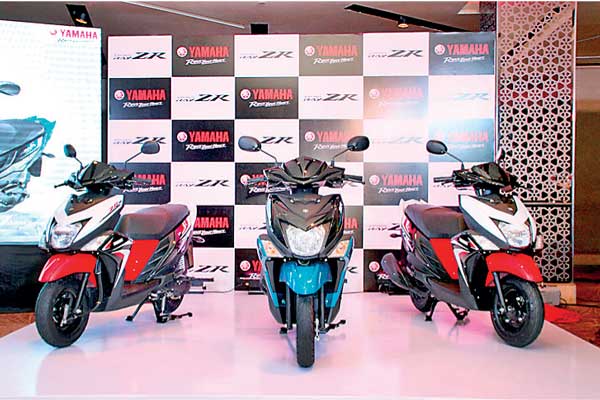 Scooters on display
By Zahara Zuhair
Associated Motorways (Pvt.) Limited (AMW) recently introduced 'Yamaha Ray ZR' to the Sri Lankan market, which is defined as the largest Yamaha scooter to be introduced, specially designed focusing on convenience.
Talking about the product specifications, Yamaha General Manager Shehann de Zoysa said, "It is an adventurous, stylish and muscular scooter. Because of the sporty design, it will give a fun and comfortable ride. We call it the uncommon ride – be different and be unique,"

He said that the targeted customer segment will be both female and male, 18-30 years, adding that it will be the beginning of a new design in the scooter market.
"This scooter will be a partner in your life, as such you can use it for commuting, shopping and for any purpose," he said.
The features as noted are – it has a fuel efficiency of 66 Kmpl and a fuel tank with 5.2-litre capacity.

For the technology inclined, the Ray ZR comes with an air-cooled four-stroke, SOHC two-valve engine, with a displacement of 113 CC tubeless tyres and having 21 litres of storage capacity.
Calling it a 'phenomenal scooter', AMW Group Managing Director Samantha Rajapaksa said that he is confident that this product would become the best-selling scooter in Sri Lanka in time to come.
"We are expanding our dealer networks and our after-sales networks with Yamaha along with the other brands AMW handles," he added. However, he said that there are few challenges they face. "If you see the motorcycle segment in Sri Lanka, there was a period where free motorcycles were given out. And today we are talking about the motorcycle scooter having a 90 percent of duty, which is a significant cost for the average Sri Lankan consumer. So we are hopeful the government will look into this and enable the average Sri Lankan consumers to afford a motorcycle or a scooter," he said.

Sri Lanka being the second country to be launched after India, he revealed that prior to the launch close to 500 scooters were pre-booked.
Further, it was noted that the scooters would be priced at Rs.239,500.

Yamaha Motor Company Limited is a Japanese manufacturer of motorcycles, marine products such as boats and outboard motors and other motorised products.
Pix by Pradeep Dilrukshana