---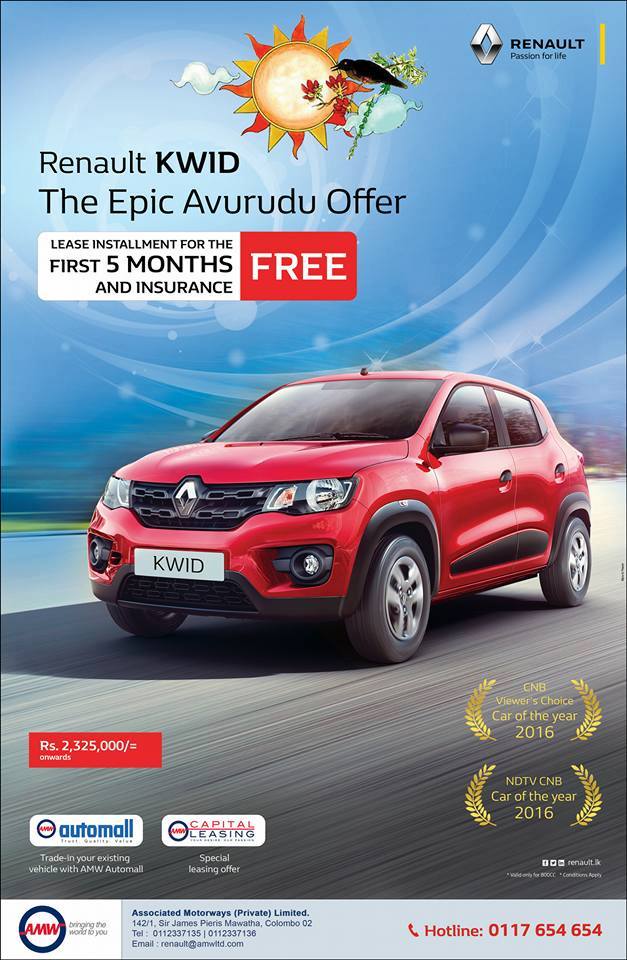 What if you had a considerable breathing space from the time you sign up for your vehicle lease until you actually pay? That would indeed be a fantastic option, given the financial burden of going in for a new car.
That's exactly what Renault, Sri Lanka's No 02 brand in the car market, has come up with, says Yasantha Wijesekera, Deputy General Manager - Renault at AMW. Renault KWID, the stylish SUV look alike is already turning heads with this unique Avurudu promotion that allows the customer a five months rental free period from the time the car is purchased.
In reinforcing its strong image and capability as a leader in the Sri Lankan automobile market, Renault's novel and unbeatable scheme gives the customer buying the Renault KWID, 05 months' rental free upfront through AMW Capital Leasing, along with free insurance.

"The customer only pays the down payment, but the most attractive component is the breathing space it gives customers to be able to manage lease payment from the 6th month onwards", Mr. Wijesekera adds, " It also assures the customer of a completely customer focused approach that is unique to Renault at AMW."
"This is a special scheme developed by AMW to ease the customer burdens of paying additional taxes in leasing and vehicle purchase. There's more; if the customer's vehicle is being bought back at market price via Auto Mall, the AMW subsidiary, the price obtained for the car can be either paid to the customer or set off against the down payment and the balance, if any, can be paid by the customer."
"Given the scope and popularity of this great option, we advise our customers to make use of this offer as soon as possible since the demand is escalating. "
Since 1949, AMW has been leading the way in the Sri Lankan automobile market; a strong reputation and a customer focused attitude has been the signature approach of the company towards the burgeoning automobile market in the country. A promise that Renault hopes to seal with this great offer especially for the Avurudu Season.