---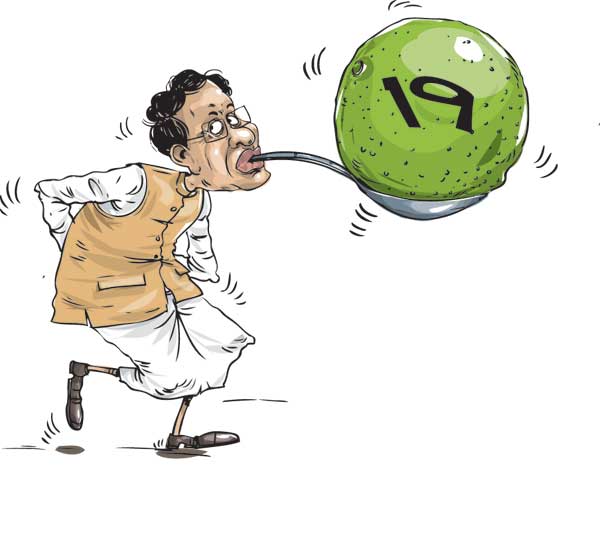 Muttiah Muralitharan knew when to retire. Sanath Jayasuriya did not. That's the way it is in cricket, in sports and in many other fields, politics included. Some quit when on top, some hang on and are eventually asked or made to leave.

Politics is not only about entry and exit. It is also about brinkmanship, manipulation and knowing when to stop betting and cash the chips. In that sense it is not like cricket or any other sport. Some know what's possible and know when that 'what' is possible. They know that too early or too late can very well mean coming off without anything to show. A classic example would be that of Velupillai Prabhakaran and the LTTE.

In hindsight one can argue that Prabhakaran and the LTTE missed many a trick that they could have secured for them (not necessarily for the Tamil people of course). The degrees of territorial and other control which although less than what a separate state would have yielded was considerably more than anything they ever had. They went with the, 'All or Nothing' formula and got nothing in the end.

Prabhakaran is not alone in this. We see many people and parties playing the same game. Brinkmanship. All-or-nothing. Watching them one cannot but ask, 'is there no limit to their greed?'

Take constitutional reforms for example. If one went by election promises we would have had a reformed presidential system and a different system of elections by now. No matter, better late than never, as they say. The worry right now is that our politicians are veering more towards 'never' rather than to 'late'.

One can put it down to machinations designed to scuttle reform because any reform would be against the self-interests of the current lot of parliamentarians. But greed is also a factor.

Clearly, the 19th Amendment in its original form would benefit the United National Party (UNP) and its leader. Now that would have certainly been a coup, considering that it was Maithripala Sirisena that the people picked to lead them. The Sri Lanka Freedom Party (SLFP) cannot be blamed for being peeved. After all, the candidate who won is also the leader of that party. Feeling short-changed is no excuse for foot-dragging though. If the UNP is found fault with for tossing a non-negotiable that is bound to be defeated due to the want of numbers, the SLFP cannot be applauded for throwing in conditions that are unacceptable to the UNP.

This brinkmanship doesn't bode well for the ordinary citizens who have been the principal victims of a flawed and anti-people constitution. Perhaps the major parties believe that each has the edge in an election (without reforms). Perhaps they both feel the other will blink first. President Maithripala Sirisena is watching all this or else is letting things pass because if there are no amendments he can say, 'I tried but the UNP and SLFP are not interested' and then enjoy all the power his predecessor had to use and abuse according to his whim and fancy, let us not forget this.

Seriously, though, statesmanship or a tendency to look beyond personal gain and beyond election seems a rare commodity these days, so we cannot be too hopeful. Neither can the people issue threats apart from something like, 'we will not vote for anyone in this Parliament at the next election'. Saying is easy though. Money shuts mouths and both parties have enough money to obtain silence or worse, supporting voices. But we can come to the conclusion that our representatives are greedy and their greed might very well scuttle reform. It will not only amount to squandering a rare opportunity to correct our political system but will turn the political moment called 'January 8, 2015' into the biggest fraud post-independence.