---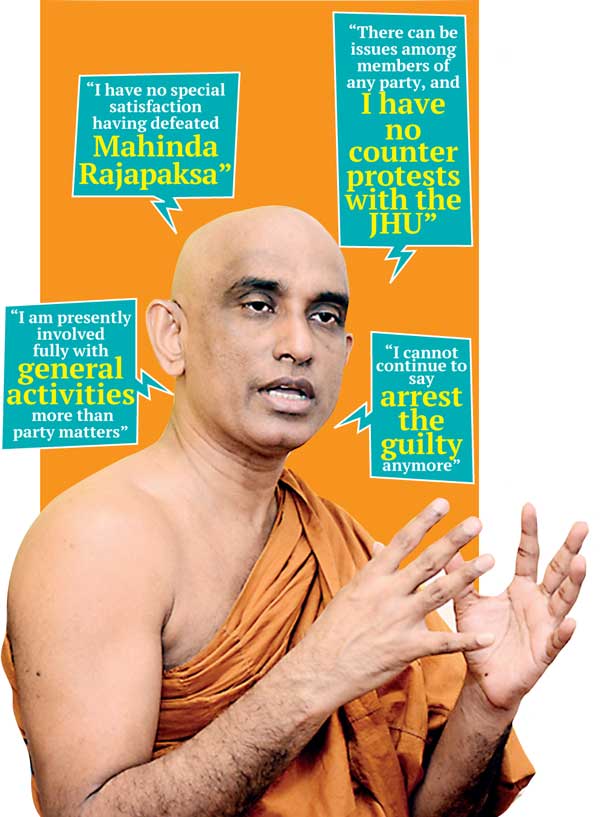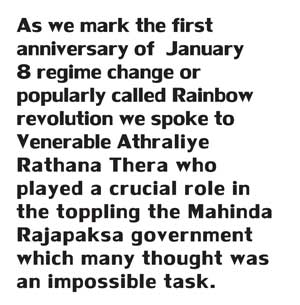 QYou were one of those who spearheaded the campaign to bring the Yahapalanaya government into power, you seem to be silent?
I was not sought after much by the media. I did not get involved in much publicity, but during the past period I did much work at various levels.



Q

Venerable Thera how is the JHU now?
Media carried some news. But there is no misunderstanding with the JHU. I did much for the JHU and continue to do so at consultative levels. I am presently involved fully with general activities more than party matters.



Q

Are you having any issues with Champaka Ranawaka?
There can be issues among members of any party, and I have no counter protests with the JHU. But during the past two years I have been involved in common activities rather than confining myself to full time activities with the JHU.



Q

That means you are not involved in the decisions making of the JHU, and not in favour of their activities?
Whenever it is necessary I intervene, and there is no issue with the party. Various stories are being spread.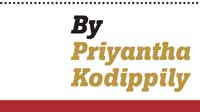 QNishantha Weerasinghe had an issue at the WP council. What have you got to say?
In politics these are not uncommon things. It could have been resolved after consulting the President. But it got out of control and went far. The head being defeated is not a thing to crow about. It can happen in the Parliament also in the future. When there is a national government disagreements on opinions could surface.



Q

Did this incident shake the JHU.
No there was no such thing. Even Thebuwana Piyananda had not been there to support Nishantha. It became evident that there were some issues in the JHU. The Thera had said he could not attend the meeting due to another engagement.



Q

Did Nishantha Warnasinghe speak to you regarding this matter?
We spoke. May I suggest that we discuss something more important than these through this national newspaper.



Q

Then what have you got to say about the Yahapalanaya government which you too strove to bring it into power?
That's a good topic. There is no point in further comparing this government with the former. Those who were in power have now left. Now it is time to watch how the new group is doing it. We ended a rule by one person and brought the society to a point where it is now free. It is clearly visible by the peoples responsiveness even over a small incident. Earlier it was never there. Now people write freely, and speak freely. There is expression of counter criticism. When the President made a statement recently over the event where a foreign singer took part, what amount of counter criticisms were levelled at him. Earlier such things were never heard. Take the case of Hirunika. During the earlier government it would have been a minor incident. Now the society is very vibrant and responsive even for trivial matters. This had been made possible under a yahapalanaya government. It is truly a sign of the change.



Q

Can you be 100% satisfied with the yahapalanaya government during the past one year?
About that matter I am neutral. In anything one cannot be 100% happy. We are not happy nor unhappy over the performance of the government during the past one year. Actually they started working really after August last year and now they have much to do. We are watching closely and we have a responsibility to direct them on the correct path. We are trying our utmost. We have a President and a Prime Minister who are very flexible and willing to listen to others. We cannot forecast the future, but as it is we do not see anything bad about it.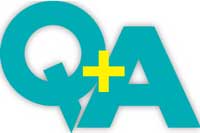 Q

You were one of those who shouldered the task of bringing this government into power. Do they heed your advice?
Yes on most occasions the President and the Prime Minister had drawn their attention. Specially in the Economic field I have expressed my opinion. I believe that this government could jointly formulate a good economic policy.



Q

You were in the forefront of giving your full support to the war heroes, and now there is a charge that this government is gunning down officers of the army intelligence units.
The intelligence officers had been taken to custody over the incident relating to Prageeth Eknaligoda. This was a subject of discussion both at national and international levels. Some had been arrested on suspicion. The government has no right to keep them in jail without filing action against them.If they are found guilty they would be sent to jail and if theyb are found not guilty they would be sent home. The government has the responsibility of ending this issue early.



Q

You were the first to state at the Mutfiah park that you would definitely defeat Mahinda Rajapaksa. Are you now happy that you were able to send him home?
What we decided was to bring pressure on Mahinda Rajapakse to amend the constitution, as we could not agree to the way he was ruling. Even Sajin Vass who was very close to him had turned now as government witnesses. When those around Mahinda were behaving in such low manner, he did not object to those actions of his close associates but just waited. These were the things we objected. I have no special satisfaction having defeated Mahinda Rajapaksa. But we approached it as a crucial matter we should be victorious. He never thought that he would be defeated. It was a challenge we accepted before the people and we were positive that we could defeat him. Now defeating Mahinda Rajapakse is past history. Now there are challenges we should defeat. If they are not overcome people might say it would have been better if Mahinda was in power. We should work towards preventing such thinking by the masses. There are many ardent supporters of Mahinda and they are protecting him. Such people spread stories praising the rule of Mahinda.



Q

You levelled charges not only at Mahinda Rajapkasa but also at those who were near him, but today most of them had become ministers of this government as well?
Under this electoral system all the wrong doers want be defeated, and some were elected with high percentage of preferential votes and some were elected from the national list. I do not agree with the appointment of some through the national list and for giving ministerial positions to those against whom various corruption charges are implicated. Investigations should be conducted and those found guilty should be removed. Taking that decision should not be deferred at any cost. I cannot continue to say arrest the guilty anymore. We have elected a new government and there are independent institutions and responsibility should be given to them to take necessary actions.



Q

Are you an independent member now?
During the past three years I function as an independent member. I am a member of the JHU. I contested from the UPFA, but I acted neutrally. I had an understanding with JHU and I want to act against them. I have not formed a party against them.



Q

When Udaya Gammanpila broke the ranks, did you make any attempts to keep him in the party?
I did everything to keep him in the party. Not only that it is I who tried to lure those in the SLFP to our side.



Q

There is a move to increase the attendance payment to the MPs are you in favour of it?
I do not know any details of such arrangements, but if they pay I have no hesitation in taking that and spending it for the sake of the people. All what I get is spent for the good of the people.



Q

Presently you are the only Bhikku in the parliament do you feel alone?
I always preferred to work as a political character and believed in making a change for the better. The decisions I took are quite different from what others take. People have realized the amount I could do being in the parliament.



Q

If this government also follows the same path as its predecessor did would you take the leadership to send this government also home.
Sure.There is no argument on that matter. I am not under obligation to this government. I always think of the people and do not think according to to whatever government that is in office. I have proved this historically.