---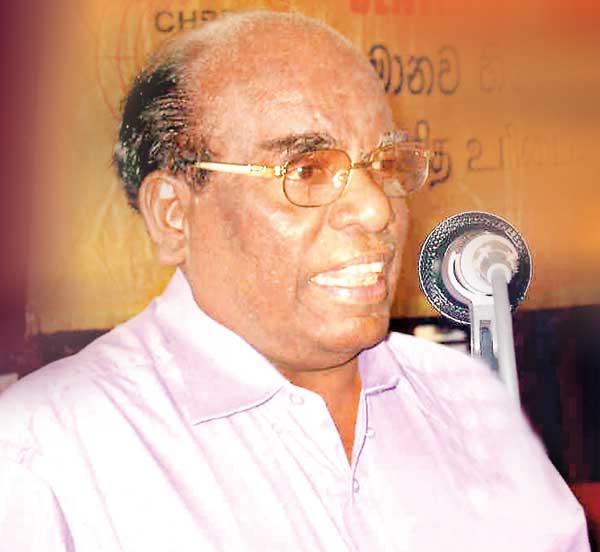 Mr. Appathuray Vinayagamoorthy, who is at present a Member of Parliament for Jaffna District, an Attorney-at-law by profession, was born on 19TH December 1933 at Sarasalai. He turned 80 years old on 19TH December 2013 while his well-wishers wished him good health and long life to enable him to serve national reconciliation.
Sarasalai is a suburb of the then Chavakachcheri Electorate. Vinayagamoorthy received his primary education at Sarasalai Vidhiyalayam and bourgeoned to Driberg College, Chavakachcheri where he completed his secondary education. For a short period he was a teacher at Hindu College, Sangathanai, Chavakachcheri.





His Ambition:
Around the year 1953, he entered the Government Clerical Service under Ministry of Justice and discharged his duties as a clerk or interpreter in several courts in many parts of the island. He obtained the LLB degree and enrolled as an Attorney-at-law on 18TH October 1985 and commenced his legal practice under G.G. Ponnambalam (Jr). He worked so assiduously with a significant leap into the field of human rights cases.

He would rush to the forefront to defend persons who were languishing in detention or prison without recourse to legal remedy, incarcerated under the provisions of Emergency Regulations and/or the Prevention of Terrorism Act. As a human rights activist he has appeared in many cases, defending human rights, and continues to do so. He won the hearts of many by his understanding of the sufferings of others and not by the claws of terror or deceit.

An illustration of the case of Vinayagamoorthy v The Army Commander and Others reported in (1997) 1 Sri. L. R. Page 113 would suffice to show that Vinayagamoorthy is blessed with dynamic, unwavering and deep commitment to defend the underdogs.





No Credible Information:
One Vijayam Wimalenthiran was taken into custody by Army Officers on the 2ND October 1993 at a lodge in Colombo. Immediately upon his arrest he was blindfolded. It was alleged that he was detained blindfolded and interrogation too was carried out while he was so blindfolded.

The Investigators fetched an idea without any kind of credible information that Wimalenthiran was a member of a suicide squad, ordered by the LTTE to assassinate the late President Ranasinghe Premadasa. The Army Officers had secured from him a purported confession to that effect. The Authorities had failed to produce him even after obtaining the alleged confession. He was so detained for more than four months without being produced to a court.






Article 126 (2):
Article 126 (2) of the Constitution empowers an Attorney-at-law to make an application to the Supreme Court, appear and defend any person with regard to the allegation of violation of his fundamental right by executive and/or administrative action. In this scenario, Vinayagamoorthy filed on 31ST January 1994 an application by way of Petition, verified by Affidavit with supporting Affidavits, alleging that the fundamental rights of the said Wimalenthiran under Articles 11, 13 (1), (2), 14 (1) (g) and (h) of the Constitution had been infringed by the Respondents, the Army Officers.

When Vinayagamoorthy supported the application the Supreme Court referred the matter to the Human Rights Task Force (HRTF) for an inquiry and report. The Project Director of the HRTF reported inter-alia to the Supreme Court on 24TH March 1994 as follows."With regard to the arrest and detention of the petitioner, the Army Intelligence Unit has been unable to give a plausible explanation. The petitioner has been in detention for 142 days without being produced to a Court of Law. We were therefore obliged to direct the Secretary, Ministry of Defence to revoke the detention order and release the petitioner from custody".

Vinayagamoorthy tirelessly pursued the application and the Supreme Court considered the report of the HRTF on 29TH March 1994 and on that date the Respondents were represented by the State Counsel. Thereupon, the Supreme Court made several directions to the HRTF and it was minuted to state that "State Counsel undertakes to revoke the detention order and to release the petitioner if no indictment is sent to an appropriate High Court on or before 15.05.94; and in any event if such indictment is sent State Counsel undertakes that the respondents will revoke the detention order and release the petitioner if he is acquitted or discharged or if a suspended sentence is imposed on him in the High Court. In view of that undertaking Counsel for the petitioner (Vinayagamoorthy) does not wish to pursue this application even in respect of Article 11". (Emphasis is added).






Noble Vinayagamoorthy:
Though Vinayagamoorthy was dedicated and efficient enough to make out a successful case for his client, he, as a man of ahimmsa, never manifested blood thirst against his adversaries: never attempted to gloat over success by unfair means. His service to humanity would be remembered fondly forever.

The State failed to honour its undertaking and informed the Supreme Court that it was unable to carry out its undertaking as there were many suspects involved in the conspiracy to assassinate late President Ranasinghe Premadasa and therefore the investigation was not completed, rendering the Attorney General unable to forward the indictment against Vijayam Wimalenthiran. The relentless Vinayagamoorthy never failed to pursue his right to support the application for leave to proceed. On 28TH July 1994, the Supreme Court granted him to proceed with the application only in so far as it related to the alleged violation of Articles 13 (1) and (2) of the Constitution, to wit, Article 13 (1) states that "no person shall be arrested except according to procedure established by law. Any person arrested shall be informed of the reason for his arrest" and Article 13 (2) states that "every person held in custody, detained or deprived of personal liberty shall be brought before the judge of the nearest competent court according to procedure established by law, and shall not be further held in custody, detained or deprived of personal liberty except upon and in terms of the order of such judge made in accordance with procedure established by law".





Assistance from RKW
To argue the main case, Vinayagamoorthy retained Mr. R.K.W. Goonesekera, popularly known as RKW from Peradeniya University to Law College as Principal, and later appeared in many human rights cases.

The Supreme Court declared that Vijayam Wimalenthiran's fundamental rights under Article 13 (1) and Article 13 (2) of the Constitution were violated by the 1ST, 2ND and 3RD Respondents (Army Officers) and ordered the State to pay Wimalenthiran a sum of Rs. 25,000/- as compensation and a sum of Rs.5,000/- as costs. The Supreme Court held inter-alia that 'in order to prevent or minimise "disappearances or abuses", it is of paramount importance that the requirements laid down by the regulations should be strictly observed. They were not intended for merely cosmetic purposes, but for the sake of fulfilling the basic obligation of the State to ensure the personal security and liberty of all persons'.






Nature Proclaims:
In politics, Vinayagamoorthy never suspects deceit in others and is never guided by narrowness of political ambition. He will not prosecute his political stability. His nobility of character may fail him to lead the Tamil Nation to achieve power sharing: but he does no harm to none and is good to all. Let me quote Shakespeare from Julius Caesar, with little change of words:

"His life is gentle, and the elements
So mix'd in him, that Nature will stand up
And say to all the world, THIS IS A MAN".