---
By Kalakeerthi Dr. Edwin Ariyadasa

The Vesak season brings in its slip-stream, an enthralling spiritual joy. Decorations - pandals occupying centre stage- punctuate the celebrations. At night, illuminations and lanterns brighten the Vesak landscape. Some of these, massive in size and intriguing in concept, attract milling throngs of devotees and pilgrims. Mobile groups, singing devotional songs, sweeten the Vesak air with their alluring and cadenced rhythms.

But, among this vast host of items, that spell Vesak, there is a unique feature, which, to my mind, remains largely unsung and inadequately chronicled and, if celebrated at all, peripherally.

This phenomenon bears the Sinhala title "dansala". I find it hard to identify an English equivalent that satisfactorily conveys its exact significance. We can settle for the expression "open house", as the closest equivalent of dansala. The Oxford Advanced Learner's Dictionary defines "open house" this way: " a place or a time at which visitors are always welcome."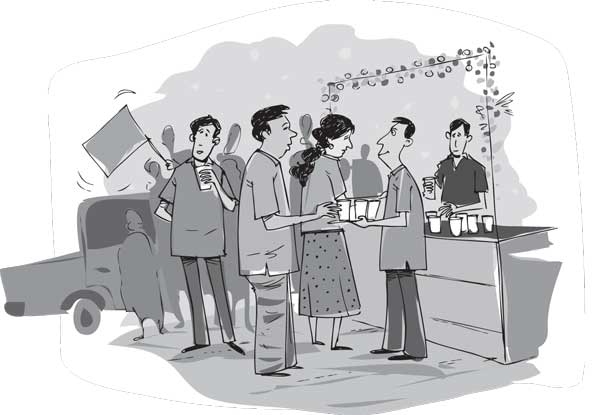 The dansala can be quite effectively accommodated within that dictionary definition.

In effect dansals are centres that offer food and drink, to visitors, free.

During the days of Vesak, dansals erupt all over the island in a variety of modes. Their extensive range of manifestations relates an interesting story. Before, entering that areana, we should cast a passing glance at their origin and evolution.

Charity, giving of alms, gifting food and drink are associated with almost all religious systems. Hindus practice "Anna dana" (food donations".) Jains are required by religion to give knowledge, money etc. every day. There are Islamic religious practices in which the distribution of food and drink is imperative. Christians and Catholics, have their own feasts intrinsic segments of their religious discipline.

But, the Sri Lankan phenomenon of dansala (open house), occupies a special niche due to its profusion, its variegated aspects, the enthusiasm and the fervour it engenders and, above all, due to its innovative manifestations - year after year.

In the far past, in the days of The Buddha, some city-leaders provided meals to those citizens, who were socially marginalised.

In ancient Sri Lanka, this institution of providing food and drink free, emerged due to some realities of that day. Those pilgrims of yore had to embark on their holy tours, either on foot or in carts drawn by oxen. On the way-side, in that day, there were no hotels, restaurants or eateries. However an occasional philanthropist would give such pilgrims a free meal- as a gesture of religious charity.

At sacred sites like, Anuradhapura, Polonnaruwa etc., when pilgrims converged in vast numbers, affluent people fed them. Functionally these gestures in the form of 'alms' were essential as there were no sources, from where pilgrims could obtain food and water. These functional dansals flourished until about the mid-20th century.

From then on "ornamental" dansals proliferated.

Enthusiastic groups, in their spiritual fervour and social ardour, began holding dansals along roads and even minor paths. Dansals sprang up with such profusion, that at times, there were no visitors to be entertained.

The quality of food, the styles of presentation - all underwent a vast change. In the early days, rice and a few modest curries were the standard menu.

Nowadays, at Vesak, there are places that serve biriyani. Once during Vesak, I was conducted to a dansala, organised by some officers of the armed forces. The presentation was in elegant buffet style. If I remember right, liveried staff waited on the guests. Some dansals serve "kottu" "fried - rice" and other forms of food items rich with condiments.

Some offer soups; others provide tea, coriander tea, herbal teas, ice-cream and even 'watalappam.' I know, my list has not exhausted the wide range of offerings at current dansal, but I must add that bread, hoppers, string-hoppers and even cow pea have figured in dansal menus.
There are other 'exotics' too on offer. Open houses offer boiled 'jak', bread-fruit, manioc and sweet- potatoes.

There are intriguing episodes linked to dansals. A friend travelling in his car on Vesak Day was stopped by an enthusiastic open-house keeper. The specialty of his dansala was boiled jak fruit. The devotee who stopped the car had said, "We have run out of boiled jak; do you mind, if we load a couple of jak fruits into your car?" My friend obligingly agreed.

How dansal organisers cajole, entreat and persuade you to stop your vehicle and request you to partake of the food is interesting in the extreme. They wave flags (the Buddhist flag and the national flag, mostly), signalling vehicles to stop.

Today, those who travel about during the Vesak season do not have an urge to have a meal at a wayside dansala. But, many yield to the emotional entreaties of the organisers and partake of a free meal. For some, dansal hopping is very much part of Vesak joy. Back then, as undergrads, we derived a strange thrill of just stepping into dansal. though not driven by a need for food.

In today's context, the dansala is a social phenomenon, we have not adequately probed. What propels thousands of organisers to take all that trouble to get dansal going? Why do these organisers strive to come up with new concepts?

Last year, a group driven to have a novel kind of dansala came up with the idea that they should give "free air"! They would stop cycles, motor bikes, cars, vans etc., and would inflate their tyres free. This open-house had been promptly dubbed, "Hulan Dansala". (free-air-open-house).

For all we know, some open-house keepers, may have borrowed a page from King Dutugemunu. They could very well have dansals where visitors would be given free shaves and hair-cuts. King Dutugemunu, had given his people a free bath, free clothes and free flowers, over and above free food and drinks. The services of the barbers were also free.

Why haven't we followed King Dutugemunu's dansal?

While on this fascinating Vesak phenomenon, we could consider the effort of a global philanthropist. Magnus Mac Farlane of Scotland, who feeds one million schoolchildren across 12 countries everyday through his organisation 'Mary's Meals'. He is one of the 100 most-influential people selected by "TIME" magazine recently. This initiative qualifies his dansala to be dubbed a 'global dansala'.