---

ith Sri Lanka facing a crisis where some parties with vested interests, including Trans National Companies (TNCs), are trying to turn our traditional agriculture into an agribusiness largely for their benefit, the visit this week of the well-known Indian activist Dr. Vandana Shiva will hopefully open the eyes of the authorities to the economic neo-colonialism through which the wealth and resources of our country are being plundered.

Dr. Shiva is well known in India and all over the world as an environmental activist and anti-globalisation author of several books including the best selling 'Stolen Harvest', in which she exposed how TNCs were planning to plunder the agriculture of India just like as they were trying to do in Sri Lanka.

On Tuesday, members of the Movement for Land and Agriculture Reforms (MONLAR) held a march around the Agriculture Ministry at Battaramulla in protest over the proposed Seed Act.

It sounds like something good but what it will mean is that the Trans National Companies will have patent rights over the seed paddy that our farmers can use.
These hybrid or genetically modified seeds produce a huge first harvest as an incentive if not a temptation to our farmers.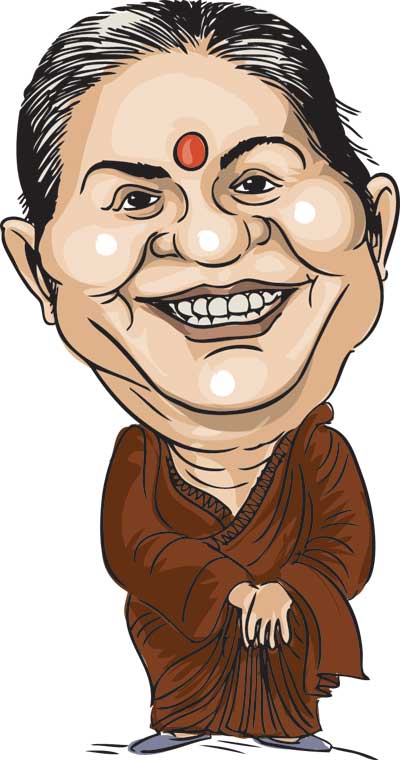 As in most economic neo-colonial agendas, there is a secret in the seed. It is not a natural seed and therefore will not germinate.

Instead, it is subjected to the process of terminator technology which means new seeds will have to be bought for every cultivation and gradually the farmers—who have been at the heart of our civilisation for thousands of years—will become dependent on the TNCs and in addition, millions of Sri Lankans who are already suffering because of the unbearable and daily rising cost of living, will have to pay more for their rice.

Another danger is that even scientists do not know what side-effects these unnatural seeds could have on consumers.

On Monday Dr. Shiva will give her keynote lecture on this and related issues at the Central Bank Auditorium in Rajagiriya and we hope our policy makers will listen to her lecture and act according to it to prevent TNCs and other neo-colonial elements from plundering our agriculture and other resources in subtle and sophisticated ways.

The withdrawal of the Seed Act was one of the demands put forward by the government coalition partner, the National Freedom Front (NFF), at recent crisis talks. An NFF spokesman said the President had promised he would reconsider or withdraw the Seed Act, but in this era promises are one of the few cheap items.The people have serious doubts as to whether the Seed Act will be reconsidered or reintroduced in a different way but with the same devastating effect on the country.

Dr. Shiva, the author of more than 20 books, was trained as a physicist and obtained her doctorate in Philosophy from the University of Western Ontario in Canada in 1978. She is one of the leaders and board members of the International Forum on Globalisation, along with Jerry Mander, Edward Goldsmith, Ralph Nader and Jeremy Rifkin. She is also a leading figure of the global solidarity movement known as the alter-globalization movement.

She has argued for the wisdom of many traditional practices, as is evident from her interview in the book Vedic Ecology by Ranchor Prime. This draws upon India's Vedic heritage.

She is also a member of the International Organisation for a Participatory Society. Dr. Shiva received the Right Livelihood Award in 1993 and numerous other prizes.
It is not too late to turn around even now and we hope Sri Lanka's policy makers will be enlightened by the vision of Dr. Vandana Shiva.