---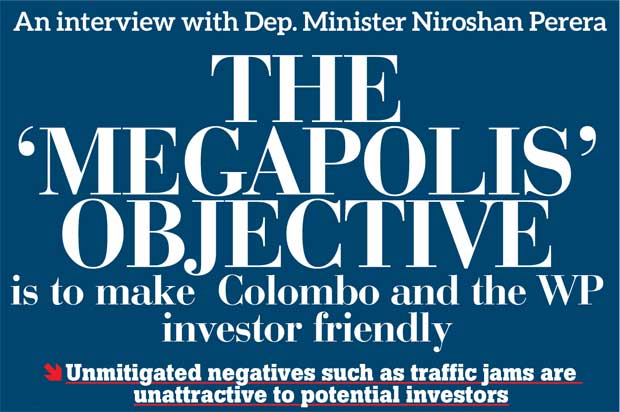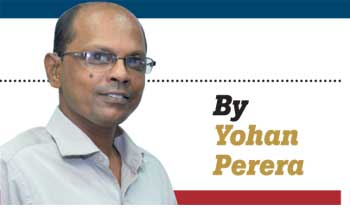 Many questions have been asked by people after

the new government took over the country's reins. Will the new government carry out development work? The last government did some work albeit amidst allegations of corruption. The new government talks of good governance and a non-corrupt society, but will it practise what it preaches? Will the ministers refrain from demanding commissions from project contractors? The United National Party (UNP) which takes prominence in the ruling alliance has a history of privatising state entities. Will it try the same tactics this time as well? These are among the questions which have been asked. Some even allege that the 'Regaining Sri Lanka' concept of the previous UNP is likely to be pursued once again. Taking into consideration these unanswered questions the Daily Mirror spoke to Deputy Minister of Policy Planning, Niroshan Perera who is deputising for Prime Minister Ranil Wickremesinghe who is away from the country. Following are some excerpts of our interview with him.



Q An allegation has been made against the government that it is planning to sell state institutions to the private sector. Is such a plan in the pipeline?
Government's policy is to make people feel that state institutions are run using their own resources. In that context the effort is to change the mindset of the people and thereby instill an understanding of what state institutions mean. We want the people to feel that state institutions belong to them and that they should reap benefits through their effective administration. To meet this need, we are setting up a trust to administer state enterprises.


Q What will be the nature of this trust and who will be included in it?
Our intention is to have experts in various sectors such as power and energy and railways guiding the relative state enterprises. As such,considerable confidence has to be placed in such persons. We are also looking at appointing members of parliament to this trust so that people too will be represented.


Q But the PM in his address to Parliament stated that some institutions will be listed in the stock market?
Strategically important institutions will not be listed in the stock market. Beside those, people would have the opportunity of purchasing shares of state institutions which will be listed in the stock market.


Q Government talks much about megapolis; what is it and what its purpose?
As you may know our urban areas are facing serious issues. One is heavy traffic which is getting worse; there's a lot of waste in time and energy as a result. It has also become a social issue. This situation drives potential investors away. The objective behind the megapolis is to save time and energy and make Colombo and the Western Province an investor-friendly area. There are many plans with regard to a megapolis. We will be shifting major administration offices to Sri Jayawardenepura Kottte which is to be built up as an administrative zone. Also a monorail system will be introduced to ease traffic. The Southern Highway will be extended towards the Colombo City and Katunayake will be converted into an aviation city. A Colombo-Ratnapura Highway will also be constructed before long.


Q What will become of the Chinese invested Port City to be constructed on the reclaimed land?
This will get off the ground when the environment assessment study is completed. The project plan will be changed. Negotiations are continuing regarding this matter.


"As you may know our urban areas are facing serious issues. One is heavy traffic which is getting worse; there's a lot of waste in time and energy as a result"
Q The minister of finance talked of constructing new domestic air ports but did not mention anything about the Ratmalana Airport which has the potential to handle international flights. Is there any plan regarding this airport?
The Ratmalana Airport will be developed as a part of the government's plan to develop domestic airports to boost tourism.
A total of Rs 750 million will be allocated for developing domestic airports that are to be constructed in Puttalam, Digana and Badulla as mentioned in the 2016 Budget.


Q The previous government began work on a domestic airport in Batticlaoa. Is there a plan to continue it or to construct a domestic airport elsewhere in the Eastern Province?
No; our plans do not include the construction of an airport in the East since the Northern Highway will be extended to the East. Highways will reduce the need of domestic airports.


"Government's policy is to make people feel that state institutions are run using their own resources"
Q The Northern Provincial Council passed a resolution calling for the development of Palale Airport especially to accommodate international flights to South India. Is the government perusing such a project?
There is no point in developing Palaly Airport to conduct international flights to South India as the Katunayake International Airport can handle such flights. The difference in flight time between Palaly and South India and Katunayake and South India is minimal. So there is no purpose in developing Palaly as an international airport.


Q The government is accused of adopting and maintaining a pro-Western policy and that it is opening the economy to them [ the West] What are your comments about it?
Our policy is to [cultivate] a balanced approach. And we are concentrating in maintaining healthy economic and political ties with all countries. One aim of the government is to make Sri Lanka a gateway for East Asian countries such as China to enter into large markets in India especially South India.
Actually China had requested the government to enter into an economic agreement with India so that they could use it to enter the Indian market. Also a joint committee to oversee China - Sri Lanka Trade and Investment has been formed. And I am its co-chairman. Development of economic ties between China and Sri Lanka is the main objective of this committee.