---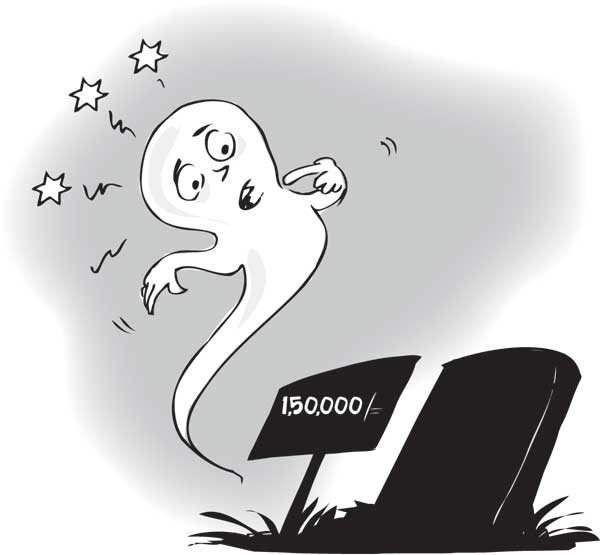 he 2015 Budget provides unprecedented relief measures which former National Cricket Captain Sanath Jayasuriya in symbolic language has described as a Man of the Match all-round performance – good in batting, bowling and fielding. Cricket apart, with its business and match-fixing agendas, the reality for millions of people is that the cost of living is soaring above and beyond political boundaries. Now we are facing a graver and deadlier fact – the cost of dying is also likely to blaze like a pyre.

According to media reports, the Colombo Municipal Council (CMC) is considering a proposal to increase the charge for a four-square-foot plot of land used for depositing ashes at the Borella Kanatte by tenfold, from Rs.15,000 to Rs.150,000. In a crisis where taxes, taxes and more taxes are imposed on people from the cradle to the grave or from the womb to the tomb, increases have also been proposed in the charges for plots at the Madampitiya Cemetery from Rs.12,500 to Rs.75,000 while at the Jawatte Cemetery the proposed increase is from Rs.12,500 to Rs.110,000. The charge for a small vault at the Kirulapona Cemetery is likely to be increased from Rs.7,500 to Rs.50,000.

A CMC spokesperson is reported to have said the value of one perch of land at the Borella Kanatte is about Rs. 10 million and the proposed increase is mainly due to a lack of space. Something appears to be wrong in this CMC valuation because even at plush residential areas in Borella, land is valued at about Rs. 5 million a perch.

Colombo's Mayor A. J. M. Muzammil has said the massive increase proposed by the CMC's public health department has been referred to the Finance Committee.

Though millions of people may have no option but to find ways of coping with the rising cost of living, they certainly do have an option in bringing down the high cost of dying. For instance, the Muslim community has a simple and humble way of burying the dead. They do not pay big amounts to undertakers who have overtaken most other businesses in terms of profit-making. The Muslim community does not follow the procedure of embalming and other expensive funeral rites like luxury coffins or hearses. Instead, within 24 hours of death, the body is wrapped in a white cloth, placed in a reusable casket and carried to the burial grounds if it is nearby or transported in a simple vehicle provided by Janaza Welfare Committees. The bodies are buried in common plots with a small nominal administrative cost being paid.

In contrast, we often see today luxury or extravagant funerals where people pay several lakhs of rupees for coffins, hearses and other funeral rites, followed by equally expensive alms givings which are often given to the haves instead of the have-nots. No religion encourages expensive funeral rites and they are just another fashionable trend where one family tries to do better than the other. The competitive spirit of this selfish, self-centred and greedy era is so stiff that we try to follow it even at death, blissfully ignoring the reality that all things and everyone is transient and impermanent.

As for the CMC's move to raise the charges tenfold, most people could place the ashes in a small vault in their own gardens. In India most Hindus in a revered way put the ashes into the Ganges River and a similar practice could be followed in Sri Lanka also while many selfless people donate the bodies to medical faculties for the benefit of humanity.