---
Education Minister Bandula Gunewardena this week announced the government's decision to change the nature of the Grade 5 Scholarship examination. According to him, from 2016, the examination will not be a competitive exam like it is now.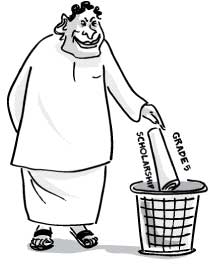 According to Gunewardena, the current need for competitiveness will not arise from 2016 as by that time the Education Ministry's 1,000 schools programme will be completed. According to him the parents will not have to compete to enroll their children in so called 'popular schools' with better facilities once the 1,000 schools program is completed.

At the same time the minister said the burden and the mental stress on students would be drastically reduced under the new system.

This is not the first time the government distorted an issue faced by the ordinary people in this country and exploited the situation to further the opportunities for those with money and influence.

Though the Grade 5 Scholarship examination is considered highly competitive, it is the only way available for intelligent but less privileged students to enter leading schools in the country with better facilities and thereby come up in life through merit and education. But from 2016 onwards, the bright students in the villages will be deprived of the opportunity to enter these leading schools.

Another reason the government cited for taking the decision was the lack of vacancies in certain popular schools for scholarship winners. It is worthwhile to dig out the reasons for such a sudden shortage of vacancies despite the system that had been practised for ages.

The evidence very clearly shows that the situation is mostly caused by the politicians themselves who issue various kinds of letters to enroll the children of their friends and relatives to these popular schools, curbing the opportunities of intelligent but less privileged students.

In Sri Lanka the school you attend matters and it decides your social status. It certainly matters when getting a job. This is quite evident when looking at the qualifications of some of the big shots in the country who have no other qualification other than having attended one of those schools the privileged attend.

So it appears that the government wants to prevent the less privileged students from reaching these popular schools, thereby shutting off the opportunities available to them to climb the social ladder and open doors which otherwise would not be open for them. This will only result in creating a situation like in the colonial era where social background, the amount of money and influence one has will become the key factors in getting a child a good education.



---
Add comment

Comments will be edited (grammar, spelling and slang) and authorized at the discretion of Daily Mirror online. The website also has the right not to publish selected comments.

---