---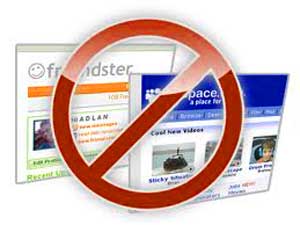 By Ranmali Wijesuriya

Certain websites and people who develop and write for them are in the news once again following the arrest of the owners behind it and placing the computers in custody by the authorities. It was reported that the authorities decided to make the arrest after receiving several complaints by a number of people who had been harassed and insulted by the content. It was also reported that the kingpin of the websites is in hiding.

According to some newspaper reports, these websites are owned by the opposition in Sri Lanka although the truth is yet to be revealed. The United Nations, United States and the European Union were quick to issue statements indicating that Sri Lanka was restricting the freedom of the media, and that journalists should be allowed to conduct legitimate work without fear of harassment and intimidation. It really made many of us laugh as we realized how quickly some of the Western embassies and the UN joined the bandwagon without attempting to get the exact facts. I wonder why the Sri Lankan staff engaged by these missions don't advise their 'embassy superiors' by providing them with a clear picture.The UN statement published in the Daily Mirror says "Journalists need to be able to do their work without interference.

And that's the general principle and it applies in this case, too. Did the UN, the US and EU try to find out who is really harassing and intimidating whom here? Did they really take trouble to find out who are the real journalists and if anyone can become a journalist and if even real journalists have the right to harass anyone as he/she pleases? I have no doubt that one cannot easily become a diplomat or even a UN worker. Right?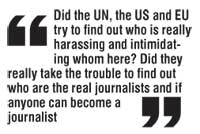 I have several friends both in the public and the private sector and both in the government and the opposition who have become victims of several websites. They have spread wrong information, insulted them, and accused them of wrongdoings and moreover in a very crude manner. They point out that there is no way they could file action against these people, complain even to the Press Complaints Commission since these websites operate mostly from foreign soil. I think the foreign missions in Sri Lanka instead of issuing statements at the drop of a hat supporting these crude and scurrilous websites should investigate the owners of these websites for publishing malicious news by using their soil. If some foreign missions refer to these people as journalists and the publication of such websites as media freedom, I am sure they do not understand what media freedom is.I would also like to know what the Government Information Department is doing or are they competent to handle these websites? The Information Department has the authority to issue identity cards to journalists in Sri Lanka and do they check on all journalists or just issue Identity cards to each and every individual as they please?

I am told they have even issued journalist's identity cards even to messengers working at government media institutions. The Government Department of Information and the Media Ministry also must learn to lead by example and engage with all Media Institutions and also make an attempt at least to raise the standards of journalism instead of doing propaganda. They can get involved in journalism education maybe with the help of India which boasts of high standards in journalism.There should be a wider debate and set of rules and regulations in this country on websites with the participation of all concerned because it has become a tool of harassment rather than a provider of information and facts. A real exposure with room for responses and counterpoints and finally the truth could be welcomed. But, in a civilized society we just cannot tolerate mudslinging, harassment, crude language, intimidation and thuggery just because anyone and everyone can own a computer and has access to the internet.