---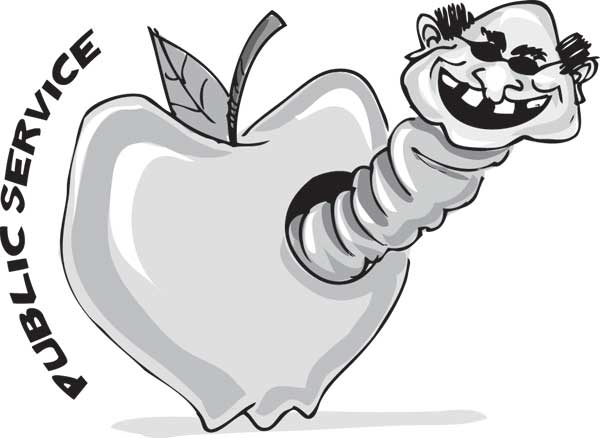 Since 1978 and especially after 2010, the dignity of the once highly-respected public service has been seriously damaged. Today it is virtually a Government service working for the party in power with posts, promotions and transfers depending mainly on the extent to which the public servant is ready to stooge or be a servile flatterer of ruling politicians.

Till 1965, the Secretaries to Ministries were mostly distinguished civil servants and were known as Permanent Secretaries who continued in their posts even if there was a change of Government. The hall of fame includes personalities such as M. Rajendra and A.O. Wirasinha, D.B.I.P.S. Siriwardena and G.V.P. Samarasinghe, Arthur Ratnavale, Shirley Amarasinghe, Baku Mahadeva and Sam Wijesinha to mention a few with apologies to those not mentioned. As in 1978, it was J.R. Jayewardene who in 1965 broke this lofty tradition, followed in Britain and other democratic countries, when he appointed Anandatissa de Alwis as the Secretary to the Ministry of State. Mr. de Alwis was a brilliant businessman running a well-known advertising agency, but he was also involved in party politics. There began the party politicisation of the civil service, the public service and today even the diplomatic service, which have become a part of an amateurish, lethargic and corrupt system with the magnitude of corruption rising from lakhs to millions or hundreds of millions since 2010.
Ruling United People's Freedon Alliance (UPFA) leaders often boast that since 2005 they have increased the number of public servants from about 300,000 to 1.4 million. Most independent economists see this as a clear case of the number increasing but the quality decreasing to such an extent that most people complain little could be done in the public sector without a bribe being offered or demanded.

The public servants have reasons or excuses for this. They say with some justification that their salaries or allowances are relatively low, and they see no reason why they should not illegally make a few thousand rupees when ruling party politicians and top officials are plundering lakhs or millions.
Another major scandal is the blatant and large-scale abuse of public servants, public money and resources for party propaganda during election campaigns and even during the current hotly-contested campaign for the crucial presidential election on January 8. The key public servant, the Commissioner of Elections says his hands have been tied after the abolition of the 17th Amendment which provided for an independent Elections Commission. Happily, with the emergence of a credible and possible alternative, Elections Commissioner Mahinda Deshapriya has pledged he is taking effective steps to ensure a free, fair and peaceful election on January 8. We hope the Senior and Junior Presiding Officers at the polling booths and the Returning Officers at the counting centres will also act independently on behalf of the sovereign people as a first step towards restoring the dignity of the
public service.

The Opposition's common candidate Maithripala Sirisena in his manifesto for democracy and good governance has pledged that the 17th Amendment would be restored within two months and the notorious 18th Amendment revoked, thereby setting the foundation for the restoration of an independent Public Service Commission, Elections Commission, Judicial Service Commission and an independent commission to fight the killer cancer of corruption and bribery. The Rajapaksa Government, unfortunately, does not appear to be willing or able to give such a pledge and it may suffer serious consequences because it is clear that most people now want a new political and social order that is transparent and accountable to the people.