---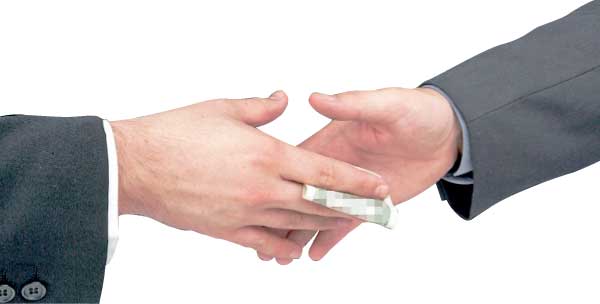 In India, Anna Hazare has once again sat for a fast in a Satyagraha against the inability of the ruling class to provide necessary legislative provisions to curb corruptions in the political, legal and administrative system.

Recently concluded assembly elections in Delhi and some other states also have sent warning messages to the ruling coalition that the public have started to rise up against unchecked corruption, amidst many other issues such as the soaring cost of living and deteriorating status of social welfare. The unexpected rise of a new political party like Aam Aadmi (ordinary people) tells more about the existing political vacuum that has been created, to be filled by genuine political figures, free of corruption.

As we understand, a situation of corruption occurs when there is an abuse of power entrusted in public institutions for private gains of the individuals holding office in that institution. When the people who have been authorised to act on behalf of the state machinery breach the integrity of their positions, it becomes a situation where the public should protest against such corrupt people holding positions. The major objective of the recent Satyagraha in India was to express public displeasure and anger towards such corrupt political, bureaucratic or legal personalities who occupy the seats of power in the public institutions.

The situation concerning the state of corruption in Sri Lanka is no different to that of India; but in a system which is shedding its democratic skin faster than any other third world country. Here we do not find committed activists like Hazare or parties like Aam Aadmi. Corruption from top to the bottom of the system remains a challenge for ordinary people's lives. The reports of the Committee on Public Enterprises (COPE) have provided enough alleged cases in this regard, which are yet to be inquired into. People in this country believe that our Parliament has accommodated more criminals than intellectuals in its history of nearly sixty five years of existence. So nothing much can be expected from such a legislature to curb corruption and create laws of justice.

At the beginning, in the 1950s and 60s we had many educated leaders in Parliament; some even had doctorates, and they tried to live up to their academic credentials in their political lives. On the other hand today, even those who hold doctorates help maintain the system of corruption and political treachery. For me, corruption is a kind of terrorism, which is more terrifying than weapons held by terrorists. It has fast eaten into the political trust that the public should have towards the democratic system. This alarming situation should be seriously taken into consideration by media and civil society activists.

The stories of fast-paced development projects always are linked up with narratives of corruption. Under the previous UNP Governments in the 1980s, there were a lot of allegations against its powerful Ministers for misusing or stealing public money in several mega projects. Currently, the ongoing mega construction projects also have presented similar narratives of corruption. Corruption, in terms of stealing from the Treasury and the loaned money for mega projects reveals the political-economic aspect of its existence without being challenged under the law. Whenever a new project of construction or development is implemented, newspapers, despite the existing surveillance of media, used to publish the reports on commissions that the contractors had offered to politicians, bureaucrats and engineers etc. in order to earn the maximum profits out of such projects. We even hear of Ministers, who accept money for offering tenders, issuing licence for factories or granting approval for development projects etc. However, rarely or never do we see a politician subjected to the rule of law in this country.

It is commonly believed that politics is the most lucrative business to enter into in order to become rich in a very short period of time. Testifying to the truth of this story, today, politics has been made a vocation that is passed down from fathers to their sons. In that scenario ordinary people cannot easily enter into politics from the major parties like the UPFA, as they have already got enough fathers, uncles and sons who will contest for the next hundred years with their family names. Therefore many individuals who cannot contest in elections due to lack of money power may become henchmen who carry the "dolawa" of those political families and expect some patronage from them. Political patronage, favouritism, nepotism, heredity etc. are all some different aspects of corruption which boil down to a system of corrupt, undemocratic lunacy that endangers the future of this state seriously.

In the Corruption Perception Index of 2013 (CPI) prepared by Transparency International, Sri Lanka has been highly poorly-ranked as usual. CPI gives scores from 0-100 to states according to the level of public perception regarding corruption in Public sector institutions. Sri Lanka ranked ninety-one and scoring just thirty seven points, cuts a very sorry figure. We know this is not a mark that can be considered at least as an average status. This index represents 177 countries in the world and our position at ninety-one speaks volumes of the public sector corruption prevailing in this country.

If the public sector institutions such as parliament, judiciary, executive, administration, police, universities and several other state apparatuses become increasingly corrupt bodies, it makes a condition of lawlessness and failed government. The failure of democratic governance can mean several things: the persistence of inequality in distribution of state resources, lack of transparency in judiciary leading to injustice, and social unrest as a result of all such decadent practices etc. When the judiciary or police becomes corrupt as a result of increasing politicisation, that system creates a mockery of democracy. Recently we have seen that the judiciary has been intimidated at several instances by political interference. When the issue of Latimer House Principles was raised by the opposition, the ruling party members have opposed such highly democratic norms accepted by the Commonwealth. In the absence of independent police, judicial, public administration, media and several other Commissions, the power of the Executive and other politicos have swollen to levels disproportionate to the bearable levels of a democratic system and the system will collapse without doubt.

Today, the country needs some good men and women in the seats of power, administration, academia, military, judiciary etc. The lawlessness of the state must be stopped and social justice should be guaranteed for the people. Instead of all such genuine needs of the public, what they get are sermons of hatred and ethnic polarisation. Political opposition has not risen to the occasion and instead, they also clamour to grab similar kinds of parochial slogans of the ruling parties, in an utterly poor situation of facing the public in elections.

Today, the time has come for good people to rise up, who are the real patriots against corruption and vandalism of democratic institutions. People should elect wise men as many as possible they can, in order to remedy this situation and should not seek patronage at all levels by siding with politicos. Otherwise, tomorrow's Sri Lanka would belong to a culture of decadent, corrupt and crazy men whose values may bring the utter destruction for this nation state. Political parties which at least have a sense of this situation should field only good men with good character in the elections and take this situation as a political challenge to purge the menace of corruption and lawlessness in this country.