---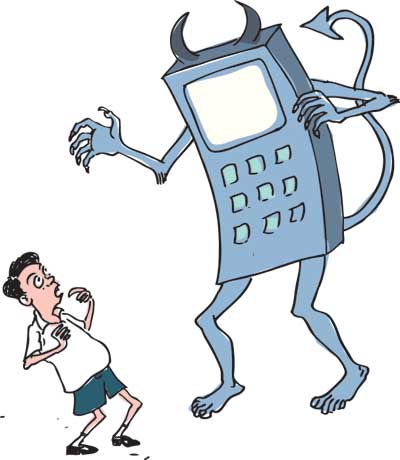 Their name is Tomorrow. They are the future. They are the world, they are the children, and they are the ones who will make a better tomorrow. But on Tuesday, as the world marked the Day of Prevention of Cruelty to Children, it was horrifying to see how avenues for the corruption of innocent minds of children had reached their worst ever proportions in a multitude of ways.

In earlier times and generations, we regularly heard of cruelty or abuse of children by criminal or paedophile gangs, sometimes child abuse in family circles, and sometimes even in religious places. It was inspiring to hear Pope Francis pledging that he would take action against those involved in cases of child abuse in church circles as well as against the hierarchy who try to cover them up.

On CNN television channel last week a well-known author and a filmmaker spotlighted how the abuse of new information and communication technology was leading to the moral and psychological corruption of about 80 percent of the young children mostly in Western countries, with danger signs that it is spreading all over including in Sri Lanka.

For ages, sex education for children had been given by parents, school teachers and community elders. This is important because vital hormonal changes take place in children from the age of about 10 and if they are not taught the right way of responding to those changes, they are likely to learn it the wrong way with devastating consequences to themselves, their families and the society at large.

The CNN analysts made the shocking disclosure that up to about 80 percent of the children in the West were known to be getting their sex-education not from the parents, the school or other responsible organisations but from the filthiest of pornographic websites. Earlier, when it was done through computers, it was often detectable and parents could block those sites. Now, most of the children are reported to have become enslaved to this deadliest of addictions because they are able to get it from their smartphones. It is possible that while the teacher is giving sex education, children may be looking at pornographic websites on these devices, keeping them under their desks.

In fact, Sri Lankans were stunned recently when they found that one of the most sought-after keyword on the Internet had been 'sex'. Sri Lankans, it seems, are the most search savvy when it comes to Googling that term.

This is according to Google Trends, a public web facility that shows how often a particular search-term is entered relative to the total search-volume across various regions of the world, and in various languages. Sri Lanka is known to be low on the list of countries having ready access to the Internet, but terrifyingly we are number one when it comes to searching sex sites.

If parents and elders are doing this, are they pressing the button for the children? It is reported that the huge increase in sex-related crimes in Sri Lanka may be directly linked to the easy access that many people including children have, to porn sites on their mobile phones.
If we wish to save our younger generation from moral and psychological decay, and if we do not want to be damned as a nation of perverts; then urgent action needs to be taken. One important step would be to give high priority to Dhamma schools and if necessary even make it compulsory for children to attend them cancelling their tuition, sports events or family functions. Parents also need to act fast and wisely.