---

Sharing a simple example of an ordeal of a migrant worker's child, an independent researcher - Kusala Wettasinghe, said a child she interviewed did not have any words, but only tears to express the mistreatments he went through because of his mother's absence.

"To help the children familiarize with the researchers, they were inquired of what they would usually do if one of their friends is upset. This particular child just started crying and it was only after sometime we could get him to talk to us. It is only then we found out that he was kept under the care of his grandmother, who has ill-treated him severely. He had not been able to voice his grievances to either of his parents since his father was also away," Wettasinghe said.



Distressing stories of this nature are quite commonplace at present, but certainly less disturbing, considering the horrific incidents reported daily on children who fall victim to abuse by their guardians and even by their own fathers while the mother is away to earn a living.

Migrant workers are one of the main strongholds of Sri Lanka's economic structure, bringing home foreign earnings worth close to 5 million US dollars yearly. While their contribution to the national economy is indeed significant and too substantial to go unnoticed, it has been estimated that nearly 80 per cent of this workforce are mothers.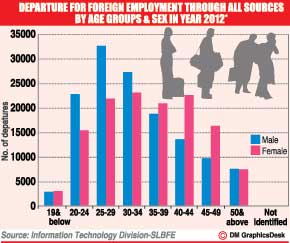 Burdened by the hardships of poverty and upon pleading their case with foreign employment agencies and moneylenders, managing to get a job, even if it means to sail the seven seas, is a consolation for the families of these migrant workers.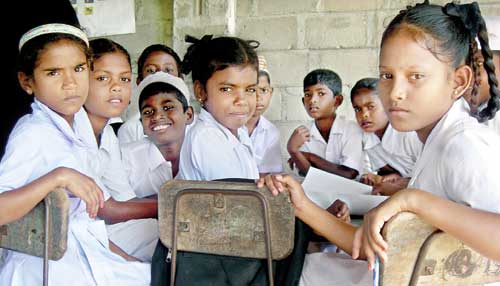 Ms Wettasinghe, a psychosocial practitioner who was part of the study 'Migrant workers' children: alternate care giving' pointed out that while abuse, neglect and other disadvantageous situations are faced even by children whose parents have not migrated, parent migration is a main cause that triggers incidents of such nature. The study was carried out in the Batticaloa and Ampara districts and was commissioned by Terre des homes, an organization working for developing living standards of children, participated by researchers Gethsie Shanmugam and Sarala Emmanuel as well.

"The absence of parents or a parent in a household can aggravate factors that lead to children being neglected or being prone to abuse. We do not wish to label that parent migration is the primary cause for these problems; but it is a contributing factor. In the case where parents have to leave their children behind, it is important to find stable and reliable alternate care to ensure that their children are not deprived of psychical and emotional wellbeing" she said.



Psychosocial wellbeing of children



She emphasized the need for national guidelines not specifically to migrant workers' children but in terms of abandonment, abuse, neglect etc



Professor de Silva pointed out that school counsellors need proper training with adequate knowledge on psychological training and said that they should be accessible easily to children.
Meanwhile, psychosocial trainer who works for the Minister of Education Marsha Cassiere-Daniel said that there are only about 1400 school counsellors currently but added that it is not sufficient as there are about 9000 schools in Sri Lanka. However she said that five provinces already have school counsellors and added that training is an ongoing process and the Ministry will cover the whole island in terms of the need for school counsellors in the time to come.She emphasized the need for national guidelines not specifically to migrant workers' children but in terms of abandonment, abuse, neglect etc. She further stated that if each school counsellor could be given time off at least about 15 hours a week it would greatly benefit the children.



"A hostel system should be established" – NCPA



It is important to ensure the security and protection of the children during the period



National Child Protection Authority (NCPA) Chairman Anoma Dissanayake speaking to Daily Mirror said, the establishment of hostels that can accommodate children of migrant workers should be considered in light of minimizing incidents of abuse.

"The foremost advice would be for at least the mothers to attempt their best to avoid migrating for work. However, before financial constraints such advice might not be practical. Therefore, it is important to ensure the security and protection of the children during the period while they are away," she said.

However, she said instead of expecting the government to establish such a system, each district should be encouraged to form such hostels where the mothers could pay a fee and leave their children until their arrival. "A hostel is a much better solution than institutionalising children as it would not make them feel belittled or abandoned. Moreover, the institutions might not bear a child friendly environment, whereas a hostel would be a completely different set up and environment."

Meanwhile, Mrs. Dissanayake said they have also made a suggestion to the Foreign Employment Bureau to instruct the migrant workers to obtain a clearance certificate from the NCPA prior to their migration. "In a case of migrant workers, their children automatically enter the national child protection system. They are considered vulnerable and their wellbeing is constantly monitored through provincial NCPA coordinators. However, in order to avoid missing out children, we made them a suggestion to advise migrating mothers to visit the NCPA and submit and affidavit concerning the children's and their guardians' details," she added.



School dropouts





Boys have dropped out from school due to the lack of control the mother has over the son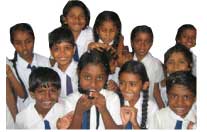 Impact on the children's education Ms. Wettasinghe revealed that school dropouts were observed among children from migrant parent families and added that irrelevant of whether the migrant was the mother or the father, the occurrence was similar. "Girls, in families where the mother has migrated have dropped out of school as they were burdened with the household responsibilities such as caring for younger siblings. In families where the father had migrated, boys have dropped out from school due to the lack of control the mother has over the son," she said.
She also noted that in most families in which either parent or both have migrated, children also dropped out of school due to the permissive attitude of the caregiver. In the Ampara and Batticaloa districts alone, 35 per cent of the children in migrated parents' families, between ages of 15 and 18 years have dropped out of school. "School dropouts have almost turned a societal norm due to the lack of guidance to pursue higher education or vocational skills as well as the societal trend for young adults to enter marriage and seek employment at a very young age," she said.
The research findings had also revealed children left under the care of the father had dropped out of school due to his mismanagement of remittances because of his alcohol addiction or an extramarital affair.

Protection of the children



Absence of parents is a major factor which contributes to this vicious circle



Professor Harendra de Silva, founding Chairman of the National Child Protection Authority is of the view that child abuse, teen pregnancies and other issues among children in migrant parents' families arise due to familial instability.
"When we consider these issues from the macro level, the parents migrate because of economic instability. When a parent migrates for work, the household becomes instable and it leads to most children being abused by relatives and sometimes by the father. If the child is relatively younger, he/she might not even be aware that he/she is being abused," he said.
Referring to the findings of the study, Kusala Wettasinghe said that in families where the mothers have migrated, the father perceives protection of the child as arranging for a female to stay with the children during the night. She also said that early marriages and teen pregnancies are common occurrences in families where there are parents who had migrated.
"They perceive early marriage almost as a norm and this is like a vicious cycle that repeats. When girls marry early most of them become stranded with one or two children without any means of employment. Then migrating for work becomes an obvious choice. This can be seen in non-migrant workers' families as well but absence of parents is a major factor which contributes to this vicious circle" she said
Professor de Silva speaking further noted that only resilient children will come forward with their grievances and some might be introvert children sinking deeper into their agony thus making way for attempting suicides.
He pointed out that medical officers of health (MOH) could be utilized to check on children especially when they come for clinics as it is the best way since even the most economically deprived children are brought to clinics for vaccination etc.

FEB programmes focused on migrant workers' children

Mangala Randeniya, Deputy General Manager of the Social Development Unit of the Sri Lanka Bureau of Foreign Employment said that currently the Bureau is conducting a scholarship programme for the children of the migrant workers. However he said assistance for alternate care for the children is not given by the Bureau as they believe children should stay with either close relatives or the parent who is in the country.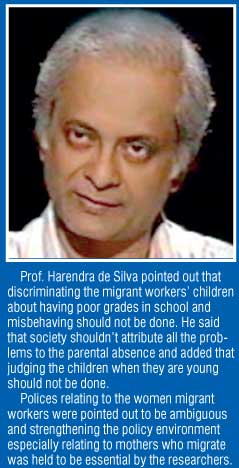 What can be done to improve the current situation?
Initiating educational and vocational training
programmes for
children who
leave school

Creating awareness about child abuse especially among young children and building the resilience
of children.

Sensitive parenting and care giving

Involving medical officers of health and public health midwives to promote the wellbeing of the children and creating awareness among children about health issues and abuse.

Further and improved training of school
counsellors

Involving
children in
decision making during the pre migration stage

Facilitating to maintain
communication with children after migration