---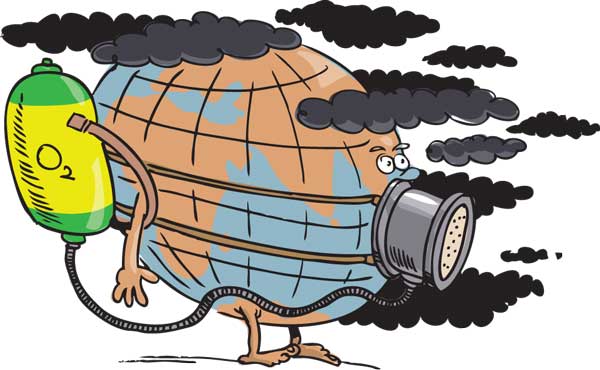 oday is a significant day for inter-faith unity -- it is Uduwap Poya Day, the Holy Prophet Mohamed's Birthday and Christmas Eve. It will be a holy time to deeply reflect on one of the biggest crises facing all people -- saving our common homeland or Mother Earth.

In the sun shine of the historic December 12 Paris Agreement where 195 nations agreed to act urgently and effectively to curb the catastrophic climate change, Sri Lanka's national government and other parties including civic action movements need to put our act together. The Paris agreement was widely hailed as a historic turning point for a world that had been insensitive if not senseless about climate issues, but history will record whether it is historic or not on the basis of how effectively the agreement is implemented for the common good and goal of saving Planet Earth and Mother Nature.

In city and urban areas of Sri Lanka, air pollution levels are already too high. Since January this year, when fuel prices were slashed by the new government, a blessing was turned into a curse when we saw the import of more than half a million vehicles, leading to what many motorists and residents say are our worst ever traffic jams. As a result, fuel to the value of millions of dollars in foreign exchange is wasted as is precious time, stress levels are going up and worst of all air pollution is increasing. Even now surveys show that more than 60 per cent of the people living in city and urban areas are suffering from respiratory ailments. Western Province and Megapolis Minister Patali Champika Ranawaka is reported to be working out a master plan in consultation with experts and it is to be launched on January 9 to mark the first anniversary of the people's silent revolution which brought President Maithripala Sirisena and Prime Minister Ranil Wickremesinghe to office. We hope that not only Minister Ranawaka but also the President, the Prime Minister and the whole cabinet will get actively and sincerely involved in implementing this plan which among other issues is expected to ease traffic congestion. This may be Sri Lanka's last chance, a do or die battle. Otherwise we may end up in a calamity similar to what has been happening in China during the past few weeks.

According to reports, desperate Chinese people are buying cans of air Imported from Canada. Residents in the smog-plagued nation would rather inhale the scent of pine than the toxic odour of vehicle exhaust. When it comes to cutting greenhouse gas emissions, climate activists who showed up in Paris for the summit hoped negotiators would understand that desperate times call for desperate measures.

In the case of China, the people no longer have a nose to inhale polluted air, it seems desperate times call for buying air imported from the wilds of Canada. In the aftermath of the first ever government-issued red pollution alert in Beijing and ongoing smog problems in other major cities, China's people are snapping up cans of Vitality Air.

"Our first shipment of 500 bottles of fresh air were sold in four days," the Canada–based company's co-founder Moses Lam told The Telegraph.
In a place where the air pollution is so bad that people have been told to stay home from work and school -- and those who do go out have taken to wearing masks -- it's not hard to see why inhaling Vitality Air might be appealing.

"The sun is rising on the horizon. Sunlight peeks through the trees as you move towards the opening in the trailhead," reads a description on the Vitality Air website. Meanwhile, people in China have been dealing with air so smoggy that on some days the sun is completely obscured -- to the point that last year the government put up a LED billboard of a fake glowing sun in Beijing, the report adds.

So Sri Lanka beware. From the beginning of time fresh air -- the most essential need for life, has been free. We took it for granted and now we are in a graveyard unless we all decide that from today we are going to reduce our carbon footprints.