---
Sri Lanka's illegal street sex industry is a breeding ground for sexual assault, drug abuse and crime. Could the decriminalisation of sex workers keep women safer or will it further exacerbate the social problems arising from the trade?



During the past decade, legalisation of the sex trade has been promoted as a solution to various issues plaguing the illegal sex trade and other crimes including rape and child abuse. In the late 1990s even an International Labour Organisation report encouraged South East Asian governments to officially recognise the 'sex industry'.The debate on the legalisation of the sex trade has surfaced time and again in Sri Lanka but has faded due to cultural and religious fetters. Is it time Sri Lanka officially recognised the 'sex sector' or will such a move result in a fresh outbreak of new social issues?
It's just another late night in the streets of Colombo's seedy underbelly. The narrow streets are occupied and vehicle movement has not seemed to recede in this part of town. Amidst the hustle and bustle, a white car swooshes past and makes an abrupt stop. A woman is pushed out and it drives away, disappearing into the darkness. Nobody rushes to her aid or bothers to stop the vehicle. She however appears unscathed as she gets off the street. Straightening her dress, she struts into a dark corner, fading into the shadows.

"It's a common sight in this part of town and those girls are now immune to the abuse and they have been warned to stay away from unfamiliar clients. The temptation for money is greater than the safety of their life," a female voice in the dark mumbles as she walks into the dimly lit area under a street lamp. She introduces herself as Revathi*.

A battle for life every night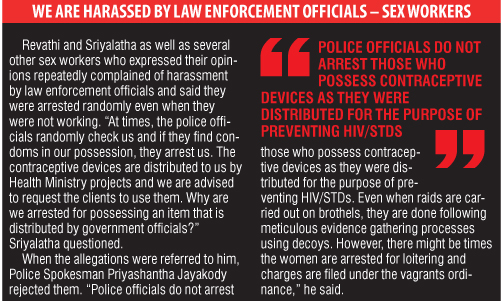 Red tail lights of several vehicles gleam as they slow down near Revathi. She peeps in at a few but continues to ignore them as she walks along the pavement into another dark spot. "Once we leave these streets with a stranger, our safety is at stake. Street sex workers undergo the worst forms of violence and abuse. Speaking of my personal experiences alone, I have been drugged, assaulted and raped on several occasions. So now we have made a pact to inform another when we leave with a client."

Revathi says she and the other women have also agreed to adhere to a common safety code, which includes avoiding the consumption of food or drinks offered by unfamiliar clients. "A lot of our girls have been raped and robbed countless times after being intoxicated," she says.

Stranded by her husband and left with the responsibility of supporting her three children, Revathi entered the sex trade four years ago.

"I will not indentify myself as a victim who was lured into this profession because I was well aware of what I was getting into. During the past few years, I have been judged plenty, ridiculed and even assaulted by strangers because of the path I chose to earn a living. I will not bow to their scorn; not unless I am introduced a 'righteous' alternative where I am able to earn at least Rs. 4000 a day so I would not have to worry about feeding my children," she says determinedly.

Legalisation: would it be a better option?

In spite of the dangers faced by herself and her fellow sex workers, Revathi does not support the idea of legalising the sex industry. "When I think of the abuse I have undergone at the hands of my clients and the time I spent in jail unable to see my three children, being a sex worker under legalised circumstances seems a much better option. But in a culture like ours, the sex trade is better left to remain in the shadows because the pitfalls of legalising the trade are much worse," Revathi says.
However, 45 year-old Sriyalatha* who is a lottery ticket seller by day and a street sex worker by night holds a different opinion. "I have been employed as a street sex worker for the past 13 years and it is not the few hundreds I earned through selling lottery tickets that contributed to building the house I live in; it was every penny I earned as a sex worker. Whether it is legal or not, the trade continues, so why not legalise it?" she questions.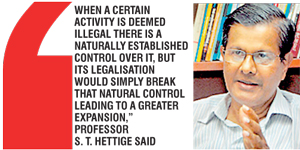 But she expresses her doubts on whether the legalisation would actually bring better working conditions for them. "People think it is only those who are uneducated and without options that enter this trade; they would be surprised to hear that some girls who work with me are university students. The Police don't hesitate to arrest us but we don't see them taking any action against foreign sex workers. If legalisation is ever implemented, I hope it doesn't serve only the interests of the foreign women," she says with a scornful smile.

Sriyalatha adds that fellow workers, who have heard rumours of possible legalisation, live in fear of such a move. "Some of their clients had informed that if the profession is legalised and we are given a licence, that would involve the collection of our personal data. Most women in this trade have taken careful measures to hide the truth from their families so they don't want their secrets revealed," Sriyalatha adds.

In spite of the religious and cultural taboos in Sri Lankan society, calls have been made by several politicians quite recently to legalise the sex trade. This includes a proposal by Southern Provincial Council UPFA member, Ajith Prasanna to the Economic Development Ministry which is followed by a history where in just 2003, the feasibility of opening a red-light district was considered by the United National Front (UNF) government in power then.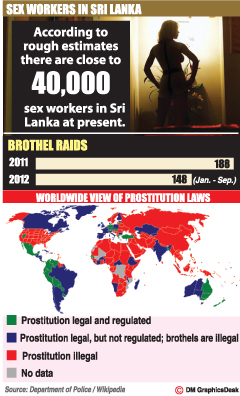 The pro-legalisation lobby cites its effective impact towards curbing criminal involvement and the drug use, decreasing health risks particularly HIV and various sexually transmitted diseases (STDs), better working conditions for women engaged in the profession as well as the contribution it would make to the development of the tourism industry – a sector much highlighted by the present Government as making a significant contribution to the local economy.

Legalisation would benefit women

Officials involved with welfare and rehabilitation of sex workers state that legalisation of the sex trade would have its pros and cons. "A move to legalise the trade would definitely benefit the women employed in the trade as they would have a certain degree of protection against rape and other forms of abuse by clients," Community Strength Development Foundation (CSDF) Executive Director H. A. Lakshman said.

He says the illegal nature of the sex industry compels these women to seek protection from various individuals who in turn enslave them. "This led to the exploitation of women as they are either enslaved or made to work in terms of debt-bondage. In order to survive the physical and emotional abuse, the women turn into alcohol or drug addicts. This vicious circle of social injustice towards them can be broken if the sex trade was legalised," he said.

Lakshman also said since poverty is the main reason for women to enter the sex industry, their economic vulnerability leaves them with little choice in refusing to engage in unprotected sex, leading to the spread of HIV/STDs. "If legalised, the women would be able to control their working environment and clients," he said. He said legalisation would help ensure the protection of sex workers' children. "Most of them have children left in the care of other sex workers and these children are often neglected and even abused," he said.

Lakshman said the decision to legalise the sex trade cannot be considered lightly. "Legalisation would cause an imbalance due to the disintegration of certain cultural barriers and even if laws are implemented to legalise the trade, it should be strictly regulated to ensure it doesn't result in the rise of other crimes. Also, the negative outcomes of the industry's legalisation constantly change and develop, so if legalised, the laws would have to be continually re-addressed," he said. Towards social crises

Several recent studies carried out on legalisation of the sex trade have indicated the move has neither benefited women nor contributed to the decrease of criminal involvement. Policymakers of the legalised states have been compelled to deal with a myriad of unforeseen issues including the unprecedented expansion of the industry, spike in trafficking of women and children and child prostitution.

In the 2013 January edition of the World Development Journal, an article titled 'Does Legalised Prostitution Increase Human Trafficking?' in which a global sample of 116 countries had been studied, states that legalisation of the sex trade led to a higher reported inflow of human trafficking than countries in which prostitution is prohibited.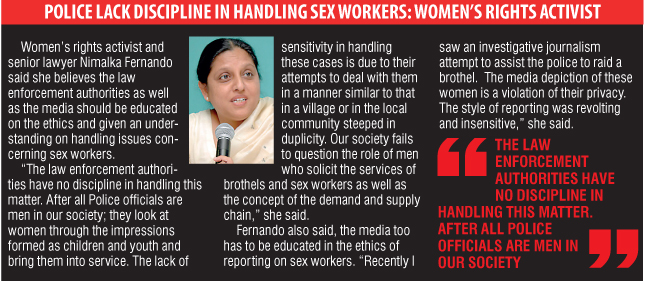 These findings are further supported by Colombo University Sociology Department Senior Lecturer, Professor S. T. Hettige's statement, "Contrary to the popular belief that legalisation would help regulate, it would result in an expansion that would result in other social crises. It is a phenomenon similar to smoking. Where it is illegal to smoke, people would still engage in the activity in the private sphere. Where it is legal, it would be expanded to both private and the public spheres. When a certain activity is deemed illegal there is a naturally established control over it, but its legalisation would simply break that natural control leading to a greater expansion," he said.

Regardless of the religious and cultural objections that spring up, if legalisation plans moved beyond verbal claims, global examples and experts explicate that legalisation of the sex industry would lead to deeper social crises with a grave toll on society.

Since the late 19th century women have been campaigning to end men's abuse of women in prostitution and it is such feminist efforts that led to the 1949 United Nations Convention for the Suppression of the Traffic in Persons and of the Exploitation of the Prostitution of Others. Hence, in choosing not to legalise should also not provide free passage for the exploitation of women employed in the industry or for the vicious cycle of social injustice that most of them have undergone, to be repeated. It is time Sri Lanka moved beyond allowing the futile cycle of arrest and rehabilitation of these women to recur and instead implemented effective programmes to ensure the welfare and safety of these women.

*Names have been changed to protect identities