---
World leaders in political, religious or other areas, are elected or appointed to these high and powerful posts, essentially to serve the people, give servant leadership and work for the common good of all without seeking personal gain or glory. Unfortunately those who are in these high posts and especially those who stay on for several terms, tend to allow themselves to be infected by a disease known as narcissism – excessive or morbid self-love.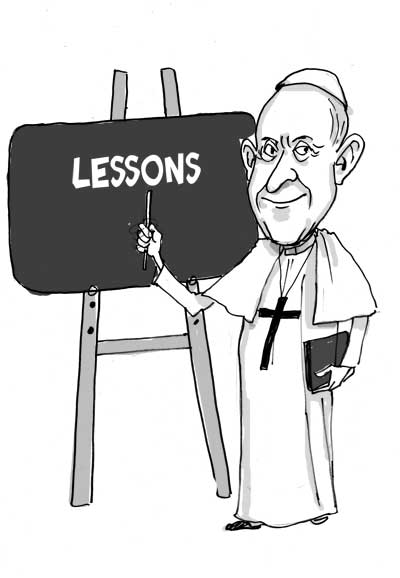 On Wednesday Pope Francis in a sign of contradiction or a prophetic act against this moral disease suspended German Bishop Franz-Peter Tabartz-Van- Elst for spending lavishly to renovate his palace in the Limburg diocese. Last year the Bishop is reported to have flown first-class on a mission to India to help the poor. Last week when he was summoned to Rome for an inquiry by Pope Francis, he was told to fly third-class, and the Pope held an inquiry in a Vatican guest house room where he lives, instead of the palacial papal apartment.

This is a powerful lesson for leaders of all countries including Sri Lanka on how they could bring about social justice, lasting peace and sustainable development if they enter into a simple and humble lifestyle to unite with the people.

Tragically what we see in Sri Lanka today is a heavily–overloaded Cabinet with all sorts of ministers, deputy ministers and project ministers indulging in a super-luxury life with a multitude of perks and privileges costing hundreds of millions of rupees in public funds. Recently nine more deputy ministers were appointed in a move where legitimate criticism is met with cynicism and the people are virtually told, "If you don't want more ministers we will give you more and more". If this is democracy for the people and by the people, then Abraham Lincoln may be turning in his grave under the log cabin.

For Sri Lanka especially, the virtue of a simple and humble lifestyle has been part of our civilisation for thousands of years. Even in recent decades we had the example of Wijayananda Dahanayake who once came to Parliament in a span cloth to protest over the high price of clothing. In 1959 he became the Prime Minister for a short time and after his tenure at Temple Trees ended, he is reported to have packed his few belongings in a bag, got into a bus on the Galle Road and gone to his village in Galle. If we do not have more Dahanayakes or Banis Mamas today, and instead are saddled with too many notorious Silvas, it may be largely because there is little by way of inspiring or exemplary leadership. In the case of Pope Francis, he has set the example by living in a room of a Vatican guest house, wearing simple vestments, travelling in a small car and overall leading an austere life with basic needs. If the political leaders of Sri Lanka and other countries also set such examples, they will earn heat-felt respect from the people instead of having to buy votes with vices ranging from mobile phones to bottles of liquor. Furthermore, they will go down in history as selfless sincere leaders like Dr. Dahanayake, instead of ending up in garbage dumps or graveyards where the Hitlers of the world lie in shame.

Politicians and other leaders may be able to fool most of the people most of the time. But if they wish to be remembered in the positive pages of history, they need to be true to their conscience. That is if they still have one. They need to remember Shakespear's immortal guidance, "To thine own self be true and then it must follow, as day does night, that you cannot be false to any person".

They also need to remind themselves of Longfellow's famous words, "The heights reached by respected personalities, reached and kept, were not attained by sudden flight, but they, while their colleagues slept, were toiling upwards through the night".