---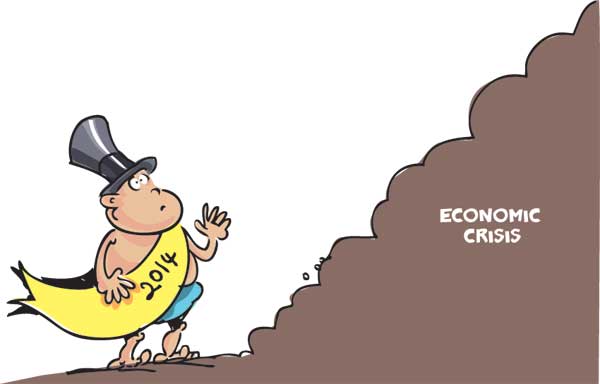 As we moved into 2014, some people lavishly spent more than Rs. 20,000 per head for a few hours of revelry while many others were rummaging through garbage bins. Therefore, right-thinking citizens of the country have to reflect on what is wrong and what needs to be done to restore an equitable and just society.

However trying the political and socio-economic situation may be, we need to have hope for a new dawn with a new vision and goals, new values and principles, and a commitment to be selfless in service to others and the country.

This is also the traditional time for New Year resolutions, which unfortunately are often made in high-spirits and a low- degree of commitment or are broken and forgotten when the festive fervor fades away.

Whatever the failures may be, the fact is that these New Year resolutions could have a powerful practical effect if they are made with a spirit of commitment.
We could reflect today on the resolutions we should and need to take in the political front, the socio-economic, family and personal dimensions. In this era of heroin and ethanol politics, with corruption, double dealing and deception, the public who are wise and well-informed would agree that the system needs to be reformed.
Speculation is rife in political circles that a presidential election will be held, probably late this year. If that happens, a key issue raised would be a change of the executive presidential system and the restoration of parliamentary democracy similar to what was there before 1978, with some changes in keeping with present-day needs and trends.

President Mahinda Rajapaksa and most parties in the ruling United People's Freedom Alliance (UPFA) have committed themselves repeatedly to the abolition of the executive presidency, though they are conveniently putting it off.

The main Opposition United National Party (UNP) though virtually wrecked by defeats and inner squabbling, appears to be putting itself together. At the party's annual convention on December 21, a resolution was unanimously adopted to abolish the executive presidential system introduced in 1978 by its then leader J.R. Jayewardene. He may have had good intentions, but times have changed and reforms to the system are needed.

The Janatha Vimukthi Peramuna (JVP) and Sarath Fonseka's Democratic Party also want the executive presidency abolished, while the main Tamil Party the Tamil National Alliance (TNA) is also likely to fall in line, though at one time the Tamil Parties supported the system because they believed any candidate would need the North-Eastern vote to become the Executive President, which has not been the case in recent times.

UNP leader Ranil Wickremesinghe, now working with the party's Leadership Council, is reported to be having a dialogue with other opposition parties to find a common opposition candidate for the presidential election. Many names have been speculated to this effect.

The Ven. Maduluwawe Sobitha Nayake Thera who has given leadership to a social movement for a just society in the recent times has also promoted the abolition of the executive presidency, the revival of parliamentary democracy, good governance and the rule of law and accountability. This is a key New Year resolution and the public would have to make a choice in taking the middle path, rejecting both the devil and the deep blue sea.