---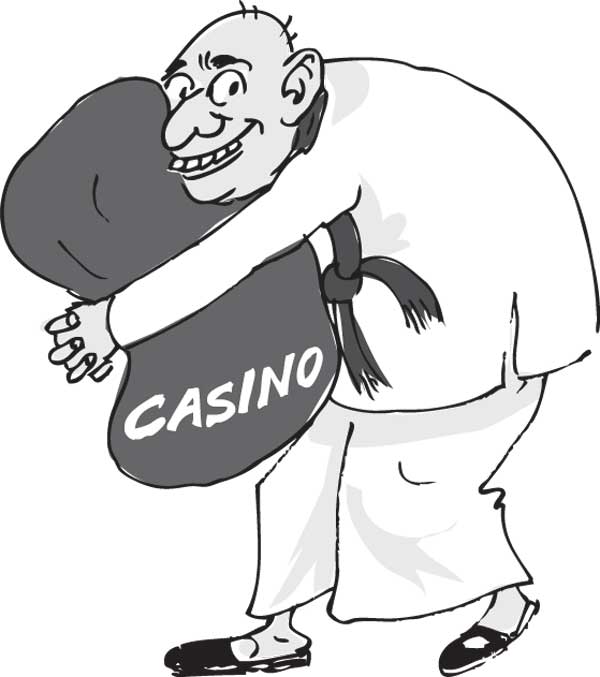 With the casino issue now suspended and put under the gambling table till the Commonwealth Summit is held, most independent political analysts believe the Rajapaksa regime will somehow reintroduce the gazette notifications not so much because it supports casinos but moreso because the country is virtually bankrupt and borrowing more to repay debts.

Last week under intense pressure from leaders of all religions, opposition parties and civic action groups, the Rajapaksa regime withdrew the gazette notifications which it was to table in parliament for approval so that Australian magnate James Packer and a bluechip company here could set up massive casinos at D. R. Wijewardena Mawatha and at Justice Akbar Mawatha in Kompannaveediya. They were to be given tax holidays to the tune of a massive 120 billion rupees a year—more than the annual budgetary allocation for the vital areas of health and education.

In the United National People's Alliance government only the Jathika Hela Urumaya and the Sri Lanka Muslim Congress are strongly opposing the setting up of the new casinos while most ministers and other government members are apparently abandoning their conscience to justify the casino culture. Some of their arguments are sublimely ridiculous and we would like to remind them of what religious and other leaders have been saying about the casino menace and its multitude of sidelined hellholes including bar girls and cabaret girls possibly from our villages, brothels and massage parlours, money laundering, crime syndicates and other vices.
For instance religious leaders from the Greater Toronto Area recently issued a strong warning against the setting up of more casinos there. The leaders representing the Christian, Buddhist, Islamic and Hindu religions said they represented diverse faith communities with unique perspectives, principles, sacred texts, traditions and teachings that form the basis of their opposition to expanded gambling. "We are unified in our position that gambling is contrary to the ethical norms of our traditions because it negatively impacts our faith communities and the wider public. We are convinced that casinos contribute to family breakdown, depression, addiction, bankruptcies and crime, and thus are antithetical to our mission as faith traditions to strengthen individuals, families and communities" they said.

They said their faith traditions taught them that the government should maintain order, preserve justice and promote the common good. They believed that the government must take a stand to promote the values of education, hard work, social justice and the dignity of labour, and reject the illusion of easy money for both individuals and public coffers.

In the Northern Toronto city of Vaughan councillors voted 5-4 to kill the idea of a casino in their city, turning around a 5-4 vote in favour of pursuing one in May. The swing vote was cast by deputy mayor Gino Rosati, who told residents minutes before his motion to kill the plan passed that he had learned since May that the vast majority of the people do not want a casino in the city of Vaughan."

United States economists David B. Mustard and Earl L. Grinols of Baylor University analyzed crime data collected from all 3,165 counties in the United States for about 20 years and looked at local crime rates before and after casinos opened. What they discovered was that crime rates did not increase when a casino first opened - but did start to rise slowly during the first year of operation, then more quickly until it was greater than before the casino was built. After five years, robberies were up 136%, aggravated assaults 91%, auto theft 78%, burglary 50%, theft of personal property 38% and rape 21%. Susan Mendenhall, former mayor of Ledyard, county put it this way: "The drugs, the guns, the prostitution. It just follows the money and people don't want to talk about it. Our sleepy little town did not have this kind of problem, but it's everywhere now. It's been so painful for us."

Whatever the Rajapaksa regime and Investments promotion minister Lakshman Yapa Abeywardena may think, the people need to reflect on these deadly facts and decide whether they are going to allow the regime to gamble with our country and with our future generations.