---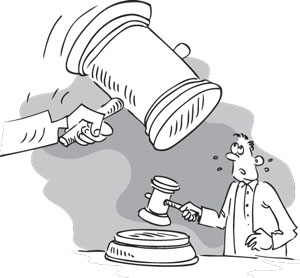 The attack on the Judicial Services Commission Secretary Manjula Tillekeratne has triggered off one of the most explosive crises between the Government and the judiciary. The main opposition UNP's deputy leader Sajith Premadasa described it as one of the darkest days for the independent judiciary and democracy.

On Monday the crisis worsened when judges and staff of the High Courts, District Courts and Magistrate's Courts all over the country stayed away from work in an unprecedented protest over the attack on the JSC Secretary, with opposition leaders describing the attack as a criminal intimidation of the judiciary itself. Lawyers also staged protests outside courts in solidarity with the judges, while a different drama took place outside the Superior Courts Complex in Hulftsdorp. Lawyers and others carried a coffin chanting funeral verses, and then burnt the coffin. It was symbolic of their claim that the all-powerful Rajapaksa government was trying to deal a death-blow to the independent judiciary, which independent analysts and civic action groups see as the last bastion of democracy in Sri Lanka and the last refuge for people who are denied their fundamental rights.

The tussle or cold war between the Rajapaksa government and the judiciary has been going on for more than a month after the Supreme Court lead by Chief Justice Shiranee Bandaranayake gave tough rulings on the A/level fiasco, the controversial Divi Neguma Bill and other cases. The breaking point came when JSC Secretary Manjula Tillekeratne issued a strongly-worded statement saying government propagandists were using the state media to undermine or attack the independent judiciary. Then came the dispute when Presidential Secretary Lalith Weeratunga wrote to the JSC members including the Chief Justice, inviting them for talks with the President. He gave no reason, and the JSC appeared to be justified in rejecting the invitation for talks on the basis that it might damage the integrity and independence of the judiciary. President Rajapaksa at a news conference later claimed he only wanted to talk to the judges about budgetary allocations for the judiciary and related matters, but most independent analysts believe the timing of the letter was inappropriate to say the least. They say the Justice Ministry could have written to the JSC asking for its views on the budgetary allocations. As we stated earlier, history has shown clearly that the separation of powers among the executive, the legislature and the judiciary is vital for the survival of democracy, good governance, accountability and transparency, which are among the values needed to uphold the sovereignty of the people. We urge the Government to review the crisis and restore the balance of power as a first step towards the revival of democracy. The alternative is the devilry of a dictatorship.

---
Add comment

Comments will be edited (grammar, spelling and slang) and authorized at the discretion of Daily Mirror online. The website also has the right not to publish selected comments.

---
---
---