---
Afew weeks ago Parliament was informed that the Mahinda Rajapaksa International Airport in Mattala had only earned a little more that Rs.16,000 as revenue in May. On top of that, an interim report released by the parliamentary Committee on Public Enterprises (COPE) last week stated that the operating loss of the fully state-owned budget carrier, Mihin Air had increased to Rs.3.3 billion in 2013 from the Rs.1.9 billion during the financial year 2012. The interim report also said the massive losses incurred by Mihin Air were a result of the airline borrowing at higher rates of interest to cover its operational costs. After an in-depth look at how the budget airline has performed so far, the interim report recommended that Mihin Air be merged with the national carrier, SriLankan, which also has an accumulated operating loss of Rs.29 billion for the financial year 2013.

The need for another airline apart from the national career has been long debated. In fact, given the massive losses incurred by SriLankan, the need for a national career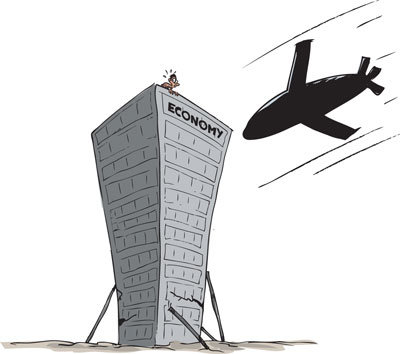 has also been questioned on more than one occasion.

The birth of Mihin Air could be easily interpreted as a vanity-project. The name simply gives it away. At the time it was set up, Sri Lanka had little or no need for another airline. Mihin Air was set up as a budget-carrier to cater mainly to the unskilled Sri Lankan workers who went to Middle Eastern countries for employment. However later, realizing the unsuitability of such a business model and the acute competitive pressure exerted by other well established budget carriers, the airline changed its course and attempted to reinvent itself as something more than a budget carrier -- the choice of patriotic Sri Lankans and the Dambadiva pilgrims.

Enough is enough. The merging of the two airlines as recomended in the COPE interim report will not remedy the issues. The merging will further hamper the already ailing balance sheet of SriLankan airlines. Therefore, the most prudent thing for the government to do is the shutting down of the airline, though it would be a bitter pill to swallow. Otherwise the cost associated with pumping more public money into a white-elephant venture would be massive given the acute requirement of more funds in healthcare, education, research and development.

The huge amount owed by SriLankan airlines to state banks were recently transferred to the Treasury in a bid to clear-up the pile of non-performing loans in the balance sheets of these banks. SriLankan has now embarked on an ambitious re-fleeting programme and recently raised US$175 million through an international bond issue at very attractive rates. It is trying to cut its costs and improve efficiency by streamlining its destinations. In other words, the airline is apparently trying earnestly to come out of its debt-ridden, loss-making legacy. Therefore, we strongly believe that a possible merger between SriLankan and Mihin Air is likely to bring in more bad than good.