---
Amid a multitude of national and international crises including the current constitutional calamity over the impeachment issue, the breaking point for Sri Lanka could be the economic debacle. Despite boasts and inflated claims by government leaders, Central Bank and Treasury officials, Sri Lanka's balance of payments deficit is worsening with the expenditure on imports rising to more than double the income from exports. The only solid source of foreign exchange is some 5.2 billion rupees that Sri Lanka receives annually from hundreds of thousands of migrant workers. Most of them seek jobs abroad because of the desperate plight their families are facing, and they work like slaves for about 12 hours a day under tough if not terrible conditions.

Tragically it is the hard-earned money that politicians plunder for their personal glory and ego-boosting projects or the roaring extravagance of motor races in the night. For this they spend millions of dollars to import Lamborghinis duty free, while millions of people languish in varying degrees of 'badagini'.
A minister said recently the Government might have to print more money or obtain loans on commercial interest rates. The interest alone on the loans already obtained is known to amount to trillions of rupees, and generations to come will have to repay these loans.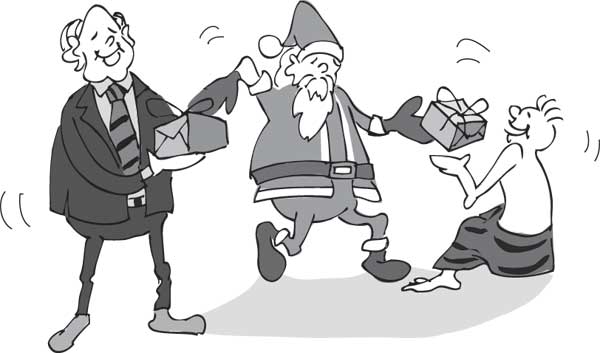 In this crisis situation it is Christmas time again – a time when most business enterprises make their biggest profits. In the name of Christ and for the country, the Christians this year need to mark Christmas in an austere, simple, humble and thereby more spiritual way. For hundreds of years the Jews who were in exile or under some foreign power were expecting a Messiah from the royal line of King David. Most of them would have believed the Messiah would come from the Holy of Holies in the temple. But God often works in a manner that is immeasurably beyond human expectation, understanding or imagination. Instead of someone from the line of King David, He sent His own Son as the Messiah, and incredibly the birth was not in a mansion but in a cattle shed.

Rich cakes and crackers, breudhers and bonbons, yule logs or five-star balls have little or nothing to do with the 'alpechchathawaya' or spirituality of Christmas. To save a bankrupt country and to offer some solace to millions who are suffering because of the soaring cost of living, those who normally spend about Rs 50,000 for Christmas need to turn away from luxuries and extravagances this year. If they could cut their expenses to about Rs.25,000 and share the balance Rs.25,000 to restore the dignity of a poverty-stricken family, it will be a beautiful Christmas gift for Jesus. If 10,000 rich families do this and restore the dignity of 10,000 poor families, it will not only be a deeply-spiritual Christmas but go a long way towards poverty-alleviation and social justice with a more equitable distribution of wealth and resources.