---




Q How difficult or easy is it to find evidence at a scene of crime?
During DNA based crime investigations at least 25 biological samples can be found from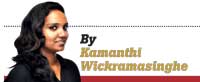 a scene of crime. These include hair shafts, faecal matter, body organs and many more. Forensics rely on a fundamental theory which states that "every contact leaves a trace", as suggested by French forensic scientist, Edmond Locard. Therefore there is something called intimate contact with three parts, mainly people, places and objects. We call this trace material transfer. Therefore 2-3 objects can be used as trace evidence to track suspects connected with the crime. Biological samples which have DNA in them could be tested to identify criminals beyond reasonable doubt. DNA investigations are nearly 100% accurate.




Q

What services are offered by GeneTech?
GeneTech has been in existence for more than 13 years founded
by Dr Maiya Gunasekara, specializing in three key aspects that make use of DNA testing. One is for criminal investigations, the other is to establish
family relationships which come under civil cases and the third is in disease diagnostics. Nearly 4000 criminal cases were taken up including cases of theft, robbery, sexual abuse and rape. Under civil cases we have taken up nearly 6500 such cases. Civil cases are mainly to establish the maternal and paternal relationships. Over the 13 years we have tested over 15000 biological samples generating large amounts of data. DNA profiles are unique. All our tests are done according to recommended ISO standards and any student who has a Bachelors or a postgraduate degree can be recruited but they will be trained for a certain period of time. Not only do we have a diagnostic lab but we also participate in research activities where we too have a good chance to develop our methods. DNA testing has evolved so rapidly that today we have many techniques practised in other countries and have in turn given a boost to Research and Development in the country.




Q

Can you give some examples of special cases?
The case of Tsunami baby 81, Royal Park murder, Sarath Ambepitiya case and Kotakethana murders.







Q

At the scene of a crime, how are these materials collected without damage?
There are especially trained police officers called Scene of Crime Officers (SOCO) who handle evidence at a scene of crime. We have trained the entire SOCO force in identifying, handling and preserving evidence. Depending on the specimen, the method of collecting the sample is different. Biological samples should be taken care of because of degradation. For example, if one is collecting a blood stain on a cloth, it should be left to dry. Similarly in the case of flesh, it should be preserved at -200C and during transit; the sample should be kept in ice.




Q

In the case of manipulations?
People who are dealing with these cases work to a certain standard. Therefore it is highly unlikely that there would be any manipulations. Once the courts request that a DNA testing should be done, the samples are taken to a DNA lab. Without the request from courts a DNA test cannot be done. As I mentioned there can be 25 different samples of biological evidence. In addition to that we can also collect physical circumstantial evidence such as a shirt button, piece of cloth, footprint, tyre tracks, a piece of thread and the like. A single person can shed at least 100 hair samples a day. Yes there are times when suspects try to hide important evidence by burning dead bodies and doing such unethical things. Yet if I take an example, there were two bodies which were burnt during the Kotakethana murders. When we closely examined, we were able to recover sperm samples from the charred bodies.




Q

Other than GeneTech, what other authorities conduct DNA testing and crime based investigations?
The Government Analyst's Department and the Ragama Medical faculty too are involved in conducting these tests. For example at GeneTech we conduct DNA testing for disease diagnostics. Therefore in the case of a dengue patient, the routine test takes up to 3-4 days. But at GeneTech the report can be taken within 24 hours. As such you can diagnose 80 such infectious diseases through DNA testing.