---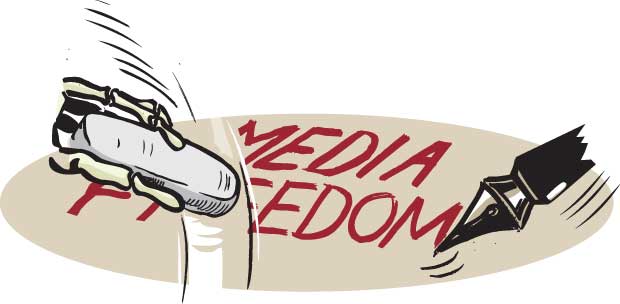 Today is the United Nations Day to End Impunity for Crimes against Journalists and the UN reveals the shocking truth that over the past 11 years, more than 900 journalists have been killed for bringing news and information to the people. Sadly, only one in ten cases committed against media workers over the past decade has led to a conviction.
During the former Mahinda Rajapaksa regime and in earlier eras, Sri Lanka also saw the killing of top journalists including Lasantha Wickramatunge and the white van abductions and tortures of journalists such as Prageeth Ekneligoda, Keith Noyhar and Upali Tennakone among others. As the UN says not a single conviction has been seen so far though cases are pending.
After the election of President Maithripala Sirisena in January 2015 and the setting up of the National Government in September 2015, media freedom has been restored and there have been no attacks or white van abduction of journalists who criticise the government. But as President Sirisena and Prime Minister Ranil Wickremesinghe say there appears to be a major abuse of media freedom today with some channels attacking the President, the Prime Minister and other government leaders, apparently based on personal motives or agendas. Premier Wickremesinghe said this week he had been the main target of attacks mainly by electronic channels because he had worked more than others to bring Sri Lanka out of the debt trap and put the country on a course for sustainable, eco-friendly and all-inclusive economic development.
As we have stressed before, the media and journalists need to be aware more of their responsibilities than of their rights. We journalists have a responsibility to work for the common good of all people of all races and religions and bring about religious and racial unity in diversity. To the extent we fail in this responsibility and to the extent we provoke extremism, racial or religious conflicts we forfeit our rights to media freedom. Promoting ethics and social justice are among the vital roles of journalists. If we fail in this and if we are not fair, balanced and accurate in our reporting or feature writing we have no right to claim media freedom.
The UN says the impunity for crimes against journalists emboldens the perpetrators of the crimes and at the same time has a chilling effect on society including journalists themselves. Impunity breeds impunity and feeds into a vicious cycle. The United Nations Education Scientific and Cultural Organisation (UNESCO) says it is concerned that impunity damages whole societies by covering up serious human rights abuses, corruption, and crime.
The UN in a resolution has urged member-States to implement definite measures countering the present culture of impunity. The date, November 2 was chosen in commemoration of the assassination of two French journalists in Mali on November 2, 2013.
This landmark resolution condemns all attacks and violence against journalists and media workers. It also urges member states to do their utmost to prevent violence against journalists and media workers, to ensure accountability, bring to justice perpetrators of crimes against journalists and media workers and ensure that victims have access to appropriate remedies. It calls upon States to promote a safe and enabling environment for journalists to perform their work independently and without undue interference.
UNESCO Director-General Irina Bokova in a message says, justice is a cornerstone of a free society. It dissuades those who threaten freedom of expression and emboldens those who stand to defend it. This is why injustice against journalists is so costly for all societies. From 2006 to 2016, no less than 930 journalists were killed. In 2016 alone, we saw the loss of 102 journalists in the line of duty.
What makes these figures even more unbearable is that, in more than nine out of ten cases, the perpetrators were never brought to justice. This concerns mostly local journalists -- 93% of journalists killed in the past 11 years were local journalists covering local stories. This concerns also the threats faced by female journalists, including the alarming rise of online harassment.
She says we must ensure justice is done for every journalist killed. This is essential for their memory -- it is vital to strengthen the rule of law and good governance.