---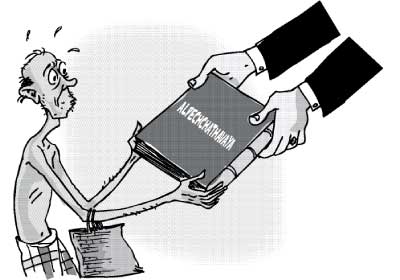 The campaign for Monday's General Election ended at midnight yesterday, with the focus much on an unexpected issue – President Maithripala Sirisena's five page letter to former President Mahinda Rajapaksa and Mr. Rajapaksa's short response to him. Above and beyond what is essentially an internal party issue the sovereign people during these two days of quiet reflection need to focus on long term issues affecting the next generation.

One such important issue is the economy and sustainable development to bring about social justice and a more equitable distribution of the country's wealth and resources. The ruling United National Front for Good Governance (UNFGG) is pledging to work towards what it calls a 'social market economy,' while the United People Freedom Alliance (UPFA) is pledging to continue its traditional centre-left policy.

With Sri Lanka facing a debt burden of unprecedented magnitude, similar to that of Greece, most economic analysts believe the foundation for the economic policy needs to include austerity or 'alpechchathavaya' which means a simple and humble lifestyle - nothing new to Sri Lanka but an integral part of our ancient culture and civilisation. Similar austerity apparently failed in Greece largely because political leaders, instead of first practising it, try to preach it to the people.

If 'alpechchathavaya', learning to manage with our basic needs, is to be restored as a vital factor in Sri Lanka, our leaders, especially our political leaders need to first practise it before preaching it.

Austerity involves the cutting down of wasteful expenditure, luxuries, privileges and vulgar extravagances.

For instance, one of the privileges given to MPs during the past four decades is a pension scheme which is somewhat of a luxury when compared to what others get. A parliamentarian who loses after being in the House for ten years is entitled to a pension of Rs. 28,000 a month. By way of comparison, a school principal has to work long and hard for up to 30 years to earn such a pension.

One major party in its election manifesto has called for the withdrawal of this parliamentary pension scheme and also the privilege whereby MPs are given duty-free permits for the import of luxury vehicles. Parliamentarians and especially members of the giant Cabinets that we have seen in recent years get a multitude of other privileges. Ministers get huge privileges like free electricity with some having even air conditioned rooms while there are allegations that at one time even the washrooms of a VIP residence were air conditioned. Another allegation is that the electricity bill for this VIP residence had been about 80 lakhs and it has now been reduced to four lakhs.

If politicians set the example in these and other ways and willingly cut down on wasteful expenditure, then the people will also be inspired to follow it. By spending less, we will be saving more and thus there will be more to share with those who are enslaved in poverty. Earning foreign exchange through foreign investments and exports is essentially a long term process which needs to begin with the short term spirit of saving and sharing more.

The Daily Mirror, in a recent editorial, focused attention on the need for green funerals which cost less and are eco friendly. World environmental groups have pointed out that the Islamic way of burial within 24 hours is not only the least costly but also the most eco-friendly. We do not need laws for this purpose but our conscience will tell us of the fallacy of wasteful funeral expenditure which only helps undertakers to get rich. Since 1977, we have also seen an extravagant social trend towards five-star weddings with wedding planning and other costs soaring beyond one million rupees. Even poor or middle class families, which cannot afford this are tempted to follow the social trend and borrow money for such five star weddings, repaying the loan for years after marriage. If politicians and other religious, business and social leaders set the example, then the people will follow and it will be a giant leap towards building a new
Sri Lanka.