---
We reported yesterday that Speaker Chamal Rajapaksa would appoint a Parliamentary Select Committee to probe the breakdown of discipline among parliamentarians including ministers and propose tough action against those found guilty.
It is tragic that this once-respected institution of law makers is today downgraded it not disgraced by law breakers with some shocking and shameful incidents including thuggery and physical assault being exposed live on television.

To curb and correct this trend we would need to look at the roots where the decay or degradation started. Most independent analysts believe the rot began with the 1978 constitution when Parliament become a rubber stamp with a 5/6 majority for the all-powerful executive president. There was also a PR system where MPs represented districts and not their electorates, many came in on the national list while crossovers were later allowed to make way for the large-scale political parachuting as we see today. The situation improved somewhat after 1989 when the executive presidents did not have a 2/3 majority in parliament.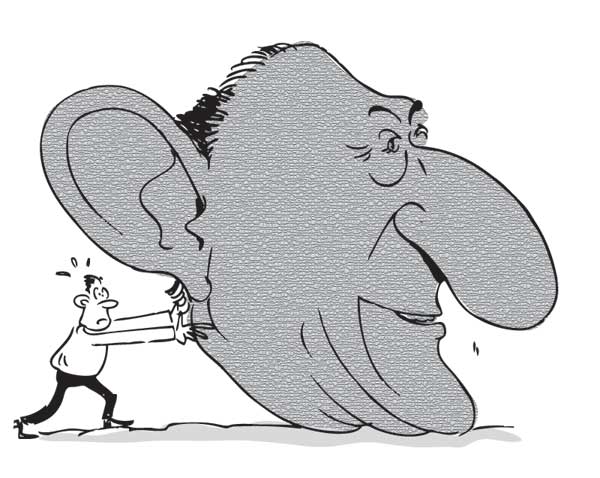 But after 2010 parliament has again become a rubber stamp. The 17th Amendment - widely considered as the most progressive legislation since 1977 - has been bypassed or undermined and the draconian 18th Amendment introduced with the insignificant opposition boycotting parliament and not a word of protest recorded in the Hansard. With parliament becoming insignificant and powerless, opposition members specially had no option but to scream and shout, often provoking an angry outburst from Government members. This has often led to ugly brawls and fisticuffs. With the 18th Amendment in force, there is no Independent Elections Commission, no Independent Police Commission and no Independent Public Services Commission. As a result, there were serious questions about recent elections. The Police were unable or unwilling to act independently. State resources were blatantly abused in favour of the ruling party because there was no independent PSC and ministers made major appointments or decisions. Added to all this, opposition critics alleged there was what they described as computer "jilmart" in the counting of votes. In such a situation, some analysts say opposition parties should boycott any future elections to show the country and the world that the whole process is manipulated.

In 1994 President Kumaratunge described the 1978 constitution as a curse and pledged she would abolish it within 24 hours. More than 18 years has gone by, and instead of being abolished this curse has been strengthened with the 18th Amendment. as the ven. Maduluwawe sobitha nayka thera said recently, the solution to the crises faced by the country – including the breakdown of discipline in parliament – to abolish the 1978 constitution and revert to a constitution where parliament will be supreme. Then the MPs behave themselves. But the 1978 constitution could be abolished only if absolute power has not corrupted absolutely.

---
Add comment

Comments will be edited (grammar, spelling and slang) and authorized at the discretion of Daily Mirror online. The website also has the right not to publish selected comments.

---