---
The Pansilu, who synchronized the nation with his enchanting melody and balanced tonal brilliance, was born 100 years ago; on April 14th,1915 and passed away on April 11th, 1981.


The instrumental played thrice-a-day at my old school, Mahanama, Panadura, at opening, tea-break and closing times; I presume by a musicophile school

head, indeed is a fascinating experience. This Immortal classic, 'Kokilayange Kokilanaade…'(The Cuckoo Bird's Song) certainly, one with the legendary touches is an enchanting, symphonically rhymed magical piece of music. The scintillating singing by Sunil and fabulous and exquisite lyrics, 'Samanmalaknel-a mage biso-ge…hisegasa - anna mage vinodhe…', it captures everything that is beautiful...absolutely wonderful!
Sunil Santha's enthralling, magical and awesome works of art, the beautiful songs, really take music lovers breathe away. Listening to these amazingly melodious songs and then look at today's music you can't help but wonder, what went wrong?'Ho..o-o-o…ho garellanegey…' , a blend of innocence and mischief the way Santha breaks the flow and takes a breath while singing this gem of a song…unfortunately, as they say it takes a true jeweller to identify a true gem.., Sunil, being a Christian has been influenced by the choir music which makes him very special as he blended them nicely and melodiously to suit.
Shunned his English name Joseph John and adapted Sunil Santha.





Born exactly 100 years ago, on April 14, 1915, in the village of Dehiyagatha in Ja-Ela, Sunil reached the pinnacle of glory as a talented musician.He lost his parents when he was only two years old and the maternal grandmother had to look after him. Joseph graduated in "Sangeetha Vishaarada" from the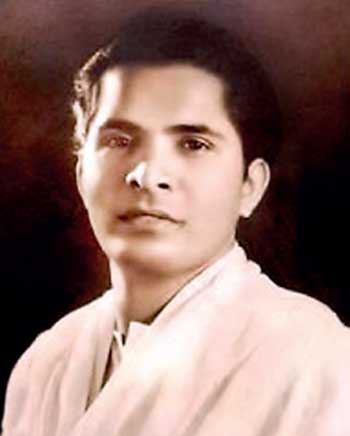 Lucknow's Bhathkanda University of Musicology and returned to Sri Lanka in 1952 and shunned his English name, Joseph John and adapted Sunil Santha.
British harmonics, the Portugese Kafferinghnas and South Indian Carnartic based on Sruti, Swara, Raga and Taala; and North Indian Hindustani Sangeet reigned in the 1930s and 40s. Creating a breakthrough in the musical pitch of the island, Sunil merged with the Radio Ceylon [SLBC] and began to form a home-based music. His voice inject us the feeling of pure genuine Sri Lankan song. His melodious songs with a simple style of his own, gained instant popularity. He eschewed Hindustani tunes and Sanskrit words.





'Olu pipeela','Handapane', 'bowitiyadanpalukan ware', 'Suwandarosa mal nela', 'Mihikathanalawala,', were some of his first songs that revolutionized the local music scene are undoubtedly immortal numbers that are special in their own way. Sunil, the versatile singer cum musician was a staunch disciple of Munidasa Cumaratunga's "Hela School". Obtaining the services of above clan, like Hubert Dissanayake, Raphael Tennekoon, Gunawadu and Arisen Ahubuduhe made the absorbing lyrics blended with the beauties of nature and rooted in patriotism.





Strongly protesting against the decision by Radio Ceylon authorities to conduct a grading test for its own artistes with the patronage and supervision of India's famous maestro Ratna Shankar, Sunil refused to appear before it. This great blow on Sinhala music happened in 1952, led the creator of the National Anthem Ananda Samarakoon too to follow Sunil Santha. The institute which was then a State Department, consequently expelled both of them. Later it was revealed that some who were jealous of him had conspired against him. Sunil Santha, however, created music for a couple of classic cinematic creations of another legend, film-director Lester James Peiris' "Rekhawa" and "Sandesaya" in the late 1950s after an initial refusal: however, Fr. Marcelline Jayakody who wrote lyrics for Rekhawa managed to convince him to accept the work. "Olunelumneriyarangala…", "Wesakkekuluatuagapipi…" , "Kabaragoyaageysurathalee--soya diyenagaadiyasulee", a lot of meanings in the sounds of such words appreciating nature's beauty; they are glittering 'dramas' of Sunil-Fr. Marceline-Indrani/Sisira trio, that transformed the Sinhala cinema's music culture to an indigenous one alienating it from South Indian influences.
His inimitable euphonious singing, lyrical tunes and own rhythmic style created a unique listening pleasure. Santha composed a national song genre; he had the additional goal of putting the Sinhalese/English-educated elite back in touch with songs in their mother tongue. In the introduction to his songbook, 'Sunil Handa'(Sunil's Voice) he remarked:





'Those assimilated to Western food and drink, clothing, customs and habits etc., have driven our language into the kitchen. They are ashamed to talk in our mother tongue. Apart from singing an English song in an English vocal style, there is no music of Sri Lanka they like. Should I say anything about the service I have rendered through the songs like 'Olu pipila' and 'Handa pane'? Those who gagged from distaste of the Sinhala language and gave prominence to English are now happily singing these lyrics. Now they would familiarize themselves with songs in their mother tongue. This is one of the goals of my new music'
Santha's songs, very popular amongst the Sinhalese/English-educated elite, were pregnant with the possibly of finding an international audience due to his use of western harmonies, instruments and memorable melodies. Joan Eleanor Ramsbotham, daughter of the first Governor-General of Ceylon, Viscount Soulbury, [Herald Ramsbotham], praised Santha's mesmerizing, soothing, soft and sensuous singing in original hits like, 'Olu pipeela', 'Kokile naade' and 'Handa pane' in a personal letter sent to Sunil Santha in June 1951 - Ref; Vitharana - Sunil Samara: p 358. The first song to be recorded by Radio Ceylon was 1946 hit "Olu pipeela"; he produced a few Vangha songs and a solitary "My Dreams Are Roses", an English number as well. However, Sunil was back at SLBC in 1967 at the invitation of Director General Neville Jayaweera for a short stint and created a few more songs; 'Emba ganga' and 'Walakulen besa' among them.





This talented singer walked out of the Torrington Square during his peak of popularity firmly resolved never to return; since then he was living in abject poverty at his village in Dehiyagatha. He even gave up his creative work and picked a radio, clock and camera repairer's carrier as a livelihood.
Preamasara Epasinghe, the veteran cricket commentator and senior journalist contributing to a newspaper on Sunil says,
"I invited Sunil Shantha to feature in our Aradhana programme, for a few months as our Guest Artiste…. Board of Directors were very keen to help… I was free to make him any offer. I told Sunil, BoC is prepared to pay him Rs. 10,000 per programme. Sunil thanked me profusely for the request and turned down my plea. Then I raised the amount to Rs. 15,000… This was in way back in 1976. [equivalent to today's 100,000] "Mr. Epasinghe, now I cannot articulate musical notes (Swara) properly and sing. I am not fair by you and the Bank of Ceylon to take this assignment. One day, I must die as Sunil Shantha. I do not want to tarnish my good name. It is true that I am financially in dire straits…. I am so sorry that I cannot sell my name for rupees and cents and to be a mockery of myself…I value principles". …It was very nice of him to help a poverty-stricken artiste." –CDN—[April 13, 2004.]
'…Anna annairathmuudegilenney'





The incomparable musician born as Don Joseph John exactly a century ago, died of a heart attack three days short of his 66th birthday as a depressed man following his youngest son's untimely death by drowning in a swimming pool.
A septuagenarian, though, I would love to live more just to listen to those stunning compositions on the themes of nature, love and patriotism. These charming songs have kept alive the flickering of the heart. Can the tunes lit the succeeding fifty years of my existence? Not really possible in this world. Sunil, your golden voice, so sensuous, yet, so pure, will remain in the hearts and abodes of every Sri Lankan music lover for many generations.

kksperera1@gmail.com