---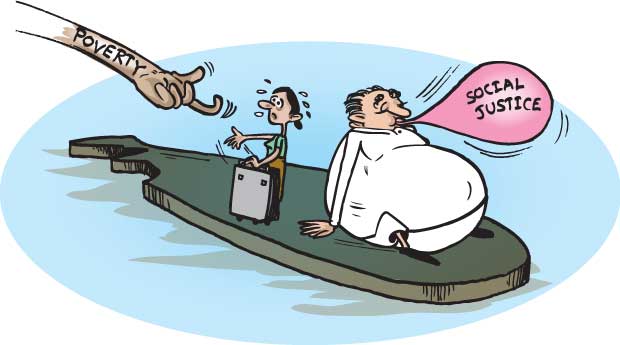 While the country awaits the decision of the high-level special committee appointed on Tuesday, to determine the future course of the national unity or consensus government, responsible citizens should also focus attention on the creation of a just and fair society which the current administration pledged to do but has shown little progress. This may have been one of the other major reasons for the huge protest vote against the national government's two major parties at the February 10 elections to 340 local councils.
Next week the United Nations marks the World Day of Social Justice and in a statement the UN says, social justice is an underlying principle for peaceful and prosperous coexistence within and among nations.
"We uphold the principles of social justice when we promote gender equality or the rights of indigenous peoples and migrants. We advance social justice when we remove barriers that people face because of gender, age, race, ethnicity, religion, culture or disability," the UN says. From this statement we see how vast and varied the issues are and that unless effective, urgent and honest measures are taken to address them we will not have lasting peace and justice in our country.
For the United Nations, the pursuit of social justice for all, is at the core of its global mission to promote development and human dignity. The adoption by the International Labour Organization of the Declaration on Social Justice for a Fair Globalization is just one recent example of the UN system's commitment to social justice, the world body says.
The Declaration focuses on guaranteeing fair outcomes for all through employment, social protection, social dialogue and fundamental principles and rights at work.
This year's theme is, 'Workers on the move: The quest for social justice'. Most migration today is linked directly or indirectly to the search for decent work opportunities. Even if employment is not the primary driver, it usually features in the migration process at some point.
According to the UN there are an estimated 258 million international migrants. The ILO estimates that there are about 150 million migrant workers. Among migrant workers, 56 per cent are men and 44 per cent women.
Migrant workers account for 4.4 per cent of all workers and have higher labour force participation rates than non-migrants globally -- 73 per cent and 64 per cent respectively. In the case of Sri Lanka there are about two million workers employed mostly in Gulf or Middle East counties and some European countries including Italy and France. Over the past few decades, reports have indicated that thousands of Sri Lankan women and girls working as domestic aides are going through a torrid time and some of them are virtual slaves or even sex slaves though they are supposed to be employed as domestic aids.In countries such as Kuwait, thousands of Sri Lankan youth and men are forced into slave labour.
Whatever their plight, they are the biggest source of foreign exchange for our country and it is unethical or unfair that millions of Sri Lankans are having a fairly comfortable life because of the slave labour of these migrant workers.
The government needs to take more action to protect these migrant workers, especially girls and women, while also ensuring that unscrupulous agents do not exploit them. At the same time we hope the government – in the aftermath of the shattering blow it suffered at the February 10 elections -- will take rapid steps towards fulfilling its promise of all-inclusive development and provide well-paid, productive jobs for rural youth in the areas where they live. Through this mission it could curb this exodus of women and girls going overseas for domestic or other jobs, a trend which has broken up many families and caused serious social consequences. This year and in the coming years, the government must provide justice for workers who are on the move and those who are working here.
Honest work is sacred, protecting these workers is also sacred -- going beyond petty party politics.