---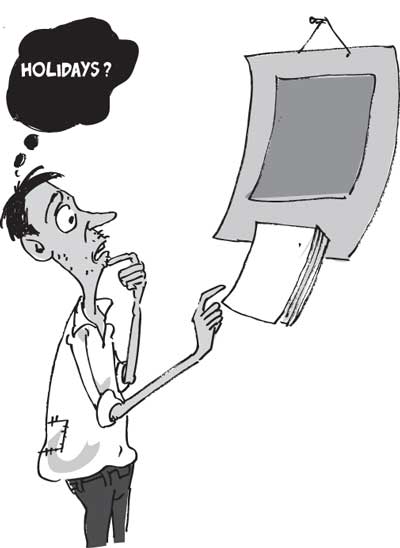 The Ven. Galaboda Gnanissara Thera, chief priest of the Gnagaramaya temple, has urged Sri Lankans to work hard, honestly and with commitment in whatever they do and to be ready to work even ten hours a day with fewer holidays.

In his weekly article published in our sister papers the Sunday Times and the Sunday Lankadeepa last week, the enterprising monk who is better known as 'Podi Hamuduruwo' says there is no alternative to hard and honest work with only lazy or lethargic people having time for idle talk, gossip or slander.

The prelate says though we are aware that time is money there are many who do not do a honest job of work for the day and even try to dissuade others from doing so. He says that some people are so lazy they do not even wash their plates after meals. In this era of sustainable eco-friendly and all inclusive development we need to turn the country upside down and create more avenues to develop it.
The prelate proposes that hours of work should be increased from 8 to 10 a day. The workers should be given an extra seven days off according to their religion. All other holidays should be abolished. If we make a firm resolution to work hard and work honestly in whatever we do for at least two years forgetting our religious or racial differences we can pay the enormous debt we have fallen into and achieve our targets in the sustainable development goals.

The widely respected gynecologist and inter-religious unity activist Dr. L. A. W. Sirisena, in an article published in the Daily Mirror last year gives a course of treatment to achieve genuine unity, reconciliation and thereby also give a boost to our economy. The patient friendly specialist also says we have too many holidays -- the largest number when compared with the rest of the world. This affects adversely the smooth and efficient functioning of state administration and the economy.

The number of official public holidays amount to 25. Since we have a five-day working week, we will be 'holidaying' for almost another five weeks, in addition to all the Saturdays and Sundays. Can we, a developing nation, afford such a large number of holidays, together with the holiday mood -- preparation for the holiday and what happens after it and spreads beyond the actual holiday -- further erodes into the working hours and days? Further, can the declaration of a National Holiday, in commemoration of an event, where the majority of the people will do nothing connected with the event, be justified?

According to Dr. Sirisena, a closer look at the list of public holidays shows that 23 of the 25 have ethno-religious commemorative significance, affording an ideal opportunity, only if used appropriately to promote cross-faith interactions. There are only two holidays common to all people -- Independence Day and the May Day. These two days and another eight days which are considered to be of the highest importance to the respective ethnic or religious group, namely Thai Pongal, National New Year (2 days), Vesak (2 days), Poson, Ramazan and Christmas – a group of 10 need to be considered separately. During these 10 days, there are large scale religious observances, social events or family reunions. These 10 days could constitute our 'Commemorative Holidays'.

The remaining 15 commemorative events consisting of ten Poya days, Hajj, Prophet Mohammed's birthday, Maha Sivarathri, Deepavali and Good Friday could be made full working days, with the exception that the first two hours -- 8 am to 10 am be spent in an activity devoted to the significance of that particular day's event.

For example, on a Poya Day there could be a Bana preaching or meditation session, on Deepavali and Maha Sivarathri Day a Hindu religious or cultural programme, on Hajj and Prophet Mohammed's birthday, a programme on some aspect of Islam and the life of the Holy Prophet and on Good Friday a prayer service, talk and discussion on the life of Jesus Christ. This will ensure that everyone will at least spend some time meaningfully in observance of the particular event commemorated. It will also promote understanding of the different religions and cultures, and integration and harmony among the different religious and ethnic groups, as all separate groups will together be involved in making arrangements and participating in each others function, and getting back to work after partaking in fellowship and refreshments.