---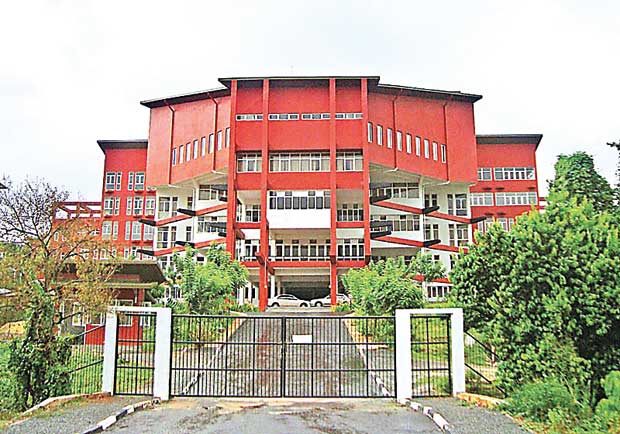 President Maithripala Sirisena says a decision on the private medical school, the South Asian Institute of Technology and Medicine (SAITM) in Malabe will be made after consulting all parties to the dispute. Perhaps the right thing to do is to implement the Court ruling which has already been issued on the matter -- unless the Supreme Court rules otherwise. Changing and withholding the laws to appease an articulate minority of detractors has been an age-old practice in this country and have contributed to the overall breakdown of the rule of law.
It would have been easier if the problem connected to SAITM is about the fate of a few dozen would-be medical graduates. If that were the case, viewed in an utilitarian perspective (i.e. the greatest good for the greatest number of people even at the expense of the minority) perhaps all this inconvenience such student protest marches, striking doctors -- would not be worth it. It would have been better to give into the protesters demands to avoid this daily public nuisance – though appeasement of that kind as we have seen in the past would only fuel further demands.

However, the SAITM problem is not just about SAITM, it is about the future of private higher education, which we badly need in this country. And by extension, it is also about the future of publicly-funded higher education, which has crumbed over the years because of the absence of competition. Sri Lankan State universities have proved to be incapable of socializing in an increasingly competitive global industry of higher education and emulate best practices of successful
players because they operate within an archaic and insular institutional makeup that was put in place over half a century ago and has not changed since then. It is natural resistance to change to emanate from within and from an assortment of individuals and institutions that benefit from this de facto monopoly. Sri Lankan higher education sector is a miniature Licence Raj, that vast stifling structure which was put in place by the first prime minister of India, Nehru to keep the private sector out of economy, which for the next four decades made India the byword for under-performance and poverty. Some people tend to pontificate those systems for moral and otherworldly reasons, but they have rarely produced practical benefits for the large swathes of people who in fact became hostages of the dogmas of a bygone era.

If the Sri Lankan education system is so good as it is claimed, we would not be exporting housemaids and unskilled workers, we would have rather sent professionals. If our graduates are so good, those high-flying Indian IT companies -- TATA, Wipro, Infosys -- should be queuing up to open offices here. This 'we are better than them' mantra is bunkum and is itself a hallucination in our insular minds.
In 1989, the then President Ranasinghe Premadasa back-pedaled on the Ragama Medical School issue which was later taken over by the government and turned into the medical faculty of Kelaniya University. He thought by giving into the demands of the JVP-affiliated student activists, and also by cancelling plans for a coal power plant in Trincomalee he could stave off a leftist insurgency in the South. He was proved wrong and finally his defence minister Ranjan Wijeratne had to fight with both hands to save the State. Mr. Premadasa's decision nonetheless deprived this country the potential early bird advantage. Since then, countries such as Malaysia that embarked on private higher education, have become key global destinations for international students. For instance, Malaysia in 2014 had 135,000 foreign students and the numbers are expected to reach 200,000 in 2020. Since independence, we have lost so much and until 1977 due to economic dogmatism and since then due to political indecision. If we continue on the same path, there will be very little prospects for future generations.
"The Govt. is unable to provide quality higher education for students who wish to continue after their A/levels. But, it can create a conducive environment so that other players could play a role in education"

Very few, if any now argue that the government should have a monopoly in higher education. A government's monopoly in anything, (or perhaps except the monopoly of the legitimate use of violence as Max Weber put it) leads to social overreach. That creates overall dysfunction. There may be countries awash with petro dollars, tax money, a greater state power and fewer people to cater to that do better than us. But we can not do everything that the Scandinavian countries which are at a different social economic level do. The Sri Lankan government is unable to provide quality higher education for all students who wish to pursue an education after their A/levels. But, it can create a conducive environment so that other players could play a role in education. The government can provide students with tuition fee loans and scholarships and regulate quality and continuous improvement in those private institutions. At the same time, the government can provide, as it does now, an education to a chosen few, and make sure that they get an education on par with the international standard. The whole affair of the government opening up new universities through every other budget while even the country's leading universities are performing abysmally internationally is simply absurd and smacks of publicity gimmicks. Rather than squandering its energy and money by further expanding an already overblown public university sector, the government for the time being should invest on the existing universities and bring them on par with international standards.
Universities like Colombo, Peradeniya and Moratuwa have potential for that provided that there is a concerted national level plan. Perhaps the government that is getting advice from Singapore on how to build the Colombo Metropolis can also ask how Singapore converted their universities into world-class excellence. Those feats have been achieved by the government proactively engaging in planning, setting targets, hiring internationally and not being a passive observer.
If the rot in the public universities could be cleared, the opposition to private education would dissipate. The main problem in local universities is that they have failed to provide that enlightened conditioning effect that most good schools in Colombo, Kandy or even my alma mater in Galle have been giving their students in the course of more than a century. Of course, there are other socio-economic factors at play. However, universities with a vast pool of resources at their disposal can definitely do better. If that happens, our graduates will have lesser reasons to be afraid of competition from their peers educated at private universities.
Follow RangaJayasuriya @RangaJayasuriya on Twitter