---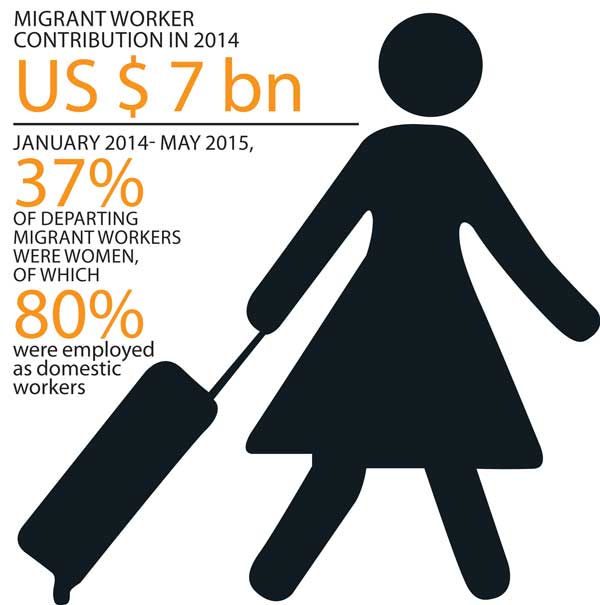 Long journeys have traditionally been a preserve for men.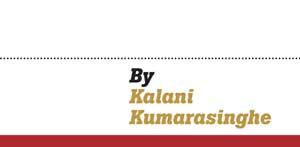 However, in more recent times, labour migration in Asia meant more and more women to take up paid work outside home. Women migrant workers, one of the most exploited groups in the country, are faced with numerous difficulties that have now become customary to be ignored by the public. Reports of abuse, ill-treatment and even torture have become a commonplace. What is even more distressing is that these women are often led to pursue unrealistic dreams, or are made to believe they have exhausted local employment options. Foreign employment comes with its own set of challenges, especially for women. More often than not, mothers leave their children in the care of their elderly parents who themselves are dependent on dreams that can easily turn into nightmares.
When President Maithripala Sirisena took office, he made nine pledges to women. While many of them are yet to be materialized, the measures towards establishing protected and safer environments for women migrant workers are yet to witness implementation. It must however be noted that State-level engagement with host countries to address headlined issues over the past few months where certain government representatives were seen actively engaged in resolving certain matters.Minister Rajitha Senaratne recently stated that the government intends to gradually decline sending domestic workers abroad, primarily to the Middle East, owing to rights abuses, social costs and a local labour shortage. He added that a committee to study strategies, to reduce the numbers and finally discontinue the practice of sending Lankan women abroad as house maids, was appointed by the President.

Foreign remittances earned by migrant workers contribute greatly to the local economy. According to the Central Bank Annual Report 2014, the provisional figure for migrant worker contribution is over a staggering US $7 billion. Between January 2014 and May 2015, 37% of departing migrant workers were women, of which 80% were employed as domestic workers. Such figures require immediate attention to improved coordination across agencies established to facilitate migrant workers, the independent oversight of action taken to address their concerns, and significant improvements in victim support.

Meanwhile, the Sri Lanka Bureau of Foreign Employment (SLBFE) states that the compulsory registration of persons proceeding for employment abroad has improved the reliability of statistics and data related to departures. Nevertheless, even such measures have failed to identify those who seek foreign employment using illegal means and obtaining visit visas instead of work visas. Migrant labourers receive a monetary advance as an incentive to work overseas. Little do they realise that the incentive will bind them in debt upon arrival in their host country. It is common knowledge that recruitment agencies commit fraud by changing the agreed upon job, employer,
conditions, or remuneration after the worker's arrival. Strangely, this has become an accepted justification of the disturbing number of complaints the SLBFE claims to receive from migrant workers each day. However, when the Dailymirror repeatedly attempted to contact the relevant officials of SLBFE to inquire about measures taken to tackle such circumstances, the SLBFE spokesperson and several other representatives were unavailable for comment.
Caritas– Reaching out to migrant workers
Caritas is an organisation which through its community projects helps to warrant safer migration for workers. In a discussion with the Dailymirror , project officers at Caritas detailed the outcomes of their efforts. Through a network of 13 branches, Caritas implements developmental programmes to address issues faced by migrant workers. This has been the practice for over eight long years. Since the very inception of the programme, the organisation has collaborated with SLBFE to assist migrant workers. Furthermore, in each Diocese centre, Caritas has field officers who engage with the migrant workers' families and the community in order to spread awareness and educate such individuals on how to work overseas. The organisation works together with resource personnel of the SLBFE, the International Labour Organisation (ILO) and also consultants from other international arms of Caritas.

Speaking to the Dailymirror , project officers at Caritas who work closely with migrant workers outlined several key areas with scope for improvement. While safeguarding the family members left behind by the migrant worker remained a key aspect, they noted the importance of maintaining dialogue with host countries, so as to ensure the well-being of the migrant workers. Another pivotal factor pointed out was the non ratification of international treaties which, directly or indirectly, affect the treatment on migrant workers by the host country. When international pressure does not achieve the desired result, many are of the opinion that the government must stand firm on its stance on sending migrant workers to countries where workers rights have been alarmingly violated.

Persistent issues
Despite the rapid advancements in the fields of media, interaction and technology, the project officers at Caritas note that the lack of awareness among those seeking employment abroad remains a vital issue that needs to be addressed forthwith. Sources revealed that out of the many cases that reach authorities each day, most are a result of unawareness of basic rights and entitlements. A majority of migrant workers still search for employment through unlicensed sub-agents who in turn recruit unscrupulous labour agencies to migrate.

According to the 2016 US Human Trafficking Report, most complaints filed by migrant workers in the SLBFE were categorized as 'employment or contract disputes,' and were not screened for labour trafficking.
It observed that allegations continued that the police and other officials accepted bribes, and some sub-agents reportedly worked with officials to procure forged or modified documents, or genuine documents with falsified data, to facilitate travel abroad. During the reporting period, SLBFE's legal division filed a total of 189 cases against illegal recruiters and recruitment agencies for fraudulent practices, compared with 172 cases in 2014. The report observed that the government did not have the ability to regulate sub-agents under the SLBFE, which officials recognized as a problem contributing to trafficking. It added that the government did not fully meet the minimum standards for the elimination of trafficking; however, noted considerable efforts to do so.

Key legal reforms are needed to ensure the most vulnerable workers, particularly domestic workers, who must be covered by basic labour law protection. Urgent action is also needed to challenge and address the disturbing practices of withholding passports of workers. Steps must be taken to make certain victims are not further traumatized by arrest and detention. Lack of awareness on legal procedures, inactiveness of law enforcement agencies and the inability to communicate in the host country's local languages have remained a weakness in the system since the late 90s. Despite their contributions to their host countries, women migrants are not generally assured of basic protection. A simple 40-day mandatory training programme by the SLBFE does not simply address the concerns of those who seek foreign employment. Employers and recruiters alike must be held responsible for their role in exploiting the helpless workers. Lastly, apt measures should be taken to challenge perceptions about migrant workers, in order to recognize their values and contribution to the development of the country.
Housemaid abused in Malaysia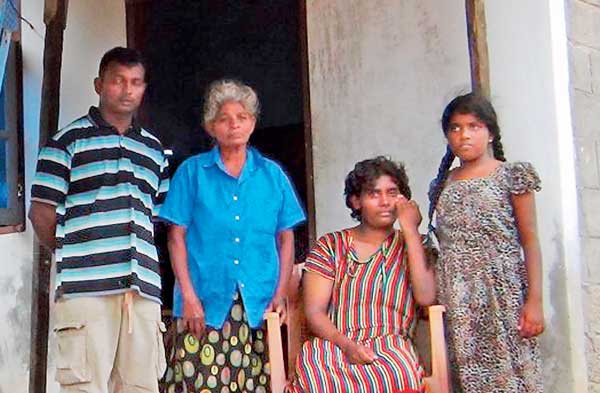 Like many women who seek foreign employment, Lakshmi Pushpakumari also had high hopes of securing a better future for her husband and daughter. She had already witnessed the hardships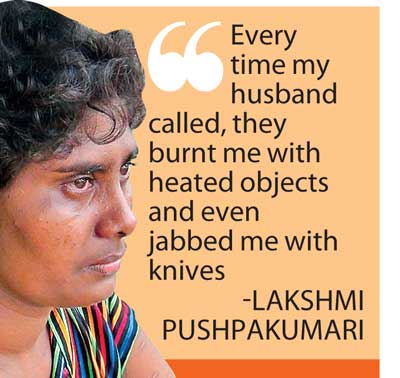 endured by housemaids in gulf countries, thus in 2014 she opted for employment in Malaysia where exploitation of migrant workers were unheard of. However, fate did not favour Lakshmi as she left the island in 2014. She was granted employment at a household of an Indian national named Regina Mary. According to Lakshmi, work during the first two months of her stay in Malaysia ran smoothly. At the end of four months, however, her employer refused to pay her. When Lakshmi's husband Asoka Kumara called her to inquire about her well-being and to also know when she would be able to send some money home, her phone was confiscated and her stay in the Malaysia turned dreadful.
Six months had lapsed and Lakshmi was unable to contact her family regularly, nor was she able to convey any good news to her husband and child. As the finances were becoming difficult to manage, Kumara began to worry. His frequent calls to his wife were answered by her employer. Kumara sought help of the employment agency through which Lakshmi was sent. He demanded that his wife receive her due wages and if not, she must be sent home immediately.
"I was asked to tell my husband that he should not call me. The madam started to beat me and cut my hair, all because she was offended by my husband's visit to the agency," Lakshmi said. Kumara's continuous efforts to contact the employment agency and obtain the due wages had resulted in the agency calling Regina to verify Lakshmi's payment details. Although Kumara's intention was to seek justice for his wife, his efforts had brought in more assault and abuse to his innocent wife.

"I found Madam's phone number and gave it to my husband so that he can contact me. But every time my husband called, they burnt me with heated objects and even jabbed me with knives. This was because she had received a call from the agency about my salary. Madam forced me to sign a letter saying that I received the pay for six months. I refused to sign as I did not receive any payment. But my thumb print was forced on the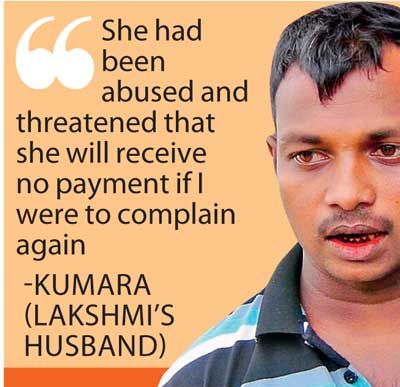 document," Lakshmi lamented.

Despite the abuse, Lakshmi continued her chores left for her by the six occupants of the house and their seven dogs, while she nursed herself back to health. The work did not get any easier and she was assured that her payments were being deposited to her husband's account.

Back in Sri Lanka, Kumara awaited good news, but received none. "The agency had advised me not to disturb her. They assured that my wife was fine, and that her payments were made on time as they had sent the letter that Lakshmi was forced to sign. But they did not show me that particular letter," Kumara divulged to the .

"She did not make any complaints about her work. But, when I inquired about the money, she clearly asked me not to lodge any complaint at the agency or at the Foreign Employment Bureau. She had been abused and threatened that she will receive no payment if I were to complain again.
Lakshmi was convinced that madam will make the full payment upon completion of her contract," Kumara said.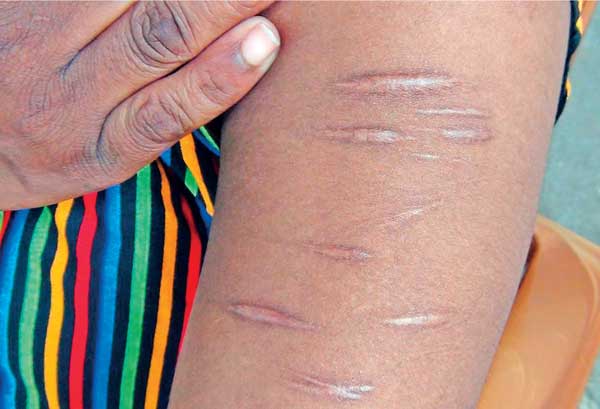 However, one week before Lakshmi's return to Sri Lanka, Kumara had decided to no longer bear this trial. He visited the agency over and over again, where he was told he should have inquired into the well-being of his wife. The agency which had probed Lakshmi's payments once again had triggered an unpredictable response by her employer. Lakshmi was told that she had to run an errand and asked to get into a car with the family driver.
Minutes later, she found herself at the Kuala Lumpur Airport where the driver handed over her ticket to Colombo. The driver had informed Lakshmi that her wages have been deposited to her account. Poor Lakshmi, stranded at the Airport without her belongings, savings or even a gift for her daughter, had been convinced that returning to Colombo without her luggage or wages was indeed her only option. Lakshmi landed in Colombo on July 24 where she called her husband upon arrival.

"I made a mistake. I should have gone to the bureau and lodged a complaint there. But I was afraid that my wife would get into trouble if I had resorted to do something of that sort," Kumara said dejectedly as he regretted not having approached the SLBFE earlier. However, the following week, Lakshmi and Kumara lodged a complaint at the bureau where they were informed that their case was very weak as they have insufficient evidence to support Lakshmi's claims.

The Daily Mirror approached SLBFE Deputy General Manager Priyantha Weerasekara to inquire about the case. He said, "Lakshmi's insurance has expired. Nevertheless, the SLBFE will continue its efforts to address her grievances. The main concern here is that she had not received any payment for the duration of her two years of employment. In my view, it is very difficult to prove it. Had she lodged a complaint when she was in Malaysia, it would have been easier for us to solve this matter, as Malaysia is a free country. She had not even admitted herself at a hospital upon her return to Sri Lanka. However, we are following up with the matter and doing our best to bring her justice. "

The Daily Mirror also spoke to SLBFE Conciliation Division Administration Officer Inoka Yatawara who assured that the matter was under the scrutiny of the bureau. She stated that the airport confirmed Lakshmi's accounts. Accordingly, Lakshmi's sponsor had been summoned to the Lankan Embassy in Malaysia where matters have been discussed with Lakshmi, the sponsor, officials of the Embassy and of the SLBFE. She said a report into the matter was being compiled by the Lankan Embassy in Malaysia.

"The claims of the victim are still being verified by the bureau. The bureau had lodged a complaint on behalf of Lakshmi. We cannot take further action until the official report is submitted by the embassy. This is the first time we received such a report of abuse from Malaysia. However, we are also aware that she was employed by an Indian national," she said.

Inoka added that the recurrent issue in solving Lakshmi's case was that she had not informed her family or even the Foreign Employment Bureau of her grievances.
"Twenty months is quite a long period to go without a payment. Our concern is why neither Lakshmi nor her family informed anyone of this issue. Before these individuals are sent abroad, we inform them how and when they should notify the bureau if they face any inconvenience; either it be non-payment, harassment or even abuse. At least her husband should have informed us. Lakshmi and her husband told us that they were unaware of their rights and sought help from the bureau only after the residents of their village urged them to do so," she said.

Lakshmi was instructed by the SLBFE to submit a Judicial Medical Officer's (JMO) report to support her claims. Kumara told the Daily Mirror that he was refused a letter by the officers at the SLBFE, requesting a JMO report.