---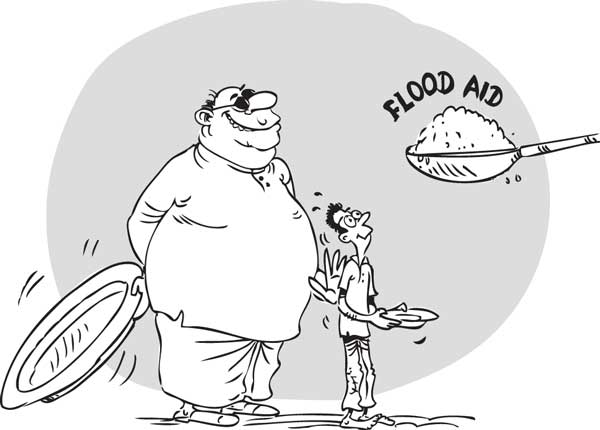 With heavy rains and gale force winds continuing for the eighth day yesterday while the south-west monsoon is likely to begin today, more than half-a-million people have been seriously affected in the worst-ever flood havoc in 25 years. The confirmed death toll yesterday afternoon was 82 with about 140 still missing or feared dead while more than 200,000 people have found temporary shelter in temples, churches, schools and other places.
The international community, responding with goodwill and generosity, is pouring in aid with our neighbour India sending a transport aircraft and two naval vessels loaded with relief materials. The United States, Japan, China and several other countries have also provided aid with more to come.

In the aftermath of the December 26, 2004 Tsunami, the international community provided hundreds of millions of dollars in aid but largely due to lack of transparency, accountability and good governance, we later discovered that hundreds of millions of dollars had been misused, abused or defrauded.

One of the notorious cases was described as 'The Helping Hambantota' scandal with a former Chief Justice reportedly saying later that an apparent error in judgement had resulted in what happened at the November 2005 Presidential election. The former CJ later denied he cleared the way for one of the candidates, but analysts point out it was an era when the independence of the judiciary was being suppressed and some political judgements were being given.

Another major allegation with serious political repercussions was that that the Tsunami Reconstruction and Development funds had been allegedly abused and about Rs. 800 million had been channelled to the LTTE which in turn had agreed to give a stern order that the North Eastern people must not vote in the 2005 election. Political analysts believe that was the main reason why the present Prime Minister Ranil Wickremesinghe lost the 2005 Presidential election.

With more international aid now flowing in, the National Government needs to ensure transparency and accounts for every dollar. Already there are reports that drug addicts, drug gangs and other criminal elements are stealing large stocks of the dry rations, clothes, medicines and other materials being sent in trucks and containers by generous organizations and individuals. Worse still, some heartless criminals are alleged to have looted houses abandoned by people who were forced to flee because of rising flood waters.

President Maithripala Sirisena and Premier Wickremesinghe who with ministers and MPs are visiting the worst affected areas almost every day, have assured they would closely check how the national and international aid is being used and ensure that it goes to the victims or most deserving cases.

It may be prudent for an independent all party body such as the Constitutional Council to appoint a flood relief rehabilitation and rebuilding authority accountable to both the legislature and the executive. While providing short term relief, emphasis needs to be given to long-term relief in terms of housing and job opportunities to restore the living standards of the flood victims.

Another important factor is that while the current flood havoc is partly due to natural causes, a major contributory cause was the selfishness, greed and wickedness of some people. The Geological Survey and Mines Bureau for instance said there had been large scale land mining and rock blasting in recent years. This was one of the main reasons for the landslides and for the overflowing of rivers and canals. Last year after fuel prices were drastically reduced, some half a million vehicles were imported -- creating not only unbearable traffic jams but playing havoc with the ozone layer and changing weather patterns. The current deluge needs to make us awake to our responsibility of being eco-friendly citizens so that millions of others would not suffer because of what we do or fail to do.