---
Commemorating 81st Birth Anniversary of Lalith Athulathmudali
The debate on the motion which began at 5.35 pm in the House of Representatives on February 24, 1959 under Prime Minister SWRD Bandaranaike's government, ran for 42 minutes. Dr. W. Dahanayake, SWRD, and Federal Party members made lengthy submissions in favour of granting Financial assistance to a third-year student at Oxford, Lalith Athulathmudali at the latter's request. LSSP leader Dr. N. M. Perera and a few others spoke against it. Then it was put to vote - Deputy Speaker, Having collected the voices, declared that the "Ayes" had it.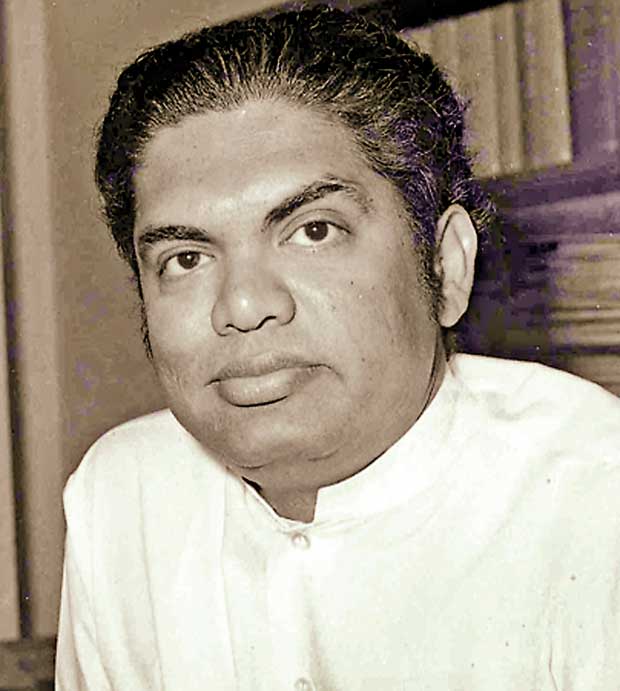 Leslie Goonewardene: Divide!
The house divided [under Standing Order No: 48]: Ayes, 38; Noes,13.
Surprisingly the 13 'NOs' included the four UNP members, M D Banda, Hemachandra, C. A. Dharmapala and E. L. B. Hurulle, who were present during vote. [UNP had only eight members in the 1956-59 Parliament; Dr. NM Perera was the leader of Opposition].
Lalith William Samarasekera Athulathmudali was born to a family of Lawyers on November 26,1936. His father D. D. Athulathmudali was a Member of the State Council of Ceylon. Educated at St. John's College, Panadura and Royal College, Colombo, where he excelled at studies and athletics, this young man went on to read Jurisprudence at Jesus College, Oxford in 1955. He graduated in the honour school of jurisprudence with Second Class honours; he was allowed to supplicate for Bachelor of Civil Law Degree which was to be held in June 1960.He had the distinction of being elected the Secretary to the prestigious and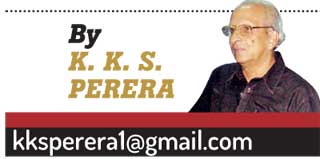 unique Oxford Union in 1956, Treasurer to the Union in 1957 and finally, as President of the Union in 1958. He was the first Sri Lankan to be elected as the President of the Oxford Union. This was no mean achievement at that day and age. It was at this time that Lalith's father, unfortunately passed away and the family ran into unexpected financial difficulty and Lalith had to seek government assistance to continue his studies in England. At that time SWRD Bandaranaike was the Prime Minister of Ceylon. Lalith's request for financial assistance came up before Parliament on the 24th of February l959 and amidst virulent opposition from the Left led Opposition, the monies Lalith had asked for, was granted.
Bandaranaike speaking on the motion presented by his Minister of Education Dr. Dahanayake said:
"When this application was made we did look into the circumstances of this young man. It is correct that a family misfortune has befallen him. But as has been stated by the Minster of Education, the sudden death of his father has created a difficult financial position for him. He is the first Ceylonese to be the President of Oxford Union, which is a rare and coveted honour, and his achievement has brought much credit to Ceylon. He was also President of Oxford Majlis, a body comprising students from India, Pakistan and other Asian nations. The honour Athulathmudali won is just as that of Gamini Goonasena who became Captain of Cambridge Cricket Team. As I said Athulathmudali's financial position was such that it was extremely difficult for him normally to find money required for the balance of his carrier in England, that is to take up the BCL as well as the Bar Final. The position was such that he would almost have been compelled to relinquish his studies in England. So we found it is not unjust to consider a sum of money— not a big sum, a modest sum - for one year.
I agree that we have not laid down any principle on which this type of grant is made--I certainly think it will be a generous gesture on the part of this House to pass this Vote in connection with a student who apart from the fact that he has distinguished himself to be the President of the Oxford Union, has also done very well in Law which will enable him to proceed to the B.C.L. and also, of course, the Bar Final which would enable him to practise as a Barrister. I feel, therefore, that no particular principle will be violated or any injustice done by passing this Vote".
"Athulathmudali joined the Cabinet of JR as Minister of Trade and Shipping in 1977-88, Minister for National Security 1984-88, Minister of Agriculture and Development 1988-90, Minister of Education 1990-91under R. Premadasa"

–Hansard—Feb. 24, 1959- folio: 1039.1055
Prime Minister's staunch hold and that of his Minister for the higher education of Lalith Athulathmudali displayed SWRD's sympathy and understanding. SWRD knew Lalith's father, the late D.D. Athulathmudali member, State Council , surely, spotted great capacity in the making, and had he lived he wouldn't be disappointed in the assurance he placed in him.
Having finished this Barristers at Gray's Inn, Lalith lectured at the University of Singapore, in Israel's Hebrew University, the University of Edinburgh, UK and the University of Allahabad, before joining as a lecturer in Jurisprudence in the Sri Lanka Law College.
Athulathmudali joined the UNP in early 1970s , though initially appointed as organizer for Agalawatte, his father's base which the senior Athulathmudali lost in 1947 by a mere 780 votes, JR Jayewardene spotted this young man's talents, and he was asked to take over Ratmalana just prior to 1977 election, which he won comfortably in 1977. He was required in the cabinet because of his outstanding political campaign in his constituency. Athulathmudali joined the Cabinet of JR as Minister of Trade and Shipping in 1977-88, Minister for National Security 1984-88, Minister of Agriculture and Development 1988-90, Minister of Education 1990-91under R Premadasa; he left UNP and became the co-leader along with Gamini Dissanayake, of the Democratic United National Front 1991-93. As Trade and Shipping under President JR.
Lalith led several offensives against LTTE including famous Vadamarachchi Operation. He was seriously injured in a grenade attack by a JVP supporter inside the Parliament complex in 1987. Despite being gravely injured, Athulathmudali was soon back in the political fray. Though he lost a popular vote among party seniors in his bid for the party's presidential candidate in 1988, he backed Premadasa at the Presidential election. Premadasa was not comfortable having men in the calibre of Lalith and Gamini, the powerful ministers in his cabinet, hence the new Executive President demoted him to Minister of Agriculture by Athulathmudali, soon became disenchanted with Premadasa's way of governance.

Mahapola Scholarship
The Intellectual Property Law is a milestone of Lalith. A large number of artistes in diverse fields were benefited by the Law. A blockade was introduced to stop exploitation and misuse of talents of artists, for which they are always indebted to him. The thought of Export Villages was a far-sighted stride too taken by Lalith which has paved the way to the international market for the village folk thus promotes Government and the country business alike. Lanka Milk Foods Company is also an achievement by Lalith as the Minister of Trade and Shipping. When it was burnt to ashes, Lalith gave an assurance to shocked mothers of Sri Lanka that he would not authorize a single child to go hungry without milk. Learning the difficulties faced by a large section of poor Undergraduates, mixed with his own agonizing experience in Oxford days, he brought his most acknowledged programme, the Mahapola Scholarship which became a fortunate to low-income category university students.
When the Prevention of Terrorism Act was introduced to contain and suppress the terrorists activities, Lalith was accused of introducing a draconian laws which were contrary to civil society by the then opposition, NGOs and Human Rights Activists. However, the passage of time has established beyond doubt the far-sightedness of Lalith.

Special Presidential Commission
When President Chandrika Kumaratunga came to power, after putting an end to the UNP's 17 years of rule in 1994, she launched a Special Commission of Inquiry into the assassination of Lalith Athulathmudali, which had been an election promise.
The Special Presidential Commission of Inquiry, was appointed under (Special Provisions) Act No. 4 of 1978)
Comprised Justice Tissa Bandaranayake, Justice Swarnajith Gunasekera and Nimal Gamini Amaratunge (Judge of the High Court.) to inquire into an obtain information in respect of:
The circumstances relating to the assassination of Lalith Athulathmudali at a meeting held at Kirulapone, on April 23, 1993 and the person or persons directly or indirectly responsible for such assassination and whether any persons conspired to assassinate, or aided and abetted in it, and the circumstances relating to the physical attack on Late Lalith William Athulathmudali during President Premadas's rule - on November 2, 1991 at Pannala; on April 23, 1992 at Madapatha, Piliyandala; on August 7, 1992, at the Fort Railway Station, and on August 29, 1992 at Dehiwala.
Lalith Athulathmudali will remain in the minds of University student of two-three generations and many more to come in the future of higher education in the island as the greatest benefactor next to C.W.W. Kannangara. Also in politics as the most physically stressed and harassed politician of Independent Sri Lanka.
It was raining, around 8.20 pm at Kirillapone grounds; three shots were fired by a killer while he was addressing the meeting, two hit Lalith fatally injuring him. At 9.00 pm he was admitted to GH in an unconscious state. His heart was exposed and manual cardiac massage was given, but it failed; he breathed his last at 9.56 pm. Lalith ensured that the challenges faced as a leader and in taking decisions, that he always placed the people's interests above his own; something that today's politicians lack.