---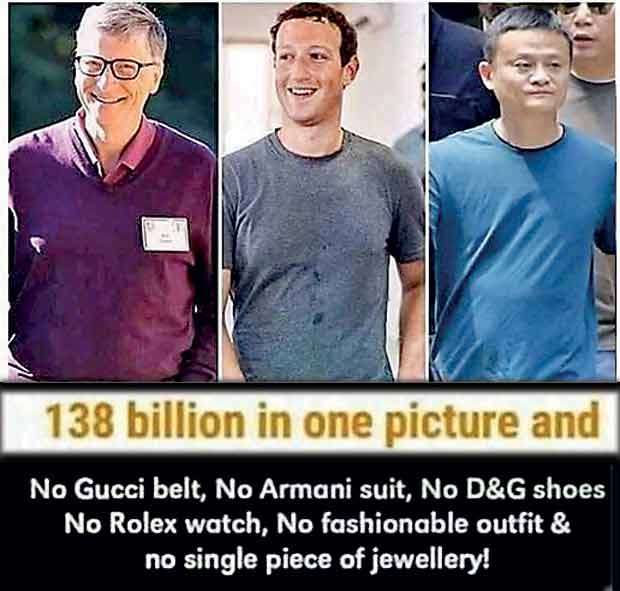 A picture is worth a thousand words they say, well, in this case, it is worth billions!!! Starting this column off today, it is a real pleasure to dwell on these gentlemen, for they are gentlemen in every sense of the word!!! Self-made, in no way inclined to boast, to show off, they don't have to, don't need to and more importantly, don't want to!!! Why then do the billionaires and millionaires of our country, mercifully not all of them though, find this compelling need to boast about what they have, how they acquired their wealth, find a greater compelling need to be recognized wherever they go, dressed to kill, flashing their wealth, talking loudly, so loud they could be heard in the next street??? WHY, WHO ARE THEY HOPING TO IMPRESS??? Conversely, take a look at the picture above; supremely confident, devoid of the need to 'show off.'!!! They each had an idea that changed the world, they took one step that started their journey and achieved what others thought was impossible!!! Never stop looking for opportunities, possibilities are endless; even when it seems like there is only one door, there almost always are!!!

Caught in the web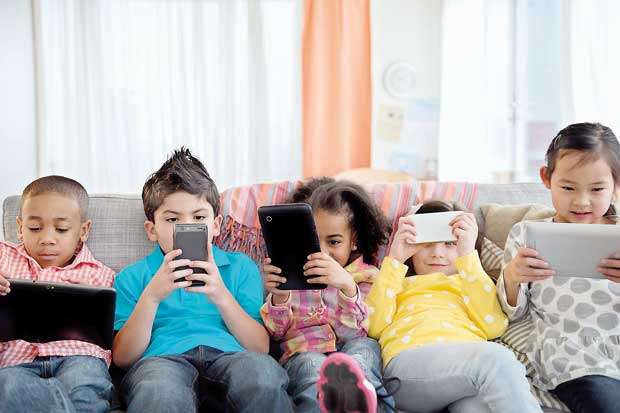 Restricting Internet access to children is something this column talked about a long time ago, especially when we highlighted how drugs were being sold in schools under the guise of sweets!!! Our children today have absolutely no childhood as we did; sadly their lives are spent with iPhones, smartphones, iPads, tabs, and the competition is to see who has the most sophisticated one!!!
They are glued to these devices and some have even started Cyber Violations, but the Government is still waiting till next year to impose restrictions on use!!!
Unlike in our days, children are burdened with the hassle of tuition because it is only then they actually learn anything, never in school!!!

Who is fooling whom?
One newspaper says the Prime Minister lauds Police for achieving progress in crime-control, but we read in others that the majority of crimes seem to be perpetrated within the Police Department per se with question marks over the IGP himself!!! Who is fooling whom???

Who isn't afraid?
Pathalaya, the Underworld, is King we are told!!! They had gone underground for some time but have resurrected again!!! Apparently, when someone, anyone, sells land or anything of value, the advertisement and the sale are followed and closely monitored!!! Monitored to the extent where you get a telephone call asking at what price you sold your land or vehicle or whatever and they go on to say "Aparadai" meaning "What a shame, we would have bought it for so much more, we understand how valuable it is!!!"
One week later you are visited by an unknown quantity with either a revolver or a knife in hand and asked to hand over a certain amount of money; the Pathalaya is at work and God help you if you don't pay!!! Telling the Police is of no avail, they have already disappeared; no one knows from where they come or where they go to!!! The organization is so closely knit that no one talks and those who talk know they are facing certain death!!! In the temple areas like Bellanwilla, Pillaywa, Kelaniya and other places where flowers and incense are sold, they boldly walk the streets and with the same bravado walk into those little shops demanding their contribution, which they get from one and all and on a daily basis at that!!! In the Colombo city bus centre, they watch the buses going outstation and just go and stand by the entrance door of the bus and without any fuss, the conductor comes up with 100/- or 200/- and the bus is allowed to go!!! This is demanded from every bus!!! These demands are negligible compared to the lives they take, as far as we have heard, two in Tangalle, two in Kokkuvil, two in the Hikkaduwa area and counting!!! The people are afraid, the Police are afraid, who isn't afraid when the ultimate sacrifice is precious Human Life!!!