---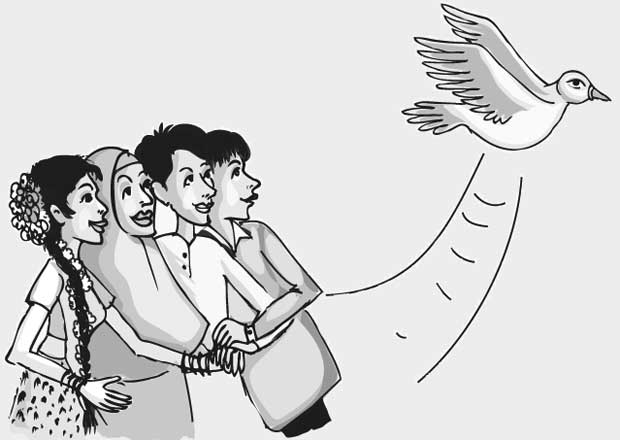 he International Day of Peace is observed around the world on September 21. The United Nations General Assembly declared September 21 as a day devoted to strengthening the ideals of Peace, both within and among all nations and peoples.
The theme for this year's (2016) Day of Peace -"The Sustainable Development Goals: Building Blocks for Peace" was adopted by the United Nations at its summit of the world's leaders in New York in September 2015 and calls on countries to begin efforts to achieve these goals over the next 15 years, that is by 2030.
For us in Sri Lanka, just emerging from the shadow of war, the 'Day of Peace' is of special significance. UN Secretary-General Ban Ki-moon described the 17 Sustainable Goals –No poverty, zero hunger, good health and well being, quality education, gender equality, clean drinking water and sanitation, affordable and clean energy, decent work, industry innovation and infrastructure, reduced inequalities sustainable cities and communities, climate action, life below water, life on land, peace justice and strong institutions and partnerships for the goals; as a shared vision of humanity and a to do list for the people and the planet.
In short the Sustainable Development Goals (SDGs) target ending poverty, protecting the planet, and ensuring prosperity for all. It aims to eliminate the causes of conflict and provides the foundation for a lasting peace. The SDGs grew out of the Millennium Development Goals adopted by the UN in the year 2000.

The eight goals targeted to be achieved, by the end of 2015 were: Reducing poverty, hunger, disease, gender inequality and improving access to safe water and sanitation. According to the UN Millennium Development Goal Country Report 2014, out of a total of 26 indicators, Sri Lanka was unable to attain only two of them.
Whereas the MDGs had only eight goals to be achieved within 15 years, the new SDGs have 17 goals to be achieved by 2030 and its aim is to bring about PEACE, not merely an end to war.
Since 1971, Sri Lanka has seen three armed conflicts –one of which lasted over two and half decades and all of which were crushed militarily.
However, the end of war did not bring peace in its aftermath. The causes behind the conflict still remain. They are merely dormant. Problems of poverty, hunger, disease, gender inequality and inadequate access to safe water and sanitation still remain. We still have many roads before us and many challenges to face...
The violent conflicts cost us over two hundred thousand young lives. They were not limited to a single community. They brought death, destruction and misery to hundreds of thousands of children, made widows of unknown numbers of women and orphans of undocumented numbers of children.
The first victim of war is the loss of morality and justice. It came to such a sad pass that at one time criminals and gangsters ruled the roost in this country. We Sri Lankans cannot afford any more violence or another war. This country and its people need PEACE.

While the State has a major role to play in achieving the goal of peace, the Government cannot do it on its own. Every Sri Lankan needs to play an active role if we are to achieve the elusive peace by 2030. The Sustainable Development Goals provide us in Sri Lanka another opportunity to achieve the peace which has eluded this country and its people.
The challenge posed by the SDG requires developing an effective awareness raising programme to ensure people understand why each of us needs to actively participate and become partners in the programme. We have to learn to forgive... and learn from past mistakes. We have to understand that all communities, irrespective of whether they be Sinhala or Tamil, Muslim, Christian, Hindu or Buddhist all have had a hand in creating conditions, which led to the mayhem which overtook this land at different times.
So, far very little has been done in this field and the public at large have little awareness of the goodwill of the other. To successfully meet these challenges the Government needs to develop plans to be implemented within specific time frames, set up efficient systems for data collection and monitoring progress.
Mechanisms need to be set up to evaluate success/failures and to put us back on track if targets are not being met. It is also important to identify inequalities among groups or regions and action initiated to minimize such inequalities.