---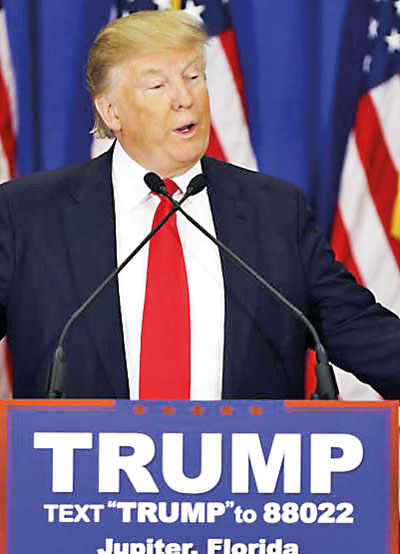 By East Asia Forum Editors
There are many things that endure in international relations because of the permanent and entrenched interests of nation states and that are independent of the personality and predilections of particular national leaders.

But there's no doubt that Donald Trump's election to the US presidency has changed things, partly because of the uncertainties he himself has created about continuity in US policies, partly because of his unconventional conception of the awesome power he is now entrusted to assume.
Need to rethink national strategies
The underlying political forces that have allowed Trump's rise as America's national leader would have required rethinking national strategies around the world in any event. Growing protectionist sentiment and inward-looking-ness would also have infected a Clinton administration. But with Trump's election these forces have been given more urgent expression, with so many more attendant uncertainties.
Nobody in Asia can sensibly pretend that it's business as usual.
The prosperity and the security of Asia has been built significantly upon the foundations of the post war international institutions of which the United States was principal patron. They provided the guarantee for free and open markets as well as political security through cooperative economic exchange. The US alliance arrangements across the Pacific also provided reassurances against challenge to these interests. These verities are now less reliable and it is foolish to pretend otherwise.

Suddenly a humdrum, steady-as-she-goes APEC meeting in Peru was elevated with the frisson around the new strategic stakes for Asia, as leaders sought to hedge against the threatened economic and political costs of a retreat from the liberal trading order on which the region's prosperity has been built. China's hope is that the Free Trade Area of Asia and the Pacific (FTAAP) might ultimately entice the United States back into the free
trade fold.
But there had been change underway in Asia before Trump's victory this month.
In this week's lead essay, top Thai analyst Kavi Chongkittavorn, nominates Philippines President, Rodrigo Duterte, as the game-changer in Asia.
Philippine-China relations
After Duterte's visit to China last month, Philippine relations with China have improved dramatically despite the Hague-based Permanent Arbitration Court ruling on the South China Sea, which favoured Manila.The verdict did not disrupt the visit; both leaders chose to dwell instead on future trade and investment as well as the potential for joint cooperation and development in the disputed maritime areas.
By addressing maritime disputes bilaterally with China, Duterte did what his predecessor had failed to do, according to Kavi — 'return to ASEAN's earlier, long-held position that conflicts over territorial sovereignty issues had to be settled bilaterally and that other aspects of joint cooperation could be developed within the framework of ASEAN-China cooperation'. Alternatively, reckons David Camroux, Duterte has jettisoned the 'effort to build a modicum of ASEAN solidarity'
The result of Duterte's visit to Beijing is that Filipino fishermen are back in previously disputed waters and the Philippines has received some political and economic pay-off from Beijing. Despite Duterte's colourful language, the US-Philippine alliance is still in tact. He's shown how small states can extract concessions out of major players when there is rivalry among the big players. Malaysia looks to be playing a similar game. Duterte changed the immediate equation in the South China Sea and beyond while Trump has done so globally.
TPP effect
Adding salt to the wounds, the expected demise of the US-led high-end free trade agreement, the Trans Pacific Partnership (TPP), has demoralized the Asian signatories, especially the four ASEAN members (Brunei, Vietnam, Malaysia and Singapore) who placed their faith in US economic engagement.

A crucial decision for the transition foreign policy team of president elect Trump, says Kavi, is whether he'll attend the upcoming ASEAN-US Summit in early November a year from now in Manila. The special summit President Obama had with the ASEAN leaders in February this year at Sunnylands, in California, was an extraordinary event — a legacy of his successful engagement with the ASEAN leaders, whom he met on 11 occasions — a record in the annals of ASEAN-US relations. The're-balance' towards Asia also augmented US commitment to peace and stability in Asia.
'Whatever decision Trump chooses will have far reaching repercussions for the US policy towards Asia in general and ASEAN in particular. It will also impact on the Philippines — the current ASEAN chair — America's oldest ally in the region.

So is there a way forward under Trump in managing a productive relationship with China while reassuring its neighbours against Chinese overreach?
Writing in the South China Morning Post last week, James Woolsey Jnr, who is senior adviser to Trump on national security, defence and intelligence affairs talked of understanding China's desire to reform international institutions and its right to be ceded a proper role in managing them. 'Our ideological differences should also be better managed', Woolsey said. 'America's commitment to the spread of freedom is unwavering.

Yet, as we improve our understanding of the complexities of the Chinese social and political system, it becomes increasingly apparent that challenging the current system is a risky endeavour. We may not like it but we don't necessarily have to do something about it.
I can therefore see the emergence of a grand bargain in which the United States accepts China's political and social structure and commits not to disrupt it in any way in exchange for China's commitment not to challenge the status quo in Asia. It may not be a spoken agreement but a tacit understanding that guides the relations in the years to come'.
This is the core assurance that China needs from President-elect Trump and on which continuing stability in Asia might be based.

(The East Asia Forum Editorial Group is comprised of Peter Drysdale, Shiro Armstrong, Ben Ascione, Ryan Manuel, Amy King and Jillian Mowbray-Tsutsumi and is located in the Crawford School of Public Policy in the ANU College of Asia and the Pacific)