---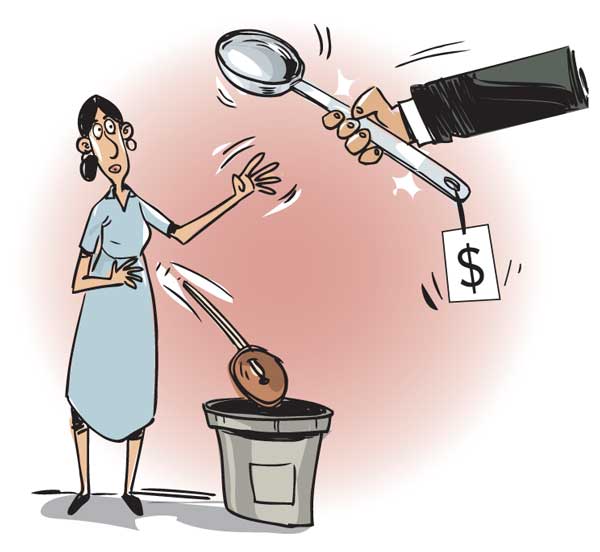 Some decades ago, transnational food corporations apparently sponsored studies by some world food scientists who claim that our good old coconut oil which has kept us healthy for centuries could cause excessive fat, high cholesterol and resultant heart ailments. The anti-coconut oil campaign was so intense and highly professional that millions of Sri Lankans started using other imported oil and the export market was also badly hit.

Now this anti-coconut-oil racket involving an international mafia is being exposed. Sri Lankan food and nutrition specialist Ranjith Seneviratne who worked for the United Nations Food and Agriculture Organization for more than 20 years has shown one of the many instances where TNCs have manipulated international markets for their personal gain and used Third World countries like Sri Lanka as a dumping ground not only for cooking oils but loads of other junk foods and processed rubbish.

According to Mr. Seneviratne, a prophetic crusader for people-friendly food and nutrition, diet and lifestyle, there are interesting studies on the relationship between pure or virgin coconut oil and any type of coconut fat, including coconut milk and cream and how it can affect our body fat. These findings may surprise you.

A study published in the Journal of Lipids consisted of testing the effects of either two tablespoons of virgin coconut oil or two tablespoons of soyabean on a group of 40 women over the span of 28 days. Results showed that the group that used virgin coconut oil had a decrease in abdominal fat, while the soybean oil group actually showed a slight increase in belly fat. Additionally, the group that used the virgin coconut oil showed increased HDL 'good' cholesterol levels, while the soybean oil group had decreased HDL cholesterol and increased LDL levels 'bad' cholesterol.

The Journal of Nutrition published a study where researchers investigated studies relative to medium chain fatty acids (MCFAs) that are abundant in coconut fat and weight management. The studies showed that diets rich in fats such as those found in virgin coconut oil prompted a boost in metabolism, increase in energy, decrease in food consumption, reduced body weight and lower body fat mass. The study authors highly recommend using oils that contain MCFAs, such as virgin coconut oil, as a means of reducing extra abdominal fat, manage a healthy weight and even as a way to treat obesity.

Yet another study assessed body weight and fat storage relative to three different types of diets including a low-fat diet, high-fat diet with long chain fatty acids (LCFAs) and a high fat diet with MCFAs. To bring about weight gain, caloric intakes were adjusted for the diets.

If you thought from reading about using virgin coconut oil daily as a means of reducing abdominal fat is incredible, you're going to be blown away by the powerful health benefits of virgin coconut oil.
Here are more reasons to use virgin coconut oil daily. They bring benefits to thyroid, brain, skin, oral health, heart health, detoxing, cancer, and more.

President Maithripala Sirisena in May this year launched a three-year countrywide programme for Sri Lanka to grow the food and nutrition we need without importing expensive agro-chemicals and without importing junk food or processed rubbish. One vital area will be to revive and revitalize Sri Lanka's dairy milk industry which flourished till the 1980s, when a baby killer TNC allegedly killed our dairy milk industry also. Since then we have been importing expensive powdered milk at a cost of millions of dollars a day. People-friendly nutritionists say that when milk is heated at a temperature of several 100 degrees centigrade and then processed it loses more than half its nutritive value. The powdered milk TNCs are then known to add flavour-enhancing substances, artificial sweeteners and preservatives which may be harmful to children and others. As in other products, millions of rupees are spent in marketing these powdered milk products to the extent that even educated and intelligent people are persuaded to go for it, while children ask for it. We hope the President and the Government will give high priority to the revival of our dairy milk industry, so that millions of Sri Lankans would have access to fresh milk at affordable prices.