---
Smoking is a problem in many aspects; mainly in health, economic, socially and development context. It is a problem at individual, family, community and at the national level.
Health burdens of tobacco - Global Statistics
Globally tobacco is responsible for more than 15% of death among men and 7% among women.
Source: The Tobacco Atlas - 4th Edition
Annually more than 6 million people around the world are estimated to lose their lives due to tobacco-related illness and from direct use of the product. An additional 600,000 die from illness due to passive smoking. World Health Organization (WHO) forecasts that 8 million people would perish due to tobacco-related illness by 2030.

Local Statistics:
Estimated annual mortality from tobacco-related illness is about 21,000 deaths, that is 60 people die per day due to tobacco use.
Cigarette is the only product, which kills one out of two consumers. Smoking is always been associated with ill health on disablitities and non-communicable diseases, mainly oral and lung cancers.
In addition, research findings have revealed that smoking also increases the risk of death from communicable disease as well. Smoking damages blood vessels and can make them thicken and become narrower. This accelerates the heartbeat and increase the blood pressure, as the result, clots could form.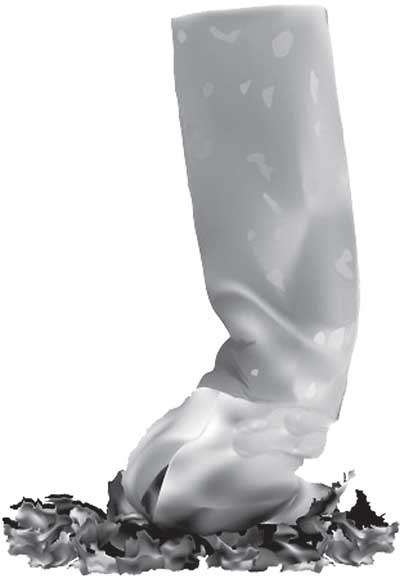 A stroke occurs when a clot blocks the blood flow to part of your brain or when a blood vessel in or around it ruptures (Brain haemorrhage). This condition caused by smoking could also reduce the blood flow to other limbs gradually.
Tobacco also causes type II diabetes, cataract, weakens bones and gums, aggravates and triggers asthma, affects sperm count in men thereby causes fertility and decreases immune function.
Smoking causes diminished overall health, increased absenteeism from work and increased health care utilization cost. Smoking is estimated to increase the risk for coronary heart disease by 2-4 times, stroke by 2-4 times and cancer (men) 25 times. Cigarette is also known as a "Cancer stick".
Why should one quit smoking?

• Quit smoking cuts cardiovascular risks just 1 year and the risk of heart attack drops sharply.
• Within 2-5 years, the risk of stroke could be in line with a non-smoker.
• Cancer on the mouth, throat, oesophagus and bladder would drop by half within 5 years.
• 10 years after you quit smoking, your risk for lung cancer drops by half.
• As soon as you quit smoking, you would receive immediate health benefits. After only 20 minutes, your heart rate goes back to normal. Within a day, your blood's carbon monoxide level also falls back in place. In just 2-3 weeks, you would start to lower your odds of having a heart attack.
Recommendations - Long Term
1. Make legislation to ban smoking in Sri Lanka. By doing this, the government will have to provide alternative jobs for those who are directly or indirectly engaged in the tobacco industry.
2. Provide psychological counselling for the needy.
3. In Sri Lanka, there are only around 70 psychiatrists. Hence, I would like to recommend the government to empower all general practitioners to handle the psychiatric cases by providing special courses in psychiatry.
4. Create awareness among the public on new meaningful leisure and recreational work.
5. Create further awareness on spiritual life to cope up with one's own problems.


Recommendations - Medium Term

1. Intensify anti-smoking campaigns in the media.
2. Making tobacco companies pay for those who are affected due to smoking and/or pay compensation to the family members who lost their member due to smoking.
3. Create awareness on benefits of 'not smoking' among school children.
4. Include the above benefits in the students curriculum.
5. Ban selling cigarettes in the retail shops.
6. Selling cigarettes only on permits/licence.
7. Reduce the length of the cigarette stick.
8. Reduce the number of cigarettes in a pack.
9. Provide rehabilitation to those who are affected due to smoking by making the tobacco companies compensate.
Recommendations – Short term
1. Define and provide clarifications to the public places/areas, in the media and impose further penalty to those who smoke in the public places.
2. Further increments in the cigarette tax, thereby hike the price.
3. Government and private firms to initiate the concept of "do not smoke; work" to their employees.
4. Discourage new smokers.
To get help to quit smoking, please write to mravindhiran@gmail.com