---
In our sister paper the Lankadeepa yesterday and below our Editorial today we published a picture that would break even the hardest hearts and bring tears. The picture shows a Polonnaruwa mother at the bottom of a well, with a small ladder - a rope, a mammoty and a bucket apparently trying to cut deeper and get some precious drinking water for the survival of her family. If this picture does not prompt us to stop wasting water then it may be a case of being insensitive if not senseless.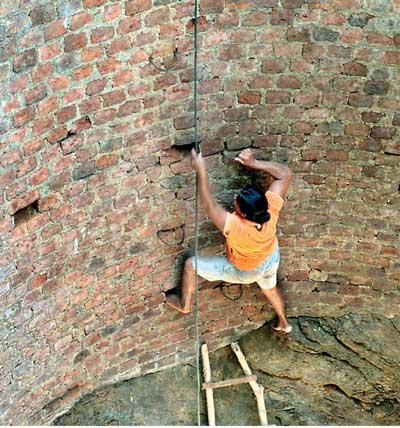 As for government leaders, other politicians and so called public servants they need to realise here and now that hundreds of thousands of poor people cannot drink bureaucratic regulations or excuses. Clean drinking water must be provided to these people and provided now. To talk of good governance and democracy while this village lady is struggling at the bottom of a well would be like telling people to eat chocolate gateaux if they do not have bread crumbs.

The Polonnaruwa district once the heart of the rice bowl in Sri Lanka but now unfortunately the heart of the deadly kidney epidemic, is the worst-affected by the ongoing drought. These droughts are seasonal. But with climate change, global warming and the pollution or poisoning of our groundwater resources through the excessive use of agro-chemicals, millions of people are left to languish in different degrees of deprivation and destitution, despair and desperation.

According to the latest reports from the Polonnaruwa district, about 25,000 people have been severely affected by the drought with the worst hit areas being Welikanda, Dimbulagala, Lankapura and Thamankaduwa. Disaster Management Centre officials said more than 6,000 families did not have even clean water for drinking and the DMC was sending water bowsers to the area but they obviously cannot put a bowser into this lady's well.

Reports also say that in most of the reservoirs mainly in the Mahaveli catchment areas, the water levels have dropped to 30 to 40% of their capacity and if the drought continues it could be a disaster if not death for the people and a devastation for paddy and other cultivation. Even the major rivers including the Kelani river are reported to be dangerously below their normal levels and the whole country needs to pray or invoke blessings for rain. We would like to urge even the so-called joint opposition leaders -- who got lots of free television coverage when they broke coconuts for personal or party political gain – to come forward and either pray or take some steps to provide at least clean drinking water for the thousands of drought-affected people.

In Colombo, other cities and urban areas, we urge the citizens to cooperate in resolving this crisis by cutting down on the use of fresh water. If we are not civic-minded and do not care about this suffering of impoverished people, then we are not and have no right to call ourselves citizens. The practical measures to save fresh water could include consciously getting into the habit of not opening taps fully when we are washing our hands or other utensils. Each citizen could save several litres of water a day if we open taps only halfway.

If one million citizens do this we would be saving about ten million litres of water a day. As an act of unity with the drought-stricken people we could also cut down by half the water we use for our shower baths. Using fresh water to wash vehicles or water the plants needs to be stopped. If we are more civic conscious we could save the water used in the kitchen to wash rice, vegetables and other food items or utensils. The water saved in this way could be used to water the plants in the garden.

Going more into long term solutions, we could get the help of some groups for the recycling of water and the harvesting of rainwater. Our great King Parakramabahu advised us that not a single drop of rainwater must be allowed to go waste into the sea without being used. He lived the word and built ancient engineering marvels like the Parakrama Samudra and thousands of wewas to save water. We also need to save at least the little drops so that they will make a mighty ocean.