---
THERE WERE TIMES HE FORGETS LUNCH, HIS FATHER AND EVERYTHING ELSE, BUT WOULD LISTEN TO MUSIC ON RADIO
HAD HE BEEN BORN IN US OR IN INDIA, HE WOULD HAVE BEEN RICHER, MORE FAMOUS AND MORE RENOWNED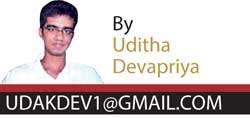 From Eddie Jayamanne to Lal Weerasinghe, there is a space of about 30 years. H. R. Jothipala, who sang for every leading actor that came between them, traversed those 30 years and enflamed an entire nation. To assess the worth of the man on the basis of all if not most of those 5000 odd songs he performed is beyond my abilities, so suffice it to say that Jothipala embodied certain qualities and people took to those qualities the moment he appeared on stage.

He did not cut a figure that could reckon with any of the actors he performed for (indeed, when he went ahead and acted in several films in the late seventies, he looked out of odds with his genial self), but it appealed to more than three generations and the generations that followed them. It is said that we all begin with Amaradeva and end somewhere with Jothipala. This piece is for Jothipala.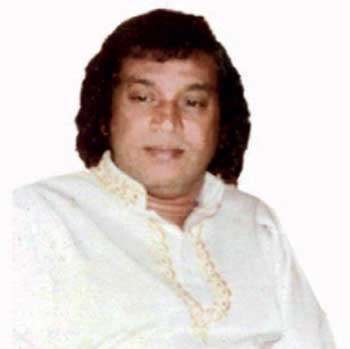 There are vocalists who are born and vocalists who are bred. Jothipala, in that sense, was both born and bred. He was born Hettiarachchige Lawrence Reginald Jothipala on February 12, 1936, in the loud, brash and vibrant town of Dematagoda. His father was a tailor, his mother a housewife. The Jothipalas were not really poor, but being artisans they were not affluent either. Simon Nawagaththegama once told a story about how he got to love classical music by the fact that the only radio in his village was tuned on to a channel dedicated to the genre. Jothipala grew up on music to a radio that was also tuned to a particular channel at a tea kiosk neighbouring his father's shop, where he would deliver lunch every day. There were times when he would forget the lunch, forget the father, forget everything else, and just listen to the music on that radio. He would almost always get a beating for that. As expected.

Being relatively poor, his mother and father entertained high hopes for him, but circumstances were strained enough as they were, since he happened to be the eldest in a family of five other siblings (four sisters and two brothers). They depended heavily on the earnings of the father. While they did manage to survive, it was not always easy. (Young Jothipala once complained that he did not have a proper suit for the New Year, and having cried at it, he got his grandmother to sew and send him a pair of shorts just before the auspicious hour dawned.) Given the rampant poverty within the family, the parents wanted their children to study. Being the eldest would have made them entertain especially high expectations of young H. R., but the boy just got hooked on to more and more music. The beatings continued, naturally.

He received his education initially at St. Lawrence's College in Maradana and later, closer to his hometown, St. John's College in Dematagoda. No matter how much they berated him, though, the parents were unable to stop him from diddling around with music (at both schools, he used to perform in front of his friends, often using empty tins, an indication of the type of music he would become famous for in later years). They then took him out and enrolled him at the Industrial School in Maradana. But even there, he neglected his studies, and two months later, he was taken out. Hoping to "exorcise" him, the family decided to send him back to their hometown in Matara. Even that didn't work: he merely began attending musical shows. The truth was that by now, Jothipala had decided that, come what may, he wanted to become a singer.

He finally got his way when he visited Silverphone Studios, where he chanced across several stalwarts from the industry at the time - Latha and Dharmadasa Walpola, Mohideen Baig, and of course Rukmani Devi - recording playback songs for movies. A few visits later, he met Maurice Dahanayake, who got him to accompany Wasantha Sandanayake with the song "Mahaweli Nadiye."He had to shout out just one word: "thotiyo." This debut helped him get aboard several radio shows; one of those shows was "Jayagrahayaka Pelapali", through which he was able to make the acquaintance of several renowned instrumentalists - Nadaraja, the tabla player; Rocksamy, the violinist, and T. F. Latif, the clarinetist - all of whom hailed from outside the Sinhala Buddhist milieu they would pander to in song after song. Then as now, our music industry was genuinely multicultural, and Jothipala, who himself came from a somewhat multifaceted background, found his place in the sun with these performers. Towering over them, incidentally, was R. A. Chandrasena, who composed music for the film Surathali, for which Jothipala provided his voice. This was in 1956.

Regi Siriwardena observed somewhere that, great as her talent was, it was unfortunate that Rukmani Devi was born to the darkest period of Sri Lankan music, a period which thrived on copying musical pieces from outside, in particular India. Certainly, it is one of the great ironies of our music industry that this culture of bastardizing songs went hand in hand with nationalist, chauvinist calls for singing our own songs, and though to consider whether vocalists born to this era were unfortunate is beyond the scope of this tribute, it is reasonable to surmise that Jothipala was fortunate in moving to a more original musical sphere, after which he met the great Premasiri Khemadasa. Khemadasa, I have heard, carried on a love/hate relationship with Jothipala, who was miles away from the composer's classical roots. Once when his two most popular songs from Duleeka - "Seetha Rae Yame"and "Adara Mal Pawane"- were nominated at the Sarasavi Awards, it was widely believed that Sanath Nandasiri, who sang the former, would clinch the award. Naturally, this belief was shared by Khemadasa himself, and naturally again, when Jothipala was announced as the winner, he is reported to have left in disgust. Such encounters were brief, and they did not result in the vocalist and the composer leaving each other, since over the years Khemadasa gave out some of Jothipala's most scintillating pieces (remember "Oba Langa Inna" from Wasana? Or "Ma Prarthana" from Lasanda? Or "Oba Soya Ennam" from Gimhane Gee Naade?). To me, nurtured in largely classical musical environment, these are what define Jothipala's versatility: they proved, more than anything else, that he was an artiste capable of going beyond his populist, "peechan" base he lived for.
Indeed, I was surprised to learn how prodigious the man's career was. Well over 5000 songs, many of which paired him with his (in more ways than one) counterpart Angeline Goonetilake, called for countless recordings, concerts, and radio shows which by themselves would have consumed his time, never mind the tours that took him abroad, from England to the Middle East. And yet, some of his associates have told me, he was always on the lookout for work, always by the side of his friends, and never hesitant to help those who needed his help. I have heard of instances where, having run out of money, this gentle man had to borrow suits from friends to wear at live and televised shows. It is not unreasonable to assume here that were he born in America or even India, he would have been richer, more famous, and more renowned.

As things stood though, the man was content in being where he was. Sure, he was not a mansion dweller by any stretch of the imagination, but he earned enough to wade through some of the most turbulent years to greet this country. Politically, he wasn't aligned to any party, though when the Premadasa administration (which found favour among artists in a way that was unparalleled by any administration before or after it, barring perhaps that of Mahinda Rajapaksa) recruited vocalists for its project, Gam Udawa, he was there, along with the likes of Niranjala Sarojini. It was at one of the Gam Udawa shows that he met his end, on July 7, 1987. He was 51 at the time. Vijaya Kumaratunga, for whom he sang in the 70s and 80s, would be killed less than a year later. He was all of 42. It was a strange time to live in, stranger to die in.

Among all those collaborations, there was one composer who eluded him. Somewhere in the 1960s, this composer had requested Jothipala to sing a song for a film he was scoring. He hadn't approached him before. Not knowing his methods and his way with other musicians perhaps, Jothipala had simply replied: "Give me a day, I'll come over, I'll record once, and I'll go." That had apparently irked and ticked off the composer. I don't really know exactly what transpired between the two of them there, but from what I have heard he never spoke nor came across the singer until about 10 years later. Again, there was a film he was scoring, and someone had suggested the man's name. Giving him one more chance (we can assume), he had made his request again. The singer, predictably, gave the same reply, and for some reason or the other, the composer didn't get angry this time.

He instead decided to try out this man's claim (for in his experience, I am willing to bet, he hadn't come across a vocalist who could record a song perfectly in one go). So he gave him a date and time for the recording.

What happened next surprised this composer. True to his word, Jothipala came over, recorded once, and left. The recording was perfect and moreover in tune with the sequence of the film. I don't know what the composer would have thought then, but I am sure he reflected on his previous encounter with the singer with some humility.

The song, "Kanden Kandata", was a hit, as was the film it was featured in Tharanga.

The composer had a name, by the way. W. D. Amaradeva. Yes, Amaradeva.