---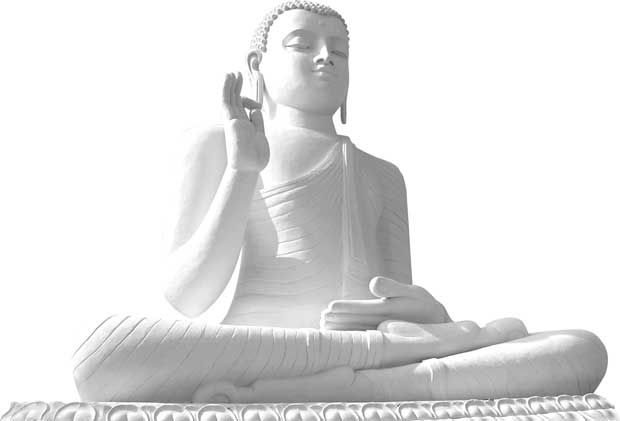 The Four Noble Truths are as follows;


The truth of suffering, the truth of the cause of suffering, the truth of the cessation of suffering and the truth of the path leading to the cessation of suffering.

According to the Buddhist tradition, the Buddha first taught the Four Noble Truths in the very first teaching he gave after attaining enlightenment, as recorded in the Dhammachakkappavattana Sutta (The Discourse That Set Turning the Wheel of Truth).

The Noble Truth of Suffering can best be described as follows - birth is suffering, ageing is suffering, illness is suffering, death is suffering; union with what is displeasing is suffering; separation from what is pleasing is suffering; not to get what one wants is suffering; in brief, the five aggregates subject to clinging are suffering. The five aggregates are, matter or body, sensations or feelings, perceptions, mental formations and consciousness.

The Cause of Suffering can be said to be craving and attachment. Where there is craving, there is suffering.

The Cessation of Suffering is Nirvana. It is the fading away and cessation of that same craving, the giving up and relinquishing of it and the freedom from it.

And finally the Path leading to the Cessation of Suffering is the Noble Eightfold Path - and this path is right view, right intention, right speech, right action, right livelihood, right effort, right mindfulness and right concentration.

We come into this world crying. Every baby who is born cries as soon as he or she enters the world. And that crying is a form of suffering. Growing old is suffering. As young people, we rarely like to ponder about death. I often wonder what thoughts go on in my eighty odd year old grandmother. She is an avid Buddhist. And life being what it is, it is obvious that one day my own grandmother will have to face her own death. I often wonder if I would live up to around that age and what thoughts would go through me. I know that at the beginning I would be terrified. However, when one ponders often about a topic like death, the fear one feels diminishes and one realises that one should make absolute use of every single moment of being alive. Everyone knows how illness can be a devastating form of suffering. Some people have physical problems and some others mental. Whatever the form it may be, one has to acknowledge that illness is undoubtedly a form of suffering. And death is suffering - both for the one who dies, and the loved ones left behind. Grief is a very painful emotion. I have had so much difficulty dealing with my father's death. I'd choke with sadness and the tears would pour. Death is suffering. No one can deny that. We all know how much suffering is caused when we have to endure something we dislike.

There is also emotional suffering of being separated from things or people we love and like. Finally, one can say that the five aggregates are suffering. The five aggregates as mentioned above are, matter or body, sensations or feelings, perceptions, mental formations and consciousness.

The cause of suffering is craving. How peaceful our lives would be if we didn't crave. Craving takes various forms. As children, we crave for toys or the pleasure of playing with playmates. If a child really wants a toy and does not get it, there is very real suffering there. My own son is a prime example for me. He suffers if he can't get a toy he fancies. Not only toys, but fish for his fish-tank! As adults we crave. It is natural to want things. But there is suffering involved. If we didn't crave, we would experience peace. One just has to Let Go and Let Be.

Nirvana is the end to all our problems. It is the Cessation of Suffering. The English term enlightenment is the western translation of the term Bodhi, 'awakening,' which has the western connotation of a sudden insight into a transcendental truth-like an epiphany. To attain Nirvana means that one has found wisdom deep within where everything makes absolute sense.

Anicca means Impermanence, Dukkha means suffering and Anatta is the truth that one doesn't have a self or a soul. Anatta is the acknowledgement that one is an accumulation of a lot of factors coming together. The cause of Dukkha is craving. The Cessation of Dukkha being Nirvana. And finally there is the Path leading to the cessation of suffering.

The path leading to the Cessation of Suffering is the Noble Eightfold Path. It is explained as follows;
Right view: that our actions have consequences; death is not the end, and our actions and beliefs have also consequences after death. The Buddha taught a successful path out of this world and the other world (heaven and hell). Later on, right view came to explicitly include karma and rebirth, and the importance of the Four Noble Truths, when 'insight' became a central teaching. Karma denotes that every action has an equal or opposite reaction. No one is exempt from being the victims of his or her own individual karma.

Right resolve: aims at peaceful renunciation, into an environment of non-sensuality, non-ill-will to practising loving kindness, away from cruelty and being compassionate. Such an environment aids contemplation of impermanence, suffering, and non-self.

Right speech: no lying, no rude speech, no telling one person what another says about him, speaking that which leads to salvation.

Right conduct: no killing or injuring, no taking what is not given, no destructive sexual acts.
Right livelihood: Is an important aspect of the Buddha's Noble Eightfold Path. The Buddha encouraged his disciples to make their living in a way that did not cause harm to others and was ethically positive.

Right effort: being guarded against sensual thoughts; aims at preventing unwholesome states that disrupt meditation.

Right mindfulness: never being absent minded, being conscious of what one is doing; this encourages mindfulness about the impermanence of the body, feeling and mind, as well as experiencing the five aggregates.

Right Samadhi: Practising meditation culminating into unification of the mind through concentration.
Apart from the importance of understanding the Four Noble Truths, I'd like to stress the importance of cultivating Loving-kindness meditation along with it.

Loving-kindness or Metta is translated in pre-Buddhist Vedic Sanskrit texts as Maitri, Maitra and Mitra, which are derived from the ancient root 'Mid' (love). Mitra also means friend. Loving-kindness or Metta is one of the four Heavenly Abodes or Brahma Viharas that the Buddha mentioned.

Once, during the time of the Buddha, there was a group of monks who were advised by the Buddha to meditate in a thick dense forest. The monks attempted to meditate there. However, the tree spirits interfered and sent out many fearful vibes to the group of monks, making it absolutely impossible for them to meditate. Thus, they all returned to the Buddha and lay at his feet their problem. And then, the Buddha recited the Karaniya Metta Sutta which can be translated as the Sutta on Loving-kindness and made the monks memorise it. After doing so, the monks returned to the exact same dense forest and meditated, only this time chanting the aforementioned Sutta. The effect of this was so powerful that the tree spirits decided to leave the monks alone. And the pleased monks were able to do their meditation completely at ease and in peace.

Below is the translation of the Karaniya Metta Sutta - It goes thus,
May all beings be happy and secure, may they be happy-minded!
Whatever living beings there are - feeble or strong, long, stout or medium,
short, small or large, seen or unseen (ghosts, gods and hell-beings),
those dwelling far or near, those who are born or those who await rebirth
may all beings, without exception be happy-minded.

Let none deceive another nor despise any person whoever in any place; in anger or ill-will let them not wish any suffering to each other. Just as a mother would protect her only child at the risk of her own life, even so, let him cultivate a boundless heart towards all beings.

Let his thoughts of boundless loving-kindness pervade the whole world: above, below and across, without obstruction, without any hatred, without any enmity.

This they say is divine abiding here. —Translated by Peter Harvey
The Pali Canon says there are a number of benefits from the practicing of Metta meditation. They are as follows,

One sleeps easily, wakes easily, dreams no evil dreams. One is dear to human beings, dear to non-human beings. The devas protect one. Neither fire, poison, nor weapons can touch one. One's mind gains concentration quickly. One dies unconfused and – if penetrating no higher – is headed for or reborn in the Brahma worlds.

The Buddha spoke about Metta meditation or Loving-kindness meditation.
One can repeat the following phrases towards oneself and meditate as follows;
May I be filled with loving-kindness.
May I be safe from inner and outer dangers.
May I be well in body and mind.
May I be at ease and be happy.
And then extend it to others as follows,
May you be filled with loving-kindness.
May you be safe from inner and outer dangers.
May you be well in body and mind.
May you be at ease and be happy.

The Buddha's Dhamma is not something we do not understand or relate to. As a matter of fact, it's a teaching which is very lucid and clear for those who are intelligent enough to understand it. I myself have come on my own spiritual journey over a number of years. At the beginning it doesn't make much sense. But when we go deeper, with time, we begin to realise just how true the Buddha's teachings are.

"I am larger, better than I thought; I did not know I held so much goodness." – Walt Whitman
..and with this I shall leave you for today.
With many loving wishes to you and yours,
a happy and peaceful Poya to you all.