---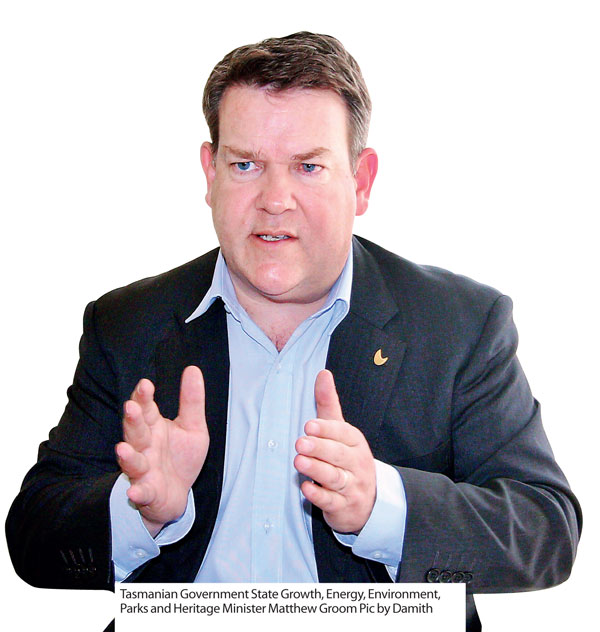 By Shabiya Ali Ahlam


This is your first time in Sri Lanka. What are your first impressions on the island nation?
First I would like to say how delighted we are to be here in Sri Lanka. This is our first official visit here as a state government and we have been keen to do this. We realize that Sri Lanka is a growing economy where it has strong growth in tourism and obviously is very significant as a trading hub. From our perspective, we see significant benefits in having closer ties and cooperation with
Sri Lanka.

Tell us about South Asia Mission 2016?
End-August the state government launched the 'Tasmania - Prospectus for South Asia' in Hobart, which outlined how we will leverage Tasmania's comparative advantages across specific sectors and markets in India and Sri Lanka to drive our long–term engagement with the South Asian region. The key actions focus on supporting an environment that enables strong commercial partnerships and on enhancing trust and mutual understanding in the long term as South Asia and Tasmania develop. This we believe will support shared opportunities that will shape the next generation of Tasmanian and South Asian growth.

We have been to Indonesia, Singapore and we just came from India, where we have been to Mumbai, New Delhi and Kerala. This is about our effort to raise awareness of Tasmania throughout the South East Asian region. We were keen on including Sri Lanka and were strongly encouraged to include the nation because of the strong cultural ties Sri Lanka and Australia share and also because of the resurgence in the economy and its growing significance from a trade perspective in the region.

What is the objective of your visit?
We are keen to encourage a greater awareness of Tasmanian premium produce. Tasmania, a state island, is known for being one of the cleanest in the world. We have the cleanest air and water in the world. Tasmania's economic prosperity is very much focused on the natural environment and strict security rules. We are well known for safe premium foods and are becoming increasingly known in the Asian region. In particular, we focus on seafood and fruits. We are also popular for premium wine and whiskey. So we are keen on increasing awareness about our produce here in Sri Lanka.

Sri Lanka has a strong connection with Australia for education. There are lots of Sri Lankans who have studied in Australia and there are Australian institutions that provide education services here in Sri Lanka. Tasmania is becoming increasingly regarded as a destination for international education. They say it is Australia's best kept secret in that regard. People are starting to discover Tasmania in a way we haven't before. We also want to promote Tasmania in a way as a destination for very high-quality education. As an island state, we have very high focus on areas like tourism, maritime affairs, agriculture, aquaculture, food and wine. Our university offers an array of degrees. It's a safe place and a cheaper place for education.

One of the priorities of this visit is to increase cultural ties between the two regions. Tell us about that?
Yes. We are keen on increasing cultural ties between Sri Lanka and Tasmania. Sri Lanka has strong ties with Australia. There is a large number of people with Sri Lankan background and heritage who live in Australia and we are keen on further increasing that connection so that they would eventually consider migration to Tasmania, as the island state is looking to grow its population. We want to raise the awareness on that so people might consider that option.

The other way we hope to do this is to increase our cultural ties through cricket. It is for that reason we have David Boon who has been declared as an ambassador for Tasmania. We are very proud of Boon, one of the favourite sons of Tasmania and obviously famous around the world for his cricket. So we are interested in increasing greater cultural ties through cricket.

Just as for Tasmania, the current agenda for Sri Lanka is also to increase awareness on its capabilities, but we hear often that our country is not well known across the world for the reasons we want to be known for. In that context, how well is Sri Lanka known in the Tasmanian business community?
I would describe Sri Lanka as extremely well known actually. And I would say cricket played a major role in that. For a lot of people that would be the point of connection. People have a perception of it as a very attractive country and a country that has very good future prospects, going through resurgence with a lot of optimism and confidence. We see parallels.

What is the current trade relationship like between the two countries?
Education is a significant one, probably stronger for the whole of Australia than just for Tasmania. This is why we want to grow that. We are conscious of the fact that Sri Lanka has a growing service economy and is very well placed because of the geographic location, which will allow to service different trading centres. We are keen to
leverage that.

Tasmania and Sri Lanka currently have a modest and focused merchandise trading relationship. The exports to Sri Lanka were worth A $ 33.41 million in 2014–2015, led overwhelmingly by milk and
cream commodities.

You mentioned you would like to cater to the Sri Lankan market and it is often considered small. What are your thoughts in that regard?
It is small but I wouldn't underestimate the market. There is a growing tourism and construction sector here. Tasmania is not a high-volume export option. It's a high premium one. Key from our perspective is to identify locations that are attracting premium tourism. We see Sri Lanka is very attractive in that regard.

Your delegation is here with a lot of plans. So what are your expectations from the Sri Lankan government to support your endeavours and to boost ties?
This time it is about having the initial engagement and we have received a warm welcome. The Sri Lankan government has been very facilitating and we are greatly appreciative of that. This time, we, both the nations, will be describing what we can bring to the table and then explore the next steps to strengthen the relationships. We are also keen on increasing business-to-business relationships and our visit is also about increasing awareness of some of the business opportunities for Tasmanian businesses here in Sri Lanka.

The understanding is that Tasmania is looking to partner in a wide range of areas. Are there any thoughts of entering into a preferential trade agreement with Sri Lanka?
Any formal trade agreement would have to happen between the federal governments of Australia and Sri Lanka. I think there are discussions but as to the formal status of that I cannot comment.

Any final comments?
Though we do have differences, I would say Tasmania and Sri Lanka are lot more similar to one another. We are both islands and that can bring more opportunities than challenges. The rediscovery of what we have to offer are things we share in common. So I would say we have a lot of opportunities.