---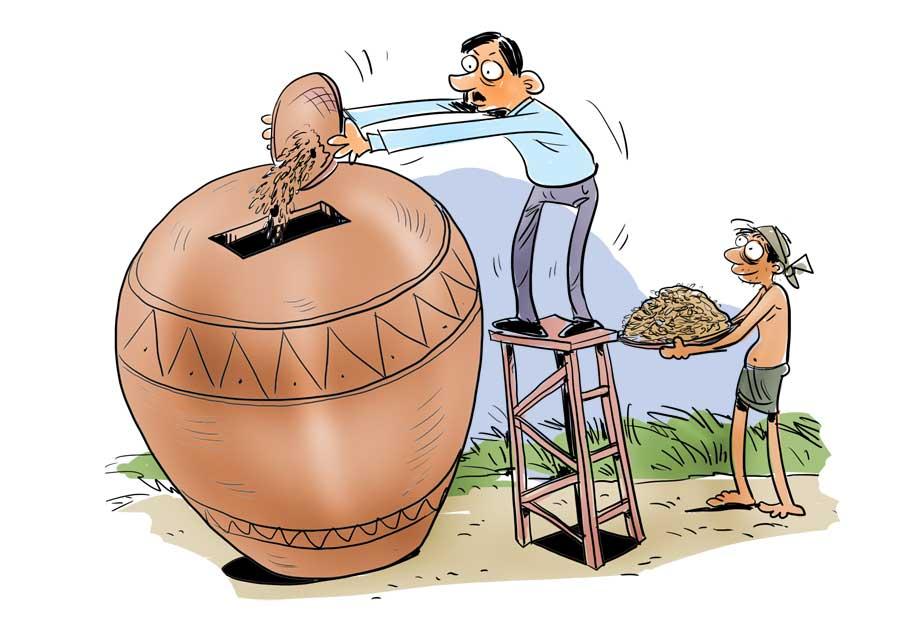 The rush to grow vegetables and cultivate abandoned paddy land, due to Corona pandemic, is creating a surplus of vegetables and rice in the country. This indeed is a good thing as far as paddy is concerned.
After all, if the Paddy Marketing Board manages to purchase the surplus paddy and store them it can help offset any shortfalls in the next season. Due to the climate change effect, any effort to predict the weather patterns has become almost a futile endeavour. Last year it rained seven months non-stop in the Western Province starting from June.

There were flash floods in the rest of the country as well. The Agriculture Sector was affected very badly as a result. No wonder Sri Lanka has been declared the second-worst affected country by climate change effects. There's absolutely no guarantee whether the farmers would be able to reap the harvest they expect next season.
As such having a surplus in one season is not going to be a big issue. The only hitch is the technology used by the Paddy Marketing Board to store grain. The Paddy Marketing Board which was established in 1971 still depends on the traditional methods of storage. Countries like Israel continue to experiment on rice storage techniques and it will be of help if Sri Lanka too studies their methods especially those like Volcani cubes and use them here in Sri Lanka.

It is also important to have large and well-developed storage facilities in the northern and eastern provinces, as well as districts of Mullaithivu and Batticaloa, have been producing large quantities of rice post-war. Mullaithivu farmers have done extremely well despite the recurrent issue of water shortage. Everyone must take note of that.
In Sri Lanka, nearly 70% of farmers are smallholders owning less than one hectare of paddy land.
As for the surplus of vegetables, unfortunately, there is very little that can be done. Even in the district of Colombo those with small patches of extra land started growing vegetables with the government declaration of lockdown. As a result in the peripheral areas of the district in like Padukka, Avissawella and Meegoda every other householder has become a vegetable seller today.

The availability of vegetables certainly is a big consolation for the non-farmer. Especially those in Colombo suburbs really benefitted from the small-time sellers who visited their areas during the lockdown, mostly without permits even. However, now this trend has become a big blow on those who used to run small vegetable outlets with the profit made through those as their sole source of income.