---
With fuel supplies being gradually restored to normal by yesterday evening, there appeared to be widespread public support for the national unity government's decision to crack down and issue a gazette notification declaring fuel supplies as an essential service. The order, effective from midnight Tuesday, warned that Ceylon Petroleum Corporation employees who did not report to work on Tuesday, would be deemed to have vacated their posts. Following crisis discussions till late on Tuesday at the Presidential Secretariat, the government also decided to call out the armed services to assist the police in maintaining security at the Kolonnawa and Muthurajawela fuel refineries and also to assist in the distribution of fuel supplies.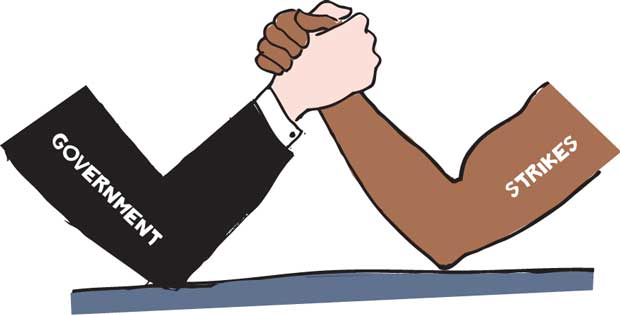 It was the first time the National Unity government had promulgated an essential services order and called out the Armed Forces to maintain an essential service. This came amid reports that millions of people were stranded and schoolchildren were unable to attend their term test, while students preparing for next week's G. C. E. A/Level examinations were also affected.

Some CPC trade unions had called the strike in protest over the government's decision to approve a controversial agreement with a Chinese company to implement the Hambantota Port deal. This agreement had been repeatedly re-negotiated and changed after President Maithripala Sirisena himself and the then Ports and Shipping Minister Arjuna Ranatunga had expressed grave concern over certain sections which they said gave excessive authority to the Chinese company. Eventually the Cabinet last Tuesday approved a re-negotiated agreement. It was tabled in Parliament on Wednesday and is to be taken up for debate today. After the Cabinet meeting on Tuesday, the new Ports and Shipping Minister Mahinda Samarasinghe said the long delayed agreement would be signed on Saturday after Parliament approved it, but some reports indicated there may be a further delay until some compromised agreement is reached with trade unions of the CPC and the Ports Authority. This agreement had been initiated by the former Mahinda Rajapaksa regime. But negotiations went on for years. Senior Minister and United National Party General Secretary Kabir Hashim, at a news conference on Wednesday, said that more than Rs. 3000 million worth of fuel was lying unused and going waste at the Hambantota Port because of the delay in finalising the agreement.

In Parliament on Wednesday, Prime Minister Ranil Wickremesinghe made a statement on the government's decision to impose the essential services order and deployed security forces for the distribution of fuel supplies. He said the government was left with no option because some CPC trade unions—which he accused of acting with party political motives -- were refusing to accept even the major changes made to the original agreement. The Prime Minister and other government leaders have stressed the main benefits to Sri Lanka would be that the Chinese company's huge investment would also help Sri Lanka to pay back part of the massive debt we owe to China. The Prime Minister also accused some CPC trade union leaders of indulging in sabotage such as deflating the tyres of fuel bowsers, removing the valves and parking them in a manner that blocked the entry to the refineries and nearby roads. In Parliament yesterday Minister Ranatunga also accused some CPC trade union leaders of sabotaging the refinery and warned that tough action would be taken against them for damaging public property.

Following the spate of strikes in recent months, specially by the Government Medical Officers' Association, President Sirisena has declared that he would not have talks with striking trade unions. As we stressed last week, any rights are linked to responsibilities and those who fail in their responsibilities, must necessarily forfeit their rights. In any event no group or trade union has the right to make innocent people suffer because they have different political or economic viewpoints on certain issues. Broadly the President and the government, directly elected by the people, are responsible for these issues and if any wrong moves are made such as any violation of Sri Lanka's sovereign rights, the people will hold the administration accountable at the next elections.