---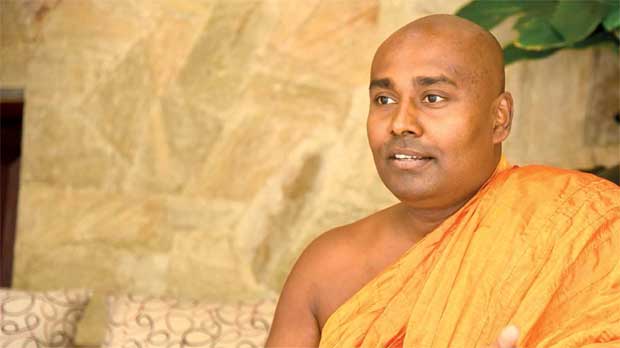 Ven. Pitiduwe Siridhamma Thera says that apologising is a fundamental lesson in Buddhism
The Sri Lankan Bhikku community doesn't follow the philosophy. Therefore it lacks intellectuals
We don't have innovative minds. Whatever we introduce as 'new' has already been done in the West
I'm a revolutionary and a philosopher and I always present my ideas to the public
---

"Neither my life of luxury in the palace, nor my life as an ascetic in the forest were paths to enlightenment," Gauthama Buddha had once said. Hence, by giving up on worldly pleasures, one can end the journey in Samsaara. But in most instances we fail to realise the middle path. While many Bhikkus have played a pivotal role in guiding people in their journeys in Samsaara, politics and other influences have distorted the system in the present day. Ven. Pitiduwe Siridhamma Thera, presently referred to as Arahat Sri Samantha Bhadra Thera, was one such individual who was popular with the masses for his sermons. But to be an Arahat, also called the Perfect One, one must pass the stages of Sotapanna, Sakadagami and Anagami. As a result, his claim to have attained Arahat-hood and his way of living have stirred up so much controversy. In a candid interview with the Daily Mirror Ven. Siridhamma Thera explained the meaning behind the word Arahat, why he has been subject to criticism and why people should follow the Middle Path.
Excerpts of the interview:
Q As a predominantly Buddhist country do Sri Lankans follow Buddhism in the way it has been preached?
Whether Buddhism still exist in the country is also a question that we need to raise. Buddhism isn't only about traditional beliefs, customary rituals and the chanting of pirith or reciting religious verses. Buddhism is a way of life or a rhythm of life. It is a way to understand the rhythm of nature. Although people don't understand, this universe works according to a particular rhythm. But because there's hatred, craving and selfishness in people, they fail to understand this rhythm. Within this rhythm we all are equal. But Sri Lankans aren't a psychologically advanced group as those in the West and not as developed as other Asian countries as well.
As a result it's difficult to make people be aware of its philosophy and therefore they tend to abide by its traditional belief systems. But the youth seems to be more curious about these issues and it's quite evident on social media as well. It's important to follow the middle path and we have a bigger responsibility to mentor the youth. So as followers of Buddhism, we have to introduce its philosophical perspective. In India we find many philosophers and there's always a debate. But do we see any philosophical debates in this country? Or do we even see any literary writings in newspapers? What we see instead are gossip and good-for-nothing news items. So how can we improve the wisdom of our people? If our people could advance their thinking, we could bring about a philosophical revolution.
There are people who fool the public requesting them to come and worship these 'relics'. So even if I don't mention it, this mafia exists
Q But isn't there a reduction in the monks who are eager to bring about this said revolution?
This is because the Sri Lankan Bhikku community doesn't follow the philosophy. Therefore it lacks intellectuals, and has only those with a traditional mind-set. But I feel that in another 15-20 years there will be a revolution in the way people think. We see many monks and followers of Buddhism and other disciplines in India. They have connected with lay people to bring about this change, but we don't see this happening in Sri Lanka. However, things will change with time. There are two sides to a coin; similarly one faction of society will understand it while the rest will criticize. Sri Lankans don't have innovative minds. Whatever we introduce as 'new' has already been done in the West. I don't think a university graduate should be unemployed. He should be able to start his own business at the end of his university career. There's no need for them to run behind politicians requesting jobs. But we see the opposite.
Q But whatever the sermons you preach too have been criticized by a majority. What can you say about that?
When a philosophy is born, any society would respond that way. When there's a split in beliefs, people tend to debate and think out of the box. So I believe that it's a step in the right direction. Buddhism should be open to all. It's open for anybody to criticize. I believe that a society needs philosophical ideas and when they are being introduced people tend to appreciate as well as criticize at the same time. I started preaching six or seven years ago and today I see that many people have turned their focus on me. In a few years they will start to accept my ideas. I'm a revolutionary and a philosopher and I always present my ideas to the public. Hence people, including youth, will start to debate on them.
Q You were warned regarding the statement you made about the relics and the Asgiri Mahanayake Thera. If your philosophy was accurate, then why did you apologise?
After I met them I explained what I had said. What our people see as relics aren't the actual ones. It's a mafia. But I have never mentioned about the sacred Dalada relic or Lalata Dathu Wahanse (sacred forehead bone).
There are people who fool the public requesting them to come and worship these 'relics'. So even if I don't mention it, this mafia exists. But we were asked to apologise for blaming the Mahanayake Thera and hence we apologised. Is that a bad thing? If you do a mistake you should apologise and that is a fundamental lesson in Buddhism.
Q Some people think that you have fantasised the Buddhist philosophy. What do you have to say about that?
I would like to see at least one of them (My critics). There may be people who disagree with me, but none of them has come for a debate. Before I preach, I do a thorough research. If I am to take back what I have told, then a person who has done a similar research on that topic, should debate with me and show where I have gone wrong, but not otherwise.
Buddhism should be open to all. I believe that a society needs philosophical ideas and when they are being introduced people tend to appreciate as well as criticize at the same time
Q There were various comments regarding your 40th birthday 'celebration'. Any comments regarding that?
It was a 'pinkama' (religious observance) and it was a peaceful programme. When you do such a programme it should be properly organised. Some people hate to see things done neatly. If you build a good house, people will say it's a waste of money. If you have a party at your place then people will say you are spending black money. This shows that people are evil-minded. I have done this pinkama for the past 12 years and we serve the same type of food and cake.
Q How do you call yourself 'Arahat'?
People think that when a monk attains Arahathood, he travels by air. But Arahathood is the end to suffering. People think that you become a different species, but there's nothing as such. An Arahat isn't a magician, but a person who has an advanced understanding of the Dhamma.
Q Why did you change your name?
Anybody could use a nickname. I have written all my books under the name Siri Samantha Bhadra. You can call me by any name.
Q With monks stepping into politics people have a distorted idea about the Buddhist philosophy. How do you view this?
We don't support politics. We joined the Saasana to end our suffering. That is our ultimate goal and if anybody wants to reach it we will guide them. I too have had offers, but my goal is different to theirs.
Q People seek pleasure using the easiest possible way, unlike what has been taught in Buddhism. What is your message to them?
They have to follow the middle path. People should think twice before arriving at conclusions. It's better to give some time and find solutions to the problems in life rather than take decisions. This is something that the youth too should follow. The Dhamma should be an inspiration to everyone.
---
Last chance for Controversial monk
Earlier this month, Ven. Pitiduwe Siridhamma Thera went before Malwatte Mahanayake Thera in Kandy and apologised for some of the statements he made, which the Maha Sangha and the Buddhist laity have taken exception to.
Siridhamma Thera met Ven. Malwatte Mahanayake Most Ven Thibbatuwawe Sri Siddhartha Sumangala Thera as he had been informed in writing by the Malwathu Vihara Sangha Karaka Sabha that he would be expelled from the Malwatte Chapter in case of noncompliance on his part.
Upon accepting his apology, the Mahanayake Thera further said that this would be the second and the last opportunity he would be given.
---