---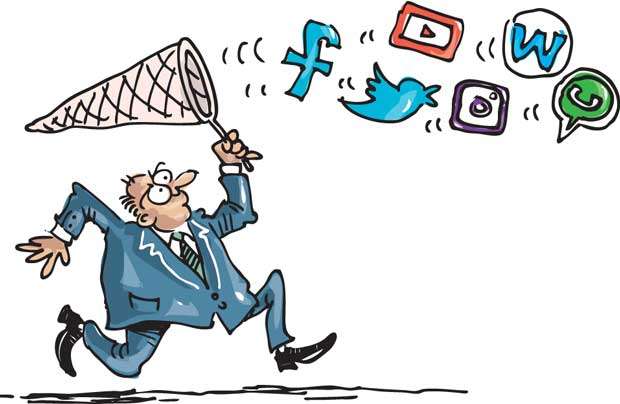 Social media users in the island are once again under pressure with the Government of Sri Lanka (GoSL) warning that there could be a total ban on the use of social networking websites if they are used irresponsibly.

The biggest warning came from none other than President Maithripala Sirisena a few days ago when he said that it was disturbing to see comments in social media harming the integrity of families and negatively impacting national security and ethnic harmony. The President had made these comments after declaring open a new court complex in Welisara, on May 31.

The month of May, among other celebrations, also sets aside a date to take note and underscore the importance of media freedom. Initiated by UNESCO, the third day of May has been set aside for this purpose with the tradition beginning in 1993. Sri Lanka has a growing community of internet users which has now been exposed as having an addiction to the use of social media websites, apart from being prolific viewers of porn websites.

But what has driven fear into the Government's top officials is the harm that is being caused through hate speech and mud-slinging at judges and politicians via social media. The President has shaken social media website owners by saying that he is one of the most affected individuals who have been affected by mud slinging in their websites. The chorus that wants social media website users put in their places also includes a disgruntled Parliament Speaker Karu Jayasuriya. The Speaker went on to comment in newspapers a few days ago that he was of the opinion that social media were being harnessed to spread hate and mobilise people to cause harm to others.

What is so important for social media websites to follow some guidelines is the fact that they borrow content from mainstream media products such as national newspapers and television. What makes these social media websites look like disruptive monsters is the doors that have opened for users to comment without restrictions and screening. Most website users spill hate on content that's borrowed by mainstream media.

We saw the damage the social media did during the communal violence that took place in the Kandy District. This led to a social media blackout in the island. The ban was a defeat for social media users because the GoSL labelled them as irresponsible.

The Sunday Ravaya Newspaper, which recently featured Prof. Cherian George, a campaigner for media freedom, in a recent article, highlighted that all media, including newspapers, had to enhance the belief people have in their content. In the article George also speaks of disgruntled journalists working for mainstream newspapers moving to websites to continue with their careers. George adds that in countries like India, Hong Kong and Thailand wealthy philanthropists fund news websites because they see an importance in the existence of independent media institutes which present the public with balanced, informed news.

What social media websites lack is this balance. The rapid globalisation of news and websites being backed by modern technology, have made censorship difficult. As a result news banned in one country is easily available in another. One good example for this is the outside world knowing what's happening in China despite the Chinese Government curtailing media usage in their country.

In the wake of these threats on social media, it's fitting to recall that an Indian author by the name of Madhavi Goradia Divan penned a book titled 'Facets of Media Law' in 2005. The book was launched at a time when social media were gaining immense popularity. But in a review of the book published in Indian magazine 'Fontline' the author is quoted in saying 'every democracy gets the Government it deserves and every society its media'. Sri Lanka can't be an exception.