---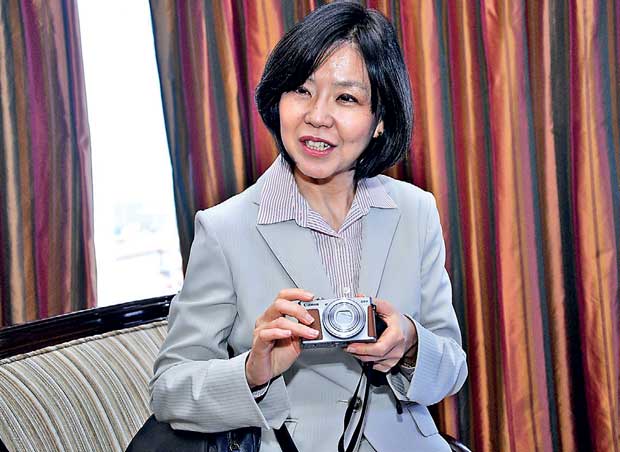 Canon Singapore President/CEO Noriko Gunji was in Colombo recently on the invitation of Sri Lanka's Metropolitan group, Canon's local distributor for almost 40 years. Based in Singapore, Gunji is responsible for leading and overseeing the sales and marketing operations in the dynamic region, which spans 23 markets.
The region includes the domestic Singapore market, national sales offices in India, Malaysia, Thailand, Vietnam, Hong Kong, Taiwan and the Philippines and independent distributors including
Sri Lanka.
Following are the excerpts from a brief interview Mirror Business had with Gunji.
First of all welcome to Sri Lanka!
Oh thank you! It is a pleasure to be in this beautiful country.
Shall we start with the purpose of your visit to Sri Lanka?
Well, the first reason is to join the celebrations in the relaunch of the Canon Image Square, the total photographic experience centre. I believe it will be a novel experience for Sri Lankans, those who are interested in photography.
Also, meeting important Sri Lankan business customers and strengthening Canon's business partnership with Metropolitan was another main objective behind my visit to Sri Lanka. They (Metropolitan) have been a very important business partner for Canon for about 40 years and have been instrumental in expanding Canon's business interests in
Sri Lanka.
Sri Lanka is a 20 million market and a pretty small one compared to some of the other regional markets such as India or Bangladesh. What is your impression about the Sri Lankan market?
Thanks to Metropolitan we have 70 percent market share in the Sri Lankan camera market. Due to the younger population in the Asian market, we see immense growth potential in the Asian region. So, we are very much excited about the growth potential in Asian countries such as Sri Lanka. In India's DSLR market, Canon is the number one with the largest market share.
But what kind of threat is smartphones posing for the traditional camera makers like Canon?
Nowadays everybody has a smartphone. Particularly the younger generation considers smartphones a must have accessory. When smartphones with good quality photographic capabilities came into the market many may have thought that it was the end of the traditional cameras. But it was not the case.
Of course the sale of small digital cameras was hit by the advent of smartphones. But we, at Canon, believe smartphones are a boon for the camera/photography industry because smartphones contribute to the expansion of the photographic culture. When the younger generation gets into the habit of taking photographs, next they want to take good quality, high-resolution photographs. That's where we see the opportunity. Smartphones are not our enemy.
So, you mention about the decline of small digital cameras in the face of smartphones. Did Canon also have to trim down its small digital camera production?
Yes, we had to adjust to the changing market dynamics. We are now shifting to high-end compact cameras. We believe there is demand for such products.
What kind of future growth do you see for the professional or DSLR camera market in Asia?
There is a massive growth potential in Asia for DSLRs, particularly in countries where the middle class is expanding. We expect a lot of sales growth from countries like India, the Philippines, Vietnam, etc.
Technologies like Wi-Fi have now become more or less standard in cameras today. What are the other new technologies Canon is planning to incorporate into its cameras in the future?
Well, I cannot tell you any specifics, but what I can say is we are continuously developing and tweaking our products to incorporate technological advancements happening around us.
What is the market segment Canon is targeting for future growth?
There is no particular segment as such. But obviously there is emphasis on the youth market, where the future growth is. Also, currently we are seeing a boom in women taking a serious liking towards photography.
This is may be because of the smartphones. I'm not sure about Sri Lanka, but in countries like Japan, India, China, etc. ladies camera market
is booming.
What are the future plans of Canon in Sri Lanka?
I really believe future growth will come from developing the photographic culture in Sri Lanka. Therefore, we plan to invest more into this.
As I said earlier, we are enjoying a very healthy 70 percent market share in Sri Lanka. We believe this could be further expanded. I see a lot of optimism and energy in Sri Lanka. The country has a
lot of potential.
Does Canon have any plan to open up an office in Sri Lanka?
No, because we have a very good partner in Sri Lanka—Metropolitan. They've been our partner in Sri Lanka for almost 40 years.
It is pretty clear now that Asia is the new engine of growth. What are Canon's plans for Asia?
One of Canon's biggest markets is China. We know the growth potential Asia has. Therefore, we have allocated a lot of resources to enhance and strengthen our presence
in Asia.