---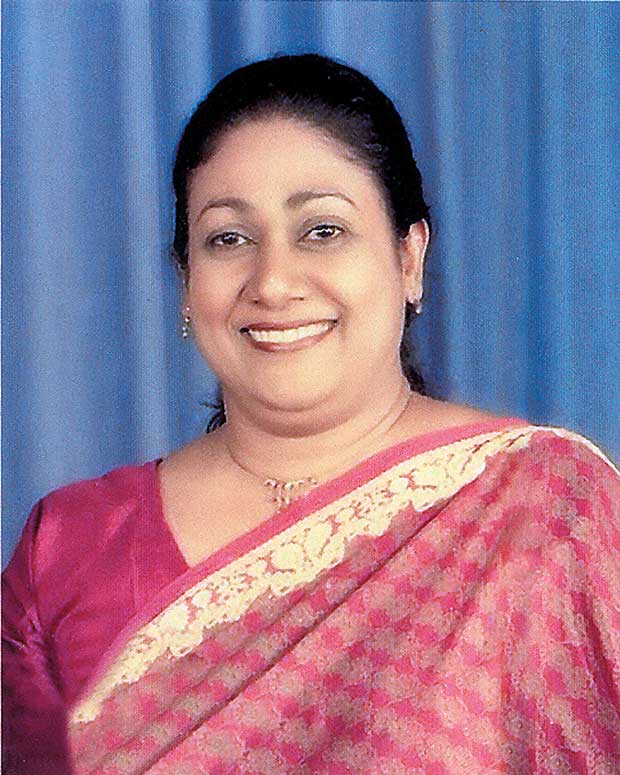 Devika de Alwis Perera
When Yohan called me, to ask me whether I could speak a few words at Devika de Alwis Perera's memorial service, at first I was taken aback to be given such an honour but I was deeply touched to have been asked. However, no sooner did I say yes, did I start to get a bit flustered as I didn't know whether I could do justice to her memory, as Devika was such a special person.
Amazing works of art and models were on display which changed on a weekly basis and at any given moment we would witness her students engrossed and excited in their lessons
I closed my eyes to calm myself and I instantly pictured my classmate, my confidante and my trusted dear friend. I immediately recalled her comforting presence. She had this ability to bring sense and stability to any situation. With a dignified firmness yet calmness, she was able to make an arduous task effortless or bring (what we would think) an earth shattering problem to a complete halt. In other words she reversed the known idiom where she made a mole hill out of a mountain … and in the end she made you wonder, "what was I so flustered about in the first place?"
Devika and I were students of Ladies' College in the late 1960s and during the decade of the 1970s.
Her connections to school were deep rooted, as her family, from her grandmother Delrene Corea Jayawardena to mother Venetia and her aunt Damaris to her sisters Ione and Ingrid and cousin Priyangani and later on her daughter Dinushka were all Ladies' College students, and interestingly when I stumbled upon school records I discovered that even her father Leslie Bertram de Alwis attended our school, as stated in Devika's application form for admission to our college. Her mum Ms. Alwis (as we were accustomed to call her) taught me and Mrs Damaris Pannila was our Vice Principal.
She enjoyed school life and took part in many activities. She represented school and was a member of the chess, netball and table tennis teams. She was also President of the Nature Lovers Club (present day Environmental Society) and evolved a keenness in conservation among her fellow pupils. However, what I remember the most were the fun times we had during interval when we were in the Form 1 classes, where we used to rush out of our classroom (then called the 'cow sheds') to reserve our spot to play a team game called 'soak' or French cricket, or to choose the correct 'battas' amongst stones or broken pieces of asbestos (which in itself was a skill) for a game of hopscotch. Sadly today's children have missed out on these enjoyed childhood pursuits which have been replaced by modern high tech devices.
Devika and I were students of Ladies' College in the late 1960s and during the decade of the 1970s
As we became seniors some of us had extra duties and responsibilities as office bearers in the school community. Devika was a committee member of Nixon House. She was also Treasurer and later Secretary of the Student Christian Movement. Apart from her academic record and involvement in extra-curricular activities, her love, loyalty and commitment to her fellow students and her school were evident, when she was appointed a Prefect whose leadership qualities were recognized when she went on to lead the student body as head prefect of Ladies' College. Devika and I shared many fond moments in the 'cop' room during and after school. To date when I see the spot where we signed our names on the wall in that room as Devika de Alwis and Eesha Abeyasinghe, a flood of memories gush in.

We left school in 1979 yet met at OGA functions particularly on Founders Day. Coincidentally our spouses also know each other from way back as they took to the same profession and audited at the same firm Ford Rhodes and Thornton (now known as KPMG). Funnily enough, even there, it was my husband Timothy who occasionally was up to interesting escapades with his fellow auditors, in sharp contrast to Yohan who conducted himself with proper decorum.

Although Devika studied science for her A levels she had this inborn creativity which stood her in good stead, when she joined the staff of Ladies' College in 1998. She taught art and Christianity in the Primary School. Her art room was a kaleidoscope of activity which was evident when you entered her room. Amazing works of art and models were on display which changed on a weekly basis and at any given moment we would witness her students engrossed and excited in their lessons. Not only did she have the ability to bring out the creativity and skill in each and every child but she brought classroom lessons of history, geography, mathematics, science and language alive and re-enforced these lessons with innovative ideas in her art class. She took the time and effort to go through other subject syllabi and found innovative ways to strengthen that knowledge in a child's mind through art. Devika went the extra mile – that was the dedicated teacher she was.

She was also a person who simply didn't stick to a text book. Through her subject she taught good conduct and values to her children. This was very evident in her Christianity classes. As much as she inspired the children with Bible stories, she inculcated in them a Christian way of life. Thereby her lessons were not only interesting but meaningful. Undoubtedly she made an excellent teacher in charge of the SCM, a mentor and kind mother figure to all and her organizing skills were evident in the many camps, projects and programmes she organized within and outside school.

In addition, Devika had a good rapport with the students. She knew that today's child has many challenges and had to be guided accordingly. Thereby she was a friendly, fair but firm teacher.

As a colleague and friend I learnt a lot from Devika; not merely teaching methodology but she was a caring and good human being. She never complained about others but always found something positive about them. She spent time with everyone she interacted with, noticed their good days and bad days, and without intruding or any fuss, offered comfort, help or praise when needed. Jesus' love radiated through her.
It was Devika's unshakable trust and faith in God that helped her through difficult times. Despite the ravages of her illness she shouldered on and she remained an inspiration to all. We had in her a loving daughter, sister, a devoted wife, mother, a caring aunt, cousin, a dedicated teacher, a counsellor, a mentor, a good Samaritan, a concerned colleague and dear friend all bottled in one precious being. That's why her loss is immense and she undoubtedly leaves a deep void in our lives. Ben Cranshaw said, "There are many things or people that will catch your eye but a few will catch your heart". Devika caught my heart and will be forever missed. However we will find comfort in remembering her illuminating smile, her concerned wide eyed gaze, her quiet strength and the wonderful and caring way in which she touched our lives.
We salute her with words as found in the Bible – Matthew Chapter 25: 23, "Well done thou good and faithful servant! Thou hast been faithful [with a few things], I will make thee ruler of many things. Enter into the joy of thy master." – and that is where she deservedly is.

Eesha Speldewinde,
Principal, Ladies' College, Colombo