---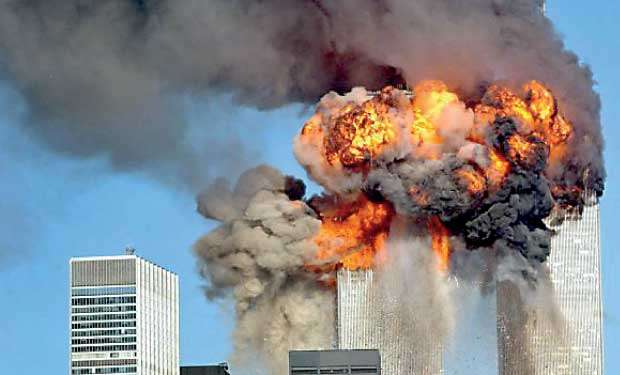 Perhaps hopelessness is the very soil that nourishes human hope; perhaps one could never find sense in life without first experiencing its absurdity
- Vaclav Havel
---
When the LTTE choppers started hovering over the Colombo night skies on April 26, 2007 when the nation was busy watching the Cricket World Cup finals, the Sri Lankans got its closest experience to September 11, 2001. We lost the match and also the hope of war victory. The world's most sophisticated terrorist outfit was calling shots here as never before. Al Qaeda carried out attacks with hijacked planes, the LTTE had its own air wing. Just like it happened after the Al-Qaeda attacks on Twin towers in Manhattan and the Pentagon, stunned and petrified masses here started predicting doomsday scenarios. Fear and hopelessness ruled for days and weeks.
Seven years after the LTTE air raid in Colombo the Islamic State of Iraq and the Levant declared a new Islamic State dehumanizing civilization and gripping the whole world with terror.
However by the time the world observed the seventeenth anniversary of 9/11 Al Qaeda is emasculated, the ISIS cornered and the LTTE annihilated militarily.
It's quite interesting to note the way hope emerges from the depth of despair. Despair more often than not makes heroes out of zeroes and gifts better brain and brawn to the courageous. The secret is movement and mobility in the face of morbid fear. The spate of air attacks carried out by the air force here in aftermath of the suicide attack on the then Army Commander Sarath Fonseka is an example. The trick is to make use of the opportunity to launch a counter attack that it would not have made otherwise. It's these counter movements that made the difference and ended the wars that had lost hope in negotiations.
While the triumph over terrorist outfits is a victory for the human race, the tragedy has been that more often than not these terrorist groups are created and nurtured by legitimate governments which finally fell victim to the very outfits they created. This patronage that often comes in the form of weapons breaks the thin line between a rights movement and a terrorist organization. The LTTE which was formed by a group of disgruntled Tamil youth over perceived injustice to their community turned in to a terrorist outfit with India's decision to train and arm them. Al Qaeda is deemed to have born out of CIA's "Operation Cyclone" to weaken Russia and many attribute even the creation of ISIS to the United States.
It is likely that the countries that made the monumental political blunders of controlling other nations through proxy have learnt their lessons by now. India lost Rajiv Gandhi and the United States lost thousands of civilian and military lives to its own creations. While the ability to contain terrorism to the present extent is indeed a success for human race there's absolutely no guarantee that the status quo will remain unless the governments that play with fire learnt their lessons.